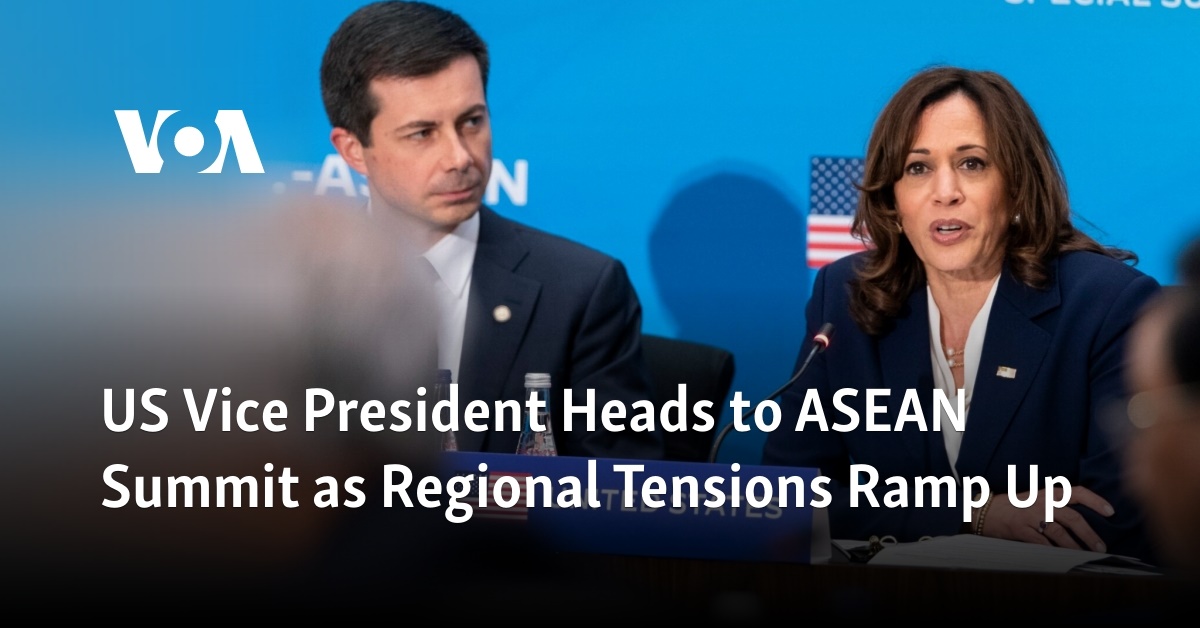 ALASKA —
Vice President Kamala Harris stopped in Alaska Monday for a refuel on her way to Jakarta to meet with leaders of the Association of Southeast Asian Nations, or ASEAN, in a summit hosted by Indonesia, the outgoing chair of the 10-nation group.
Her visit comes at a time of heightened tensions in the region as China released a controversial territorial map that has drawn the ire of India, Vietnam, Taiwan, Malaysia and the Philippines. Harris is expected to raise the issue of what the administration calls Beijing's "false maritime claims" during her meetings with ASEAN leaders.
"She will not shy away from talking about our responsibilities as a Pacific power," National Security Council spokesman John Kirby told VOA in an interview Friday. "Five of our seven treaty alliances are in the Indo-Pacific region, and so the vice president will certainly make it clear that the United States takes those responsibilities seriously."
While Harris has been in the region several times since assuming office, this is her first time in Indonesia, a U.S. "strategic partner" since 2015 and a key player in the Biden administration's Indo-Pacific strategy. Last week, the country hosted its massive annual Super Garuda Shield live-fire military exercises with the U.S., Australia, Japan, Singapore, the United Kingdom and France.
In August, Indonesian Defense Minister Prabowo Subianto and his U.S. counterpart Lloyd Austin announced the two countries would be working to increase Indonesia's defense capabilities with American weapons.
The momentum is on the side of a forward-leaning U.S. approach in the South China Sea, especially considering China's recent publication of its latest territorial map and the Chinese Coast Guard's firing of a water cannon at a Philippine boat trying to resupply a military outpost on a disputed reef, said Prashanth Parameswaran, a fellow at the Wilson Center and founder of the weekly ASEAN Wonk newsletter.
"A forward-leaning U.S. South China Sea approach would be in line with Indonesia's greater focus on the issue and initiatives under its chairmanship this year, such as a new regional maritime outlook and advancing ASEAN's Indo-Pacific vision," Parameswaran told VOA.
However, ASEAN adheres to consensus-based decision-making, nonalignment and noninterference in the domestic affairs of other countries. Observers say those principles contribute to the group's ambiguity and ineffectiveness in addressing the geopolitical issues that will be the focus of this week's meetings: the South China Sea disputes, the crisis in Myanmar and the war on Ukraine.
If the expectations are for ASEAN to solve those issues, ASEAN could be seen as irrelevant, said Bich Tran, an adjunct fellow at the Center for Strategic and International Studies.
"But it's worth remembering that ASEAN has kept peace among its members," she told VOA. "In this sense, ASEAN is still relevant."
During her three-day stay in the country, Harris will also be attending the East Asia Summit, which brings together ASEAN and its partners the United States, China, Russia, Australia, India, Japan, New Zealand and South Korea.
Biden's missed opportunity?
Observers have criticized President Joe Biden's decision to send Harris to Jakarta in his place as a missed opportunity to bolster diplomatic ties with Indonesia, ASEAN's largest economy. The archipelago has been seen as drifting toward China's sphere of influence as the government of President Joko Widodo places "economic diplomacy" as its premier foreign policy goal.
Diplomatic sources who spoke to VOA on condition of anonymity to discuss internal deliberations said Jakarta had been disappointed with Biden's decision, especially after it took steps to align ASEAN's meeting calendar with the U.S. president's travel to the G20 summit in New Delhi, India, in the hopes of securing his attendance.
On the heels of the G20, Biden will instead travel to Hanoi, where he is expected to upgrade U.S.-Vietnam ties from the current "comprehensive partnership." Diplomatic sources, who spoke on condition of anonymity because they are not authorized to speak publicly, told VOA that Vietnam has agreed to bypass a "strategic partnership" status for that of a "comprehensive strategic partnership," which would put Washington on par with China and Russia in terms of its ties with Hanoi.
Previously hesitant to upgrade ties due to concerns of a potential backlash from China, Vietnam, a communist country and ideologically aligned with Beijing, is left with little choice but to diversify diplomatic ties in the face of Beijing's increasing assertiveness in its territorial dispute with Hanoi in the South China Sea.
"They want relationships because they want China to know that they're not alone," Biden said during a campaign reception in August.
Harris is expected to depart Jakarta Thursday and arrive in Washington Friday, as Biden heads to New Delhi.