Receive free Kim Jong Un updates
We'll send you a myFT Daily Digest email rounding up the latest Kim Jong Un news every morning.
Good morning. This article is an on-site version of our FirstFT newsletter. Sign up to our Asia, Europe/Africa or Americas edition to get it sent straight to your inbox every weekday morning
Good morning. We begin with the news that North Korea leader Kim Jong Un expects to travel to Russia to meet President Vladimir Putin to discuss weapons sales to Moscow, according to a senior White House official.
A meeting between Kim and Putin would significantly step up military ties between Russia and North Korea as Moscow's occupying forces try to contain a counteroffensive in the southern and eastern part of Ukraine.
Washington has been growing increasingly alarmed at the possibility of a growing weapons trade between Moscow and Pyongyang at a critical moment in the Ukraine conflict.
"Last month, Sergei Shoigu, the Russian defence minister, travelled to the DPRK [Democratic People's Republic of Korea] to try to convince Pyongyang to sell artillery ammunition to Russia," said Adrienne Watson, a spokesperson for the White House's National Security Council. "We have information that Kim Jong Un expects these discussions to continue, to include leader-level diplomatic engagement in Russia." Read the full story.
Here's what else I'm keeping tabs on today:
G20 Finance and Central Bank Deputies meeting: Officials are set to meet in Delhi.

Australian Reserve Bank rate decision: Governor Philip Lowe is expected to leave interest rates unchanged at his final board meeting today. (The Guardian)

Asean Business Summit: The conference begins in Jakarta with Japanese prime minister Fumio Kishida, Philippine president Ferdinand Marcos Jr and UK premier Rishi Sunak set to address attendees.
Join FT correspondents and expert guests on September 13 for a subscriber event to assess the implications of China's economic slowdown and its struggle with deflation. Submit your questions and register for free.
Five more top stories
1. China's powerful spy agency has attacked diplomatic overtures from the US as mixing engagement and containment, hinting that a possible meeting of the two countries' presidents in November will be in jeopardy if Washington does not show more "sincerity".
2. Turkish president Recep Tayyip Erdoğan said he was confident Russia would "soon" revive the Black Sea grain deal, even as Vladimir Putin insisted that Moscow would not rejoin the initiative until the west met Russian's demands. Without safe access to Black Sea ports, Ukraine's farmers have been forced to reroute their grain exports at significantly higher costs, exacerbating fears of a future food shortage.
3. Exclusive: Apple and Microsoft, the most valuable companies in the US, have argued that some of their flagship services are not popular enough to be designated "gatekeepers" under landmark new EU legislation designed to curb the power of Big Tech. FT's Javier Espinoza has the latest on Brussels' battle with the tech giants.
4. Chinese stocks jumped yesterday after Beijing increased efforts to reinvigorate the ailing property sector but a European rally faded on fears of eurozone interest rate rises. The CSI 300 index of Shanghai and Shenzhen-listed stocks closed 1.5 per cent higher and Hong Kong's Hang Seng rose 2.5 per cent, led by sharp gains for developer stocks. Read more on Beijing's move to support homebuyers.
Related read: Shares in Chinese property developer Country Garden rose almost 20 per cent yesterday after creditors agreed to restructure the repayment of a renminbi-denominated bond that was due on Saturday.
5. India's top official organising this week's Group of 20 summit has insisted that agreement on a final communiqué is within reach. Amitabh Kant told the Financial Times there will be consensus among "all" the parties attending the summit in New Delhi as China said that Premier Li Qiang will appear instead of President Xi Jinping. Get the latest on plans for this weekend's G20.
Deep dive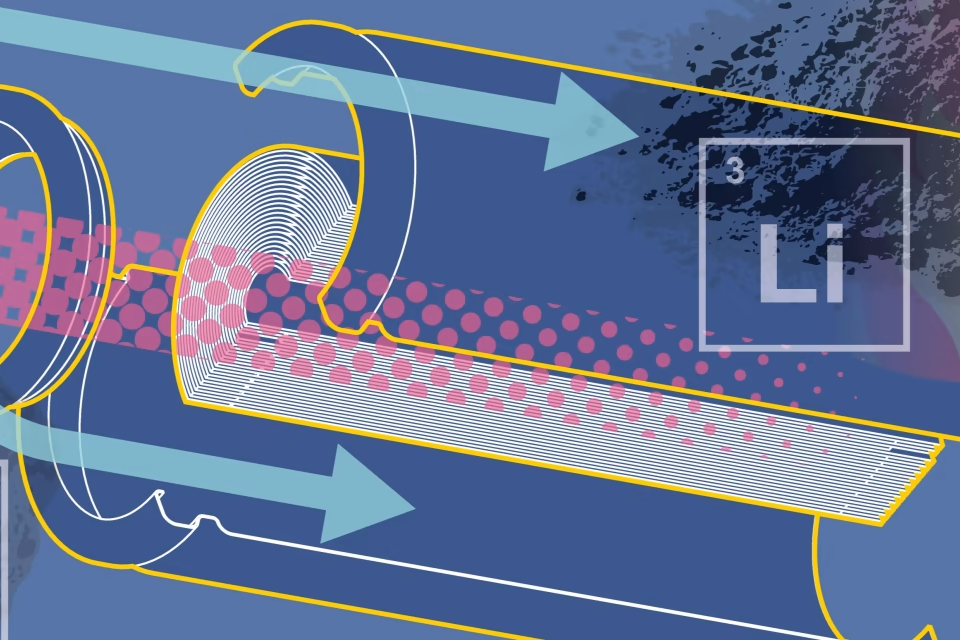 Billions of dollars are being invested in recycling electric vehicle batteries, but lack of regulation and myriad uncertainties about the nascent industry pose significant problems that could prove costly.
We're also reading and watching . . . 
Chart of the day
Higher interest rates in leading economies mean global growth is likely to slow next year after outperforming expectations so far in 2023, economists say. China's economic slowdown after the post-pandemic rebound has also contributed to economists' pessimism for 2024. Use our interactive graphic to explore specific data.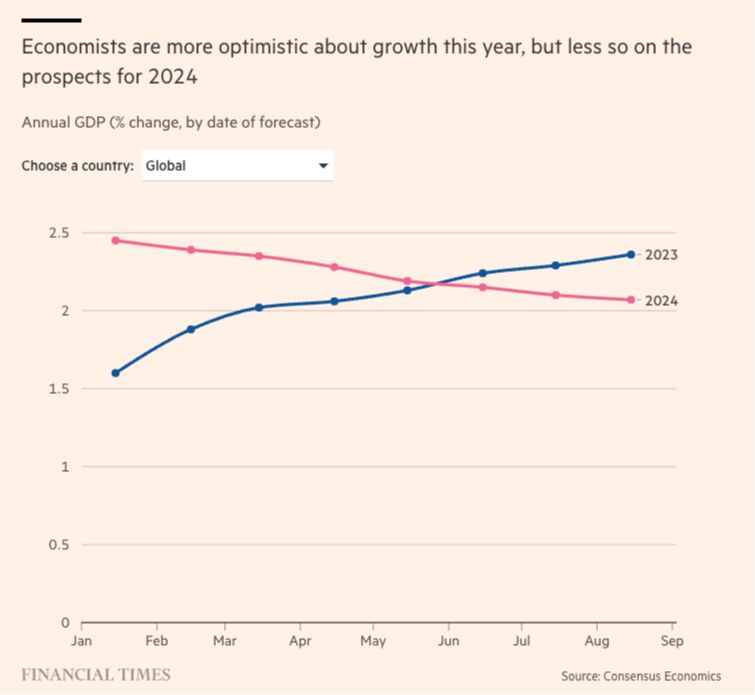 Take a break from the news
Power dressing is back: angular suit jackets, skirts, sheer black tights and boardroom pumps. The AW23 collections have seen the high-powered, corporate glamazon return in all her assertive glory. And trends aside, the messaging of the original movement still holds relevance today.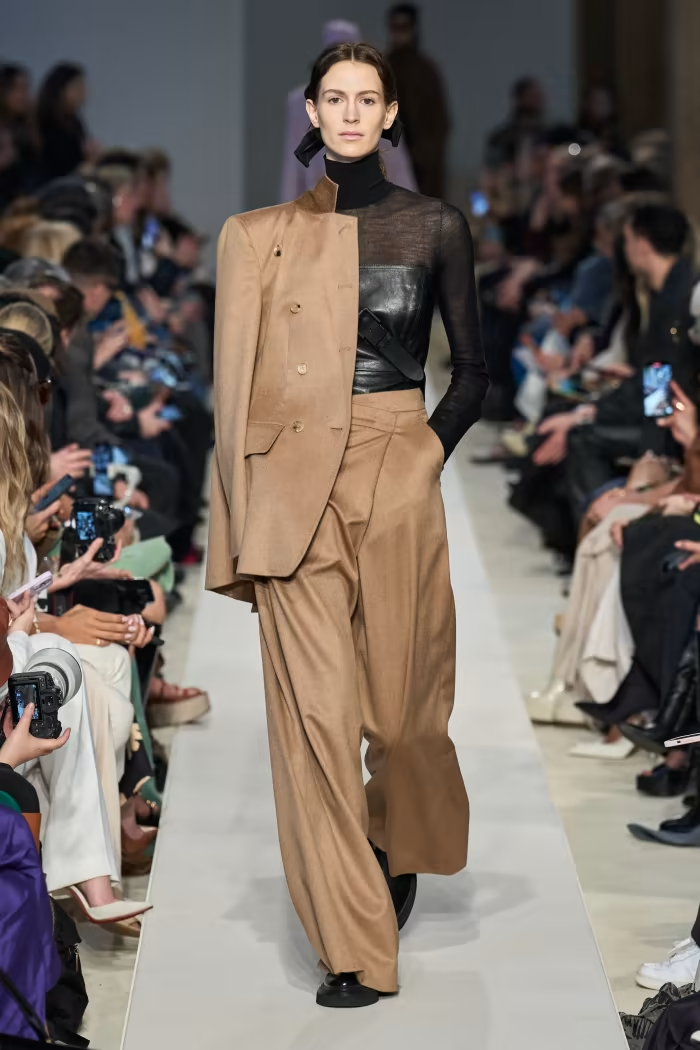 Additional contributions from Gordon Smith and Tee Zhuo
Thank you for reading and remember you can add FirstFT to myFT. You can also elect to receive a FirstFT push notification every morning on the app. Send your recommendations and feedback to [email protected]