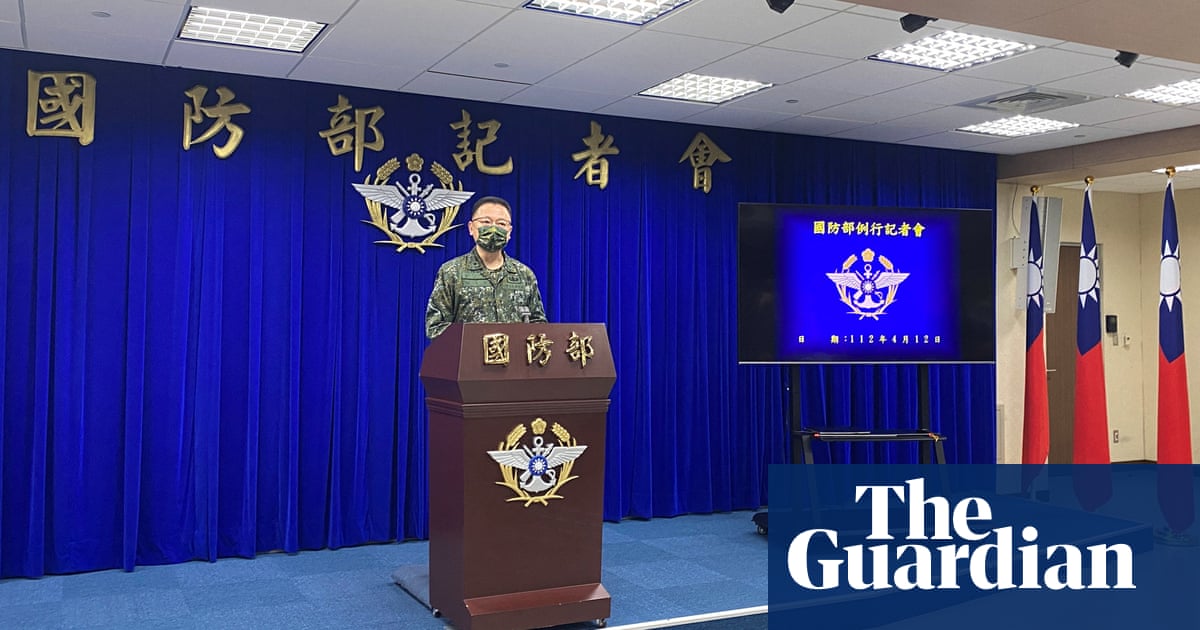 Taiwan's defence ministry has raised the alarm about disinformation attacks during the recent Chinese military drills and alerted local media to the dangers of helping spread disinformation.
Last week Beijing launched three days of military exercises near Taiwan, in retaliation for President Tsai Ing-wen's meeting with the US House speaker, Kevin McCarthy, in the US. Taiwan's military and civilian analysts confirmed that Taiwan was also targeted with information warfare. "Last year's military exercise and this year's military exercise both used a combination of information and military actions to affect our morale," a defence spokesperson said on Wednesday.
Taiwan has ranked as the biggest target of foreign disinformation and cyberwarfare, primarily from China, for almost a decade. It came under hundreds of attacks during the military drills staged last August after the then US speaker Nancy Pelosi visited the island. This time, there were no reports of cyberattacks, but disinformation efforts appeared to have increased.
The ministry said there had been multiple instances of false news being disseminated during the drills, and it was coordinating with security services to investigate their source. "We cannot rule out that it is the enemy's cognitive warfare tactics," it said this week.
"Compared to last year, this time the CCP's disinformation and cognitive warfare manipulation methods are more refined, and the tactics no longer used the photo-editing methods like last time," the defence spokesperson said, probably referring to a PLA image widely shared in August, which was altered to suggest a ship was parked just off Taiwan's coast.
Pieces of disinformation detected during these drills included claims that Taiwan's defence ministry was not able fully to monitor activity by the China's People's Liberation Army (PLA), that Tsai had been paid to speak at a New York thinktank on the first leg of her trip, and that she was smuggling cigarettes from the US into Taiwan.
On social media, a map of the August live-fire zones produced by a British tabloid was also widely shared online, wrongly attributed to the current drills. The map was shared by some blue-tick Twitter accounts with hundreds of thousands of followers, with alarming language that bolstered PLA claims that it had encircled the island.
The defence ministry said it had improved efforts to "counter the attacks of cognitive operations and disinformation". In addition to issuing rebuttals to what it said was fake news, it had also increased the frequency of reports on PLA detections, from once every 24 hours, to every two to three hours during the drills.
"The big aim of the disinformation attack is to make the people lose trust for the government," said Dr Yisuo Tzeng from the Institute for National Defense and Security Research (INDSR) thinktank in Taiwan. Tzeng said disinformation and propaganda would not necessarily turn people towards the aggressors, "but you will have doubts about your own democratic system and your democratic allies".
Doublethink Lab, a Taiwan-based cyber-monitoring NGO, said it was still analysing attacks from last week, but it had detected concerted disinformation efforts during Tsai's US trip. "We saw some suspicious activity, but it was [unclear] whether it was coordinated," said the co-founder of Doublethink Lab, TtCat.
The analyst Jerry Yu said there were three main narratives spread during the trip: a McCarthy social media post with a map of China including Taiwan, faked documents claiming Tsai was smuggling cigarettes out of the US, and memes sharing unsubstantiated claims of the DPP bribing US officials or taking instructions from the US.
Wu said the disinformation had appeared to stay within Facebook networks of pages that were already anti-Tsai and pro-China, without spreading widely to broader audiences, but some was picked up by pro-Beijing Taiwanese media outlets. A recent report by the NGO said it had found these Facebook groups to amplify content which "attacked the Taiwanese government, manipulated public perceptions about vaccinations, showed China in a positive light, and attempted to interfere in Taiwan's November 2022 election".
Tsai on Tuesday urged caution with information. "Some people may be deliberately misleading, or they may not be familiar with the operation of the national security system, so they spread some incorrect information," she said.
Taiwan's mainland affairs council also expressed concern about Taiwan's media amplifying the PLA's message, spreading fear among the people of Taiwan and contributing to internal instability.
Taiwan media workers and observers have said the industry has a big problem with fake news and factchecking, leaving authorities to fight disinformation domestically, as well as deliberate external threats.
Taiwanese journalists who spoke to the Guardian said much of the industry, especially print and online outlets, suffered from a perfect storm of hyperpartisan politics, overworked and under-resourced staff, and a culture of valuing headlines and clicks over facts.
"It's a weakness for our news industry. We don't value facts that much," said one veteran Taiwanese investigative journalist. "They will lead with anything that's sensational, and if it's not too wrong, they will publish."
The journalist said it meant Taiwan was at risk of causing its own social destabilisation.