As Muslims around the world prepare to begin the holy month of Ramadan, China's Muslims are facing fasting bans and their cultural and religious traditions increasingly under attack.
Uyghurs in the northwestern region of Xinjiang are being ordered not to allow their children to fast, with children quizzed by the authorities over whether their parents are fasting or not, local officials and rights groups say.
"During Ramadan, the authorities are requiring 1,811 villages [in Xinjiang] to implement a round-the-clock monitoring system, including spot home inspections of Uyghur families," World Uyghur Congress spokesperson Dilshat Rishit said. During Ramadan, Muslims are called to fast during daylight hours.
And China's 11.4 million Hui Muslims – close-knit communities of ethnic Chinese who have maintained their Muslim faith over centuries – are in danger of being erased entirely under the Communist Party's draconian religious rules, rights groups have warned in a new report.
They have been identified by Beijing as "a threat to be resolved through forcible assimilation," a report from a coalition of rights groups, including the Chinese Human Rights Defenders network said.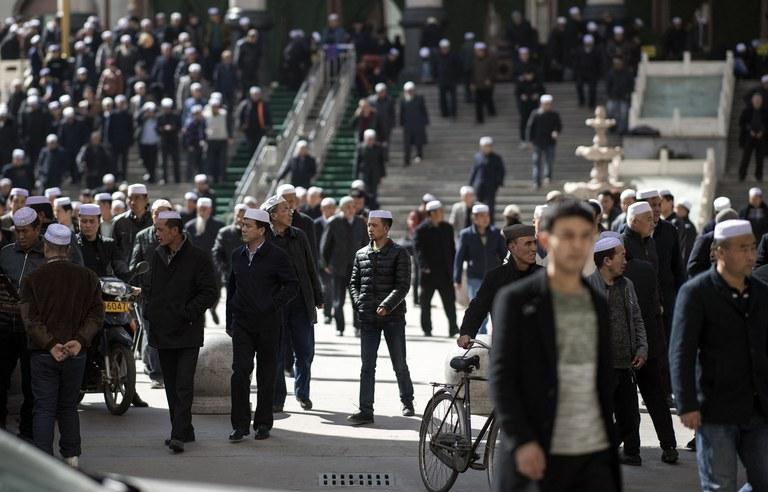 This is in stark contrast to the relative freedoms they enjoyed before President Xi Jinping launched a renewed attack on religious worship, forcing Christians, Muslims and Buddhists alike to submit to party control and censorship of their religious lives under his "sinicization" program, the report said.
"Hui community members were able to openly participate in mosque communities, Arabic schools, and private worship, albeit under restrictions facilitated by party liaisons," it said. "Hui entrepreneurs were encouraged to develop business and tourism connections with the wider Muslim world as part of the Belt and Road Initiative."
But religious affairs under Xi have been "influenced by Islamophobic rhetoric that has pervaded global counterterrorism discourse," making them targets of a "counterterrorism" campaign in Xinjiang, with more than 100,000 Hui sent to "re-education" camps alongside Uyghurs, it said.
'Stands in solidarity'
President Joe Biden on Thursday said the United States supports Muslim communities suffering hardship and oppression. "Today especially, we remember the universal human right to practice, pray, and preach our faiths peacefully and openly," he said in a statement marking the start of Ramadan.
"The United States stands in solidarity with Muslims who continue to face oppression – including Uyghurs in the People's Republic of China, Rohingya in Burma, and other Muslim communities facing persecution around the world," he said.
Turghunjan Alawudin, who chairs the religious committee at the World Uyghur Congress, welcomed Biden's statement.
"We can see from these congratulations that religious belief is deeply respected in democratic nations," he said. "China neither respects the culture nor tolerates the religious beliefs of other peoples but treats its own culture as supreme. Instead of congratulating Muslims for the arrival of Ramadan, China continues to restrict the Muslims from fasting and praying."
"China has exhibited extreme hostility towards the religious beliefs and fine traditions of Uyghurs by further restricting all aspects of Uyghur national and religious holidays.China continues its ongoing genocide against the Uyghur Muslims in its attempt to erase them," he said.
'Ethnic unity' campaign
China has also targeted Muslim communities with its "ethnic unity" campaign under which officials impose Han Chinese "relatives" on ethnic minority Uyghur families, who then put pressure on them to observe non-Muslim traditions, including drinking alcohol and eating pork.
"Unity" policies haven taken place in Xinjiang against a backdrop of the mass incarceration of at least 1.8 million Uyghurs and other ethnic minority Muslims in "re-education" camps, and their involvement in forced labor, as well as amid reports of the systemic rape, sexual abuse, and forced sterilization of Uyghur women in the camps.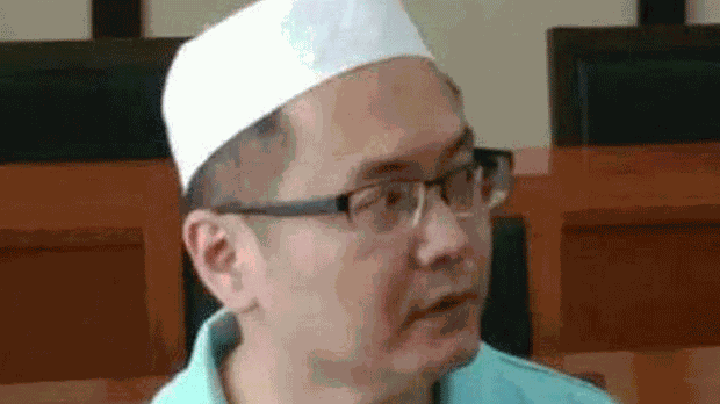 Alongside Uyghurs, "Hui have also been subject to restrictions aimed at eliminating 'signs of extremism' and intrusive surveillance of public and private life," the report said.
In 2020, authorities in the eastern province of Shandong detained Hui Muslim poet and writer Cao Haoxin, also known by his pen name An Ran, after he tweeted criticism of China's ongoing mass incarceration of Uyghurs and other violations of Muslims' rights.
Hui rights activist Ma Ju said many people don't even know his community exists.
"A lot of people don't even know that this ethnic group exists," Ma said. "A lot of experts and scholars have been shocked to hear that we number more than 10 million, and are among the three largest ethnic groups in China."
"This report marks their place in world history, and remembers their suffering," said Ma, who founded the rights group Umbrella of Hope to campaign for Hui rights from the United States.
He said the current genocide being perpetrated on the Uyghur people has already happened once before to the Hui, following the Communist Party's religious reforms of 1958.
"Now they are going to erase the last vestiges of our culture that still remain," Ma said.
Ma said the wave of global Islamophobia that emerged alongside the United States' "war on terror" in the wake of the 9/11 terror attacks has also fueled anti-Muslim racism in China.
'Mass detentions'
Serikjan Bilash, who founded the Kazakhstan-based rights group Atajurt, said authorities in Ili Kazakh Autonomous Prefecture have carried out "mass detentions" of religious figures in the region during the past few days.
"Most of these people have already served heavy sentences," he said. "This year, the targets for arrest by the Chinese Communist Party are people who have already spent two to three years in a concentration camp in Xinjiang."
"Sources [told Atajurt] that they are being sent to other provinces of China, or to secret prisons in Xinjiang," he said.
Repeated calls to local police departments in Ili prefecture rang unanswered during office hours on Thursday.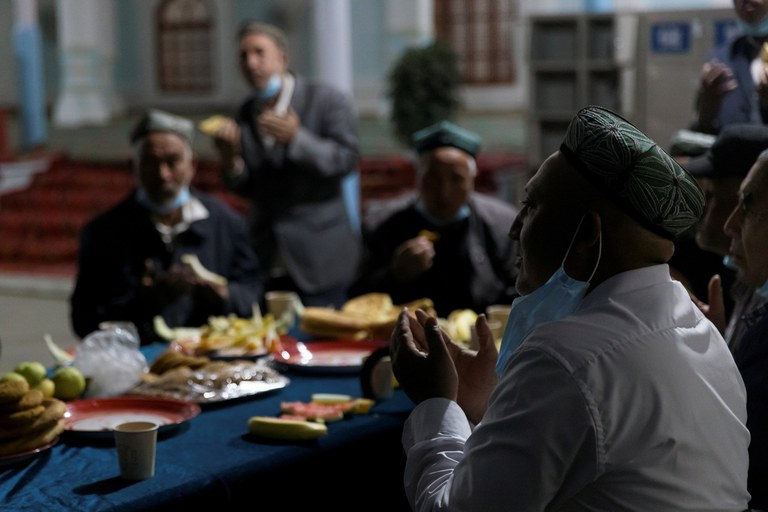 Schools in Ili are also using children to obtain information about their parents' religious observance, Serikjan said.
"[They are given] forms asking detailed questions about what are normal practices in Muslim families," he said. "For example, whether the parents use [the Islamic greeting] assalamualaikum when they greet their relatives."
"Also, whether their parents are eating or drinking water at midday, and if they have eaten breakfast after the sun has already risen," he said.
An official who answered the phone at the Xinyuan county education bureau confirmed that people in education and any adults who work for the government are banned from fasting during Ramadan.
"Students aren't allowed to fast, and family members who are public servants aren't allowed to either, the official said.
A Kazakh Muslim who gave only the single name Kamina said anyone found fasting will be subject to retaliation in practice, however.
"Fasting isn't really allowed," she said. "Some people have voluntarily renounced fasting out of fear, while others fast secretly."
"Some places allow fasting but then they monitor those people and call them religious diehards, and they are detained," she said.
Translated by Luisetta Mudie. Edited by Malcolm Foster.