Prime Minister Hun Sen defended the recent promotions of his two eldest sons to senior military posts, revealing that he secretly worked with the Minister of National Defense to elevate the pair ahead of general elections later this year.
The eldest son, Hun Manet, has been tapped to be Hun Sen's political successor. He is expected to resign from the military in the coming months to compete in the election, which is scheduled for July.
The prime minister said he and Minister of National Defense Tea Banh agreed to promote Hun Manet from a three-star general to four stars. The 45-year-old Hun Manet is currently the deputy commander in chief of the Royal Cambodian Armed Forces (RCAF).
"Hun Manet should have been promoted to be a four-star general from 2018 but he refused to accept it," Hun Sen said at a graduation ceremony for the Vanda Institute in Phnom Penh on Wednesday. "He didn't know that he was promoted."
The second eldest son, Hun Manith, was appointed on March 17 to be the deputy commander of the RCAF's infantry. He is also the military's spy chief.
The moves are more evidence that Hun Sen – who has been in office since 1985 – intends to hand power over to his son and is willing to violate the military's impartiality and independence to ensure that the transfer takes place, said Ros Sotha, the executive director of the Cambodian Human Rights Action Committee, a coalition of 22 local NGOs.
People are becoming fearful that the military is losing its neutrality and would use force if the ruling Cambodian People's Party has a poor showing in July's elections, he said.
"Our country belongs to every one of us. It is not a private company," he said. "If power is concentrated only with a group of people, it is not good. It will not serve the interest of the whole nation."
Hun Sen wants Hun Manet to retain influence over the military when he goes into politics, said Um Sam An, a senior official in the banned Cambodia National Rescue Party who lives in the United States. And if he becomes the prime minister, his brother, Hun Manith, will be in a better position to protect him, he said.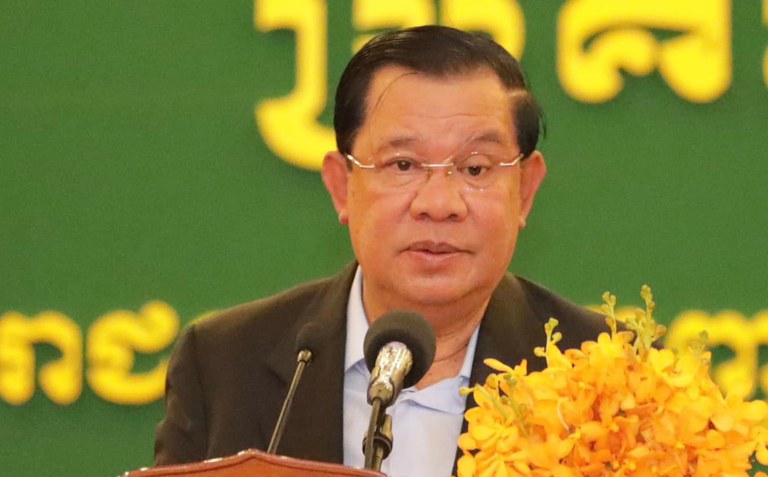 Brothers and relatives
Hun Manith could eventually take over as the RCAF's top commander, said Duong Chantra, a senior CNRP official who lives in Thailand.
"Building up and strengthening military power – dictatorial regimes always do this by putting brothers and relatives in positions of control," he said.
The appointments are an indication that Hun Sen no longer trusts anyone other than his relatives, said Keut Saray, the president of the Khmer Intellectual Students Association. Cambodia will continue to become a nepotism- and patronage-based system, instead of a democracy, if appointments like this continue, he said.
Responding to nepotism allegations in the past, Hun Sen has boasted that his children are qualified to carry out their duties.
"They are all capable of performing their jobs," he has said. "My children hold PhDs and master's degrees. Should I trash them or what?"
On Wednesday, he said that Hun Manith won't be appointed to Hun Manet's military post when he resigns. That position will go to RCAF Infantry Commander Mao Sophann, the prime minister said.
Army spokesman Mao Phalla declined to comment on Hun Manith's appointment, saying it was the responsibility of the Ministry of National Defense's spokesman, Chhum Socheat.
Radio Free Asia was unable to reach Chhum Socheat for comment. Government spokesman Phay Siphan and CPP spokesman Sok Isan also didn't respond to requests for comment on the appointments.
Translated by Samean Yun and Sok Ry Sum. Edited by Matt Reed and Josh Lipes.