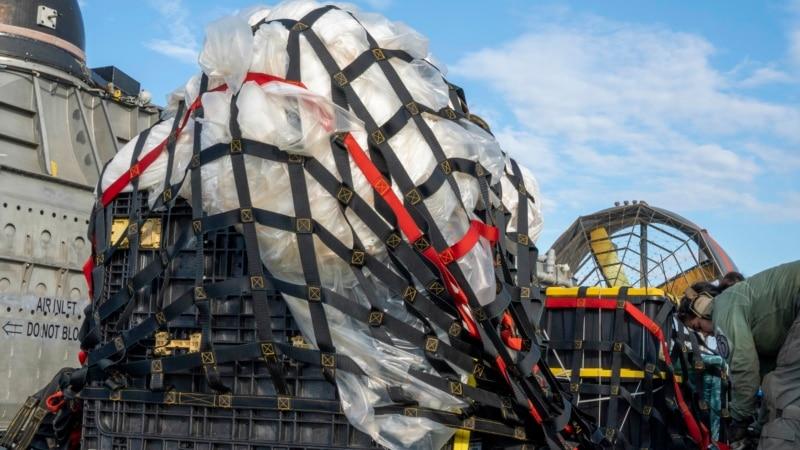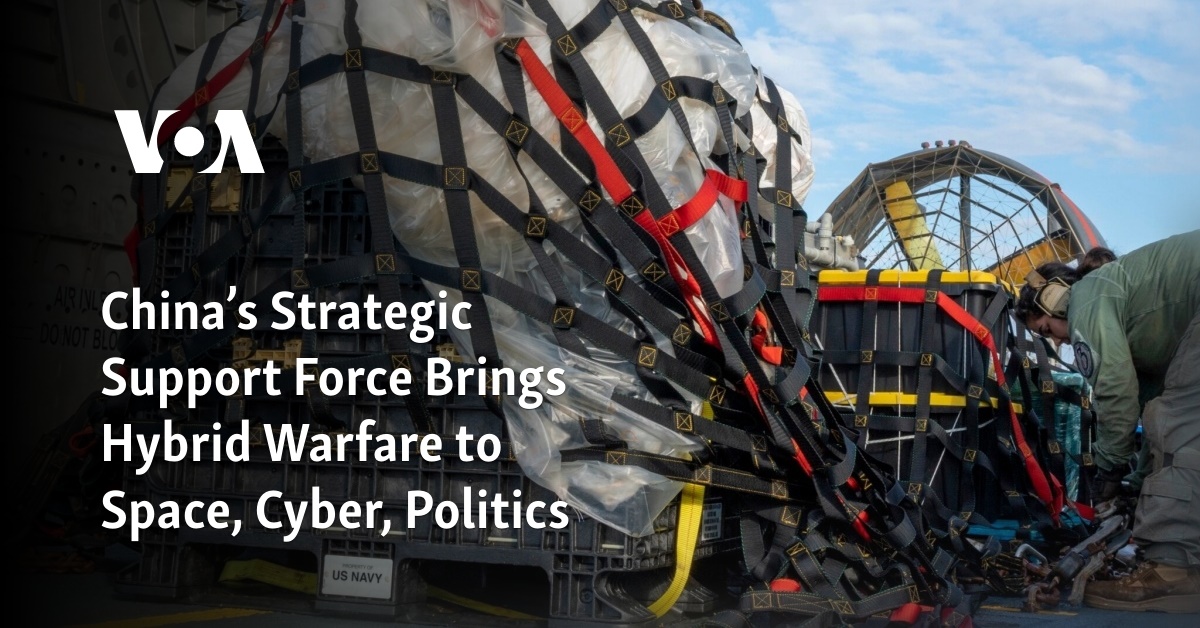 Washington —
The Chinese spy balloon that drifted over the United States early this year bore the earmarks of an operation by China's Strategic Support Force (SSF), a little-known hybrid branch of the People's Liberation Army that incorporates elements of cyber, electronic, space and psychological warfare.
Founded on the last day of 2015 as part of an armed forces restructuring introduced early in the rule of Chinese leader Xi Jinping, the SSF has no exact counterpart in any other country, said Dean Cheng, a senior adviser on China at the U.S. Institute of Peace and longtime watcher of China's military.
"The Strategic Support Force brought together China's electronic war forces, Chinese network war forces, which include but is not limited to cyber, and elements of China's space forces. These have been in different bins, if you will, within the PLA," Cheng told VOA in a recent phone interview.
"Interestingly, it also brings in Base 311, which is responsible for political warfare," Cheng added.
Taken together, he said, "what you have is a force dedicated to making sure that the enemy's information flow is obstructed, and, at the same time, China's own information flow is left relatively unimpeded."
Larry Wortzel, an authority on China, is a senior fellow at the American Foreign Policy Council and a frequent contributor to the U.S. Army War College's publications. He witnessed firsthand how China waged combined cyber and information warfare even before the SSF was launched.
"I've actually had a computer completely blanked out when I was writing and researching their space warfare capability," Wortzel recalled. "Just black screen, the whole computer was really destroyed with a cyberattack; I had to buy a new computer." Fortunately, he still had all of his research data "because I keep all of my data offline," he said.
While Wortzel believes the attack on his computer was intended to keep some Chinese capabilities away from public notice, he said that is not always the case. "Sometimes they do want the outside world to know what they're doing," he said. "Because they want to either deter or give a warning to the U.S. and other countries: 'Look, this is what we're capable of, be careful.'"
Wortzel compares the SSF to U.S. Cyber Command, National Security Agency and U.S. Strategic Command "sort of wrapped in[to] one organization."
The SSF, Wortzel said, is trained to execute systemic attacks, noting that these planned attacks often involve gray zone warfare, including penetration of U.S. and allies' organizational structure and operating systems, with the aim of weakening them or bringing them down.
"Their new term is systems destruction warfare, or systems confrontation warfare." In other words, he explained, instead of having one force trying to attack another, "they recognized that whether it's Japan or the United States, we tend to organize systematically, where we have a command and control, we have intelligence and reconnaissance systems."
In a study on the SSF published by the U.S. military's National Defense University in 2018, John Costello and Joe McReynolds wrote that the SSF was launched as part of a PLA revamp as Chinese authorities sought to pivot from land-based territorial defense to extended power projection in emerging domains and beyond their borders.
Wortzel said the new posture and strategy were foreshadowed in writings published by some of China's military strategists, including authors of a book published in the late 1990s titled "Unrestricted Warfare" and a later volume titled "Long-Distance Operations." One of the key ideas advanced in "Long-Distance Operations," Wortzel wrote in an analysis published by the U.S. Army War College, "is the need to target an adversary's homeland and bring the threat to an enemy's civilian population."
The author of "Long-Distance Operations," Jiang Yamin, was a senior colonel assigned as a researcher at the Academy of Military Sciences, the PLA's preeminent military studies and strategy institution, Wortzel told VOA. He said Jiang later was promoted to major general and served as deputy director of the military academy's Combat Theory and Regulations Research Department.
"Long-distance operations" is increasingly seen by observers as a fitting description of how Chinese agents, including the SSF, are waging political warfare in faraway lands, attempting to shape the political environment in each country and society in their favor.
David Panuelo, president of the Pacific island nation of Micronesia, recently accused China of waging exactly this type of warfare against his nation. In a letter addressed to fellow politicians in his nation, Panuelo laid out what The Economist described as "engrossing details" on how Beijing engaged in spying, bribery and a personal attack against him to try to force his government to support Chinese interests.
Most recently, Canadian security officials were reported to have warned the Liberal government of Prime Minister Justin Trudeau that the Chinese government was seeking to influence the 2019 and 2021 general elections against parliamentary candidates it did not like, including through disinformation campaigns in cities with large ethnic Chinese populations.
Political warfare is often referred to by the Chinese as intense but smokeless wars. The lyrics of a song presented with great fanfare on the 70th anniversary of the Communist takeover in China speak to the force's combined mission in space, as well as in stealth theaters:
If we must fight with our fist, then let us show them our iron fist
If knives have to be pulled out, then we will be the tip of the knife
Let our moves be those of the lethal and unexpected
Let the barbarians be vanquished at the sight of our war banner
Chasing dreams in the sky and beyond, and on stealth fronts
Strategic Support Force – its mission is weighty as the mountain
We are the tip of the knife, we are that iron fist
Fighting decisive battles on frontiers of high altitude, seizing strategic vantage points
On the road of building a strong military, heroes we are
Who fight to win
In a sign that the party is committed to expanding the SSF, state media played up a short recruitment film in January, highlighting 5,000 "civil" positions that needed to be filled with the SSF, among them engineering positions and posts in a special medical science center within the SSF, according to information later released by the PLA recruitment center.
McReynolds, who's been tracking the SSF, told VOA that he believed the ad was designed to better attract civilian technical talent to work with the PLA.
He had warned in an earlier essay that China "is committing itself completely to information warfare, foreign nations should take note and act accordingly."
It is also worth noting that China's newly appointed defense minister, Li Shangfu, served as the deputy commander of SSF when the force was first launched.