United States Defense Secretary Lloyd Austin III visited a military base Wednesday in the southern Philippines, where about 100 American troops are helping their Filipino counterparts in operations against the remnants of militant groups linked to Islamic State extremists.
Austin, who arrived in the Philippines late Tuesday, landed at the Edwin Andrews Air Base in Zamboanga before noon and immediately went to the Western Mindanao Command where he met with Philippine military chief Gen. Andres Centino.
"He visited the U.S. troops that are here and made sure that they are OK," Philippine regional military chief Lt. Gen. Roy Galido told reporters, referring to an American joint special operations team posted in Zamboanga.
Galido sidestepped questions about whether Austin promised new military assistance.
"[American troops] are here to help us in our mission, especially in counter-terrorism and HADR (humanitarian and disaster relief operations)."
Austin is expected to meet on Thursday with his Philippine counterpart, Carlito Galvez Jr., to discuss strengthening bilateral defense cooperation in the face of China's territorial challenges in the South China Sea.
A senior U.S. defense official said this alliance would help the Philippines defend its sovereignty and prevent Chinese coercion which the Southeast Asian nation is "facing on a day-to-day basis," according to information published on the U.S. Department of Defense website.
The official, who was not named, noted that China is acting up in the region despite losing the 2016 international court ruling favoring Philippine territorial claims in the strategic waterway.
"What the Philippines is trying to do is uphold its rights," the official said. "And we're trying to help them do that in the same way we are with other partners around the region. That's what this is really about, not about simply countering China."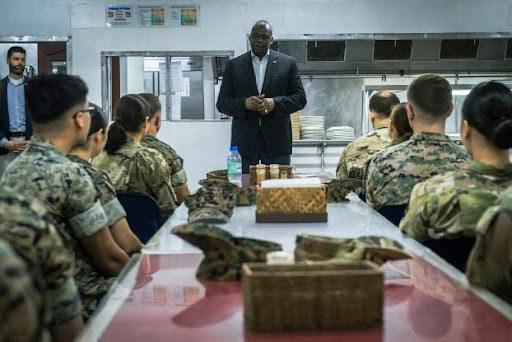 Marawi
In 2017, a small team of U.S. troops assisted Philippine forces in defeating pro-Islamic State (IS) militants who had seized the city of Marawi, a predominantly Muslim city in the southern Philippines.
While the American troops were restricted from combat operations, they helped their Filipino counterparts gather intelligence that led to victory in the five-month battle where at least 1,200 militants, government forces and civilians were killed.
After the battle, then-Philippine Defense Secretary Delfin Lorenzana blamed a significant drawdown of American forces in troubled areas of the south as a factor that allowed IS extremists to infiltrate local Muslim militant groups ahead of the siege.
While the longtime allies have carried on with joint military exercises, only about 100 American troops remain on a rotational basis in the south, where they serve in advisory roles.
Austin's visit to the Philippines is intended to accelerate the implementation of Enhanced Defense Cooperation Agreement (EDCA), according to Rommel Banlaoi, a counter-terrorism analyst at the Philippine Institute for Peace, Violence and Terrorism Research.
Signed in Manila on April 28, 2014, the agreement allows the U.S. to rotate troops into the Philippines for extended stays and allows Washington to build and operate facilities on Philippine bases.
The U.S. is working on expanding its access in Philippine territories to support the U.S. Indo-Pacific strategy where the alliance with Manila is essential in countering China's growing influence in the region, Banlaoi said.
Austin is the second highest American official to visit the Philippines since November, when Vice President Kamala Harris traveled trip to Palawan, an island on the frontline of the territorial dispute with China over the South China Sea. Harris pledged then that Washington would come to Manila's aid if China attacked the Philippines.
Jeoffrey Maitem in Davao, Philippines, contributed to this report.
BenarNews is an RFA-affiliated news service.