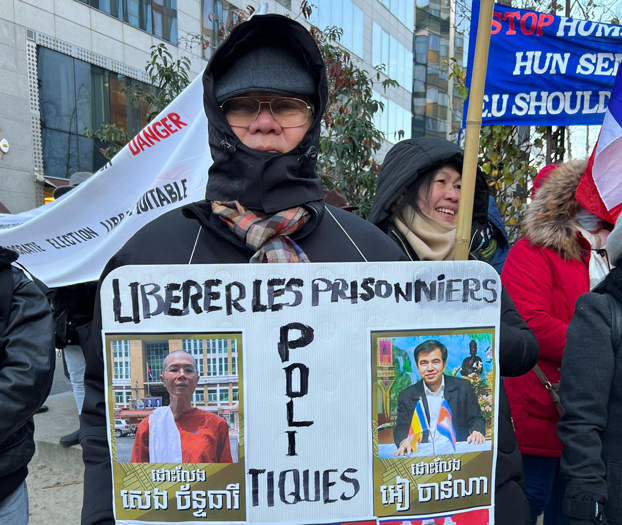 About 200 Cambodians living in Europe staged a protest Wednesday in Brussels to oppose Prime Minister Hun Sen's participation in an EU-ASEAN summit, demanding justice for Cambodian opposition party activists who have been harassed, arrested and detained under the strongman.
Hun Sen, who has ruled since 1985, was in the Belgian capital to co-chair the event. After exiled opposition leader Sam Rainsy called for the protest, hundreds of Cambodians traveled there to hold a rally against the authoritarian leader.
The demonstrators, who stood outside in below-freezing weather held banners and posters demanding the release of political prisoners and the end of violence directed at Cambodians, also called for greater freedom and the restoration of democracy.
They defied a threat by Hun Sen, who urged his Cambodian supporters in Brussels to take photos of the protesters and post them at Phnom Penh International Airport so authorities back home could visit their families.
Activist Venerable Luon Sawath, a Buddhist monk granted asylum in Switzerland after fleeing Cambodia, also participated in the demonstration. He left the Southeast Asian nation after being threatened with violence, arrest and defrocking for using videos and songs to defend people's right to housing for those forcibly evicted without compensation.
"The reason that I joined the demonstration is because I want to demand the government of Cambodia to lead the country in a just way and to respect human rights and democracy," he told Radio Free Asia. "I want to urge the signatories of the Paris Accord and the EU to help intervene to give us peace."
Luon Sawath, who said he participated in the protest of his own accord because he is "a victim of human rights and religious abuse" also argued with what he called spies sent to the demonstration to take photos of him.
"The spies accused me of being a fake monk because I joined the demonstration and wore a coat," he said. "This is a cold country, [and] it's below-zero."
Demanding rights and democracy
Tep Monorom, a protest organizer, told RFA that the demonstrators also petitioned the EU External Action Service, the diplomatic service and combined foreign and defense ministry of the European Union.
"We demand the restoration of human rights, labor rights and democracy," he said. The protesters also called for the release of detained NagaWorld labor union leader Chhim Sithar, activists and political prisoners.
Tep Monorom said Hun Sen's threat against the protesters was "beyond belief" and that the prime minister, who has ruled Cambodia for 37 years, is stomping on democracy.
"We can't accept this threat," he said, adding that demonstrators also filed a complaint with local police.
"We wrote a letter to the EU Commission to inform them that the demonstrators had been threatened," he said. "We provided a video [as] evidence. Hun Sen must be responsible for any incident against us in Cambodia or in the EU because he has threatened us."
"Watershed moment"
The day before the summit, a dozen EU lawmakers on Tuesday sent a letter to EU President Charles Michel, President of the European Commission Ursula von der Leyen, and Josep Borrell, vice president of the commission and high representatives of the EU for foreign affairs and security policy, expressing concern about the human rights situation in Cambodia as it prepares for key national elections in July 2023.
"The upcoming elections will be a watershed moment for the Southeast Asian nation, which will define whether Cambodia will return to the path of constitutionally defined multiparty democracy, or it will further cement the authoritarian drift in breach of its international
obligations," they wrote.
The MPs also said the situation had reached "a crisis point" earlier this year when the government conducted an intensified crackdown on the political opposition, journalists, independent media and civil society under the guise of COVID-19 measures, prior to communal elections in June 2022.
On Wednesday, Hun Sen also met with French President Emmanuel Macron in Paris where they issued a statement urging Russia to end its drone and air attacks on Ukrainian infrastructure.
Translated by Samean Yun for RFA Khmer. Written in English by Roseanne Gerin. Edited by Malcolm Foster.