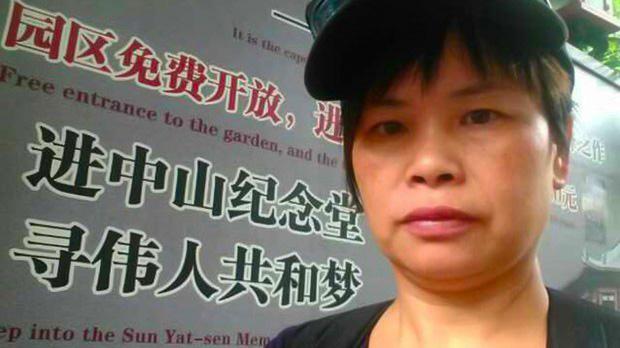 A Chinese activist from the southern province of Guangdong said she was tortured, beaten and treated like a traitor while in prison for protesting a draconian national security law imposed on Hong Kong.
Zhang Wuzhou, who was handed a two-year, nine-month prison sentence in March 2021 after she held up a placard in public opposing the law, said she was made to wear as many as 16 heavy manacles and leg irons weighing around 100 kilograms (220 pounds), which forced her into a bent position "like a cooked shrimp" and unable to move.
"The pain was excruciating," she said.
"It's incredibly hot in there, and there's no attention to hygiene, with 40 people all locked up together in a cell that's 30 meters square, all eating, drinking and going to the toilet in that space. People are packed in close together … squeezed up against each other," Zhang said.
She also described being beaten by several guards after she stood up and berated them over the claim she had betrayed her country. "The police officers called the prison staff to join in beating me up, crushing my feet," she said.
Zhang said when she had her period, she was denied permission to go to the bathroom to clean up. "I begged the prison guards, pleaded with them, and promised to be cooperative, as long as I was allowed to go to the toilet to wash," she said. "They were all women officers, but they all ignored me."
"They regarded me as a traitor to the motherland," Zhang said.
Easier to punish protesters
The Hong Kong national security law, introduced in 2020, criminalizes "secession," "subversion," and "collusion with foreign forces," vague offenses that are so broadly defined they can be used by authorities to penalize almost any kind of protester.
Zhang, who served an earlier sentence in prison for "picking quarrels and stirring up trouble," made headlines in 2015 alongside her sister Zhang Weichu after their brother Zhang Liumao died in police custody.
She said her relatively high profile in the international media was likely one of the reasons she hadn't died in prison.
Zhang said the longest she was manacled and shackled in a bent position for was 12 days and 12 nights, but said she had been tortured in the same way for 24 and 72 hours, as well as one time for six days and six nights.
"It's a miracle I came out alive this time," Zhang said. "I had to survive so I could tell my son that his mother didn't commit any crime, that all of my actions were right, and commendable."
"Justice [in China] depends entirely on the say-so of those in power," Zhang said. "Nobody believes anything if it's said by ordinary people."
Zhang said she was treated like a criminal or a person locked up in a psychiatric institution.
"You have to keep your spirits up in there or you won't come out alive. I'm pretty pleased with myself to have gotten out of there alive," Zhang said. "I think maybe it's because I am relatively well-known. If it had been someone else they would likely have let them die without even trying to hide it."
Brother died in 2015
Her brother Zhang Liumao died in 2015 while being held at the Guangzhou No. 3 Detention Center, but no explanation of his death was offered to his family. His family reported that his body showed multiple signs of severe physical assault. Relatives and a lawyer who viewed Zhang's body said there were marks on it consistent with torture.
Authorities also have not offered his widow any child support, Zhang said. "The child is innocent, and his mother has no job in the middle of the pandemic."
"They always find some political excuse to suppress ordinary people, bringing disaster to the country every day under the banner of serving the people," she said in a reference to a Communist Party slogan.
Authorities threatened to arrest her again if she kept "talking nonsense," she said.
Zhang remains under surveillance, with none of her former friends or fellow activists allowed to visit her. She said she has no plans to engage in further activism for the time being.
Her sister, Zhang Weichu, an experienced gynecologist, has lost her job and been evicted from her home along with her young son since taking up her brother's case with the authorities. She has been unable to secure another job as a doctor since being fired from the Vanke Hospital in Guangdong's Qingyuan city on Aug. 31, 2018.
Translated and edited by Luisetta Mudie. Edited by Malcolm Foster.