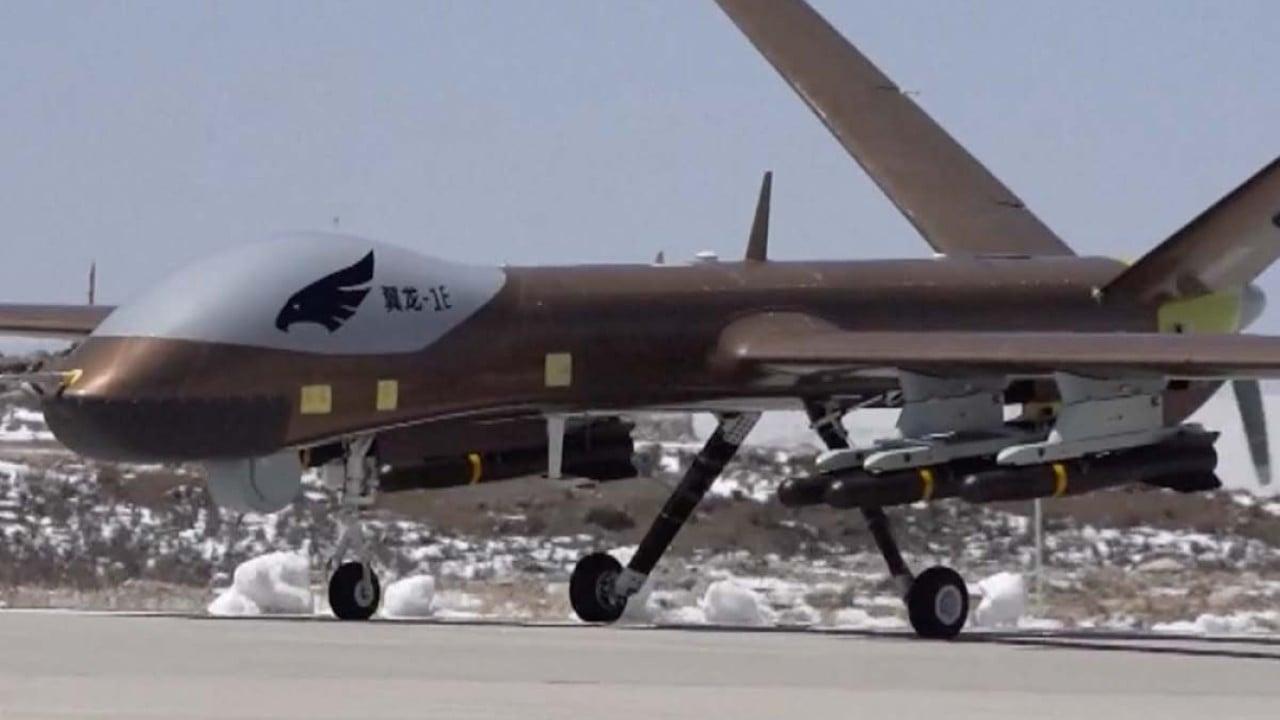 Saudi Arabia is also capable of producing the Chinese drones, after Riyadh and Beijing reached an agreement in 2017 to set up a factory in the Middle East. Earlier this year, the two also agreed to jointly develop and build military drones.
Former PLA instructor Song Zhongping said the drone deals would not be surprising, given their capabilities had been demonstrated in major conflicts in the Middle East.
But he questioned the reported purchase of YJ-21 hypersonic missiles, pointing out that China is bound by the Missile Technology Control Regime, which bans exports of missiles with range over 300km (186 miles). The YJ-21's range is believed to be over 1,000km (620 miles).
"But what is certain is that the capabilities of the weapons that China exports to Saudi Arabia are becoming higher and higher," he said.
Song also expects defence cooperation between the two countries to extend beyond arms sales into areas which may include joint military exercises, frequent military communication, and anti-piracy operations.
China's only confirmed missile sale to Saudi Arabia took place in 1986 and involved Chinese-made DF-3 medium-range nuclear missiles, according to data from the Stockholm International Peace Research Institute.
But there were reports of a secret sale of DF-21 missiles to Riyadh in 2007 which apparently were approved by the CIA because they were not nuclear-capable. US intelligence sources also revealed last year that China has been helping Saudi Arabia to develop its own missiles.
Zhou Chenming, a military expert at the Beijing-based Yuan Wang military science and technology think tank, said the latest reported arms deal between China and Saudi Arabia is significantly larger than previous sales.
He also expects more arms deals are in the pipeline as Riyadh seeks to rebalance its military diplomacy amid the frictions with Washington.
"Purchasing some weapons from China shows its dissatisfaction with the United States on one hand. On the other hand, it also hopes to cooperate with China in the future, to have China in the Middle East as a relevant party, to balance the interests of all parties," Zhou said.
"This is a strategic consideration in Saudi Arabia's diplomacy."
Chinese President Xi Jinping is visiting Saudi Arabia this week and will attend two summits with Arab countries and the Gulf states.
Analysts have previously noted that the recent US-Saudi row over oil production – along with Washington's waning influence in the region – is a chance for China to increase its presence in the Middle East.
But observers said this could extend beyond their traditional cooperation in trade and energy to include security partnerships.
Bernard Haykel, a Princeton University professor of Near Eastern Studies, expects more arms deals between China and Saudi Arabia, as Riyadh seeks to diversify its weapons sources because of tensions with the US, which also often puts conditions on its arms sales.
Washington should be concerned "because China seeks to compete with the US in Arabia and not just in the economic realm where it is now a dominant player", he said.
Haykel said US domestic politics and other factors made it uncertain whether Washington would adjust its policy towards Saudi Arabia in light of China's growing influence in the Middle East.
On the campaign trail in 2019, President Joe Biden promised to make Saudi Arabia a "pariah" country for the killing of journalist Jamal Khashoggi.
US-Saudi relations soured further in 2021, when Biden suspended sales of offensive weapons to Riyadh – repeating a similar move by former president Barack Obama in 2016 over civilian casualties in Yemen.
Tensions rose further after Biden warned of "consequences" for Saudi Arabia after the Saudi-led Opec+ group agreed to cut oil output by 2 million barrels per day.
The October decision was blamed for ripple effects on the US economy just before its midterm elections and also led to calls from Congress for a one-year suspension of arms sales to Riyadh.
Despite the strained ties, Saudi Arabia retains its position – held for many years – as the top importer of US weapons, taking US$3.539 billion worth of equipment between 2020 and 2021, around 18 per cent of total US arms sales.
Michael O'Hanlon, a US defence strategy expert at the Brookings Institute, said the US should not worry too much about a possible increase in arms deals between China and Saudi Arabia.
He believes Washington will stick to its approach of not pushing Riyadh "entirely away" but does not want to "coddle them either".
"I don't think we should lament lost arms sales too much. But it is important to keep our eye on Chinese influence and presence throughout the Middle East. That presence is not always bad or unreasonable, but it does tend to complicate America's strategic calculus and options in various possible crises," O'Hanlon said.
Tuvia Gering, a researcher at the Institute for National Security Studies' Israel-China Policy Centre, said arms sales between China and Saudi Arabia should not be linked to a single event, such as the oil dispute.
The arms sales would increase, regardless of the US-Saudi row, because of the high quality and lower costs of the Chinese weapons, he said.
Gering said that while the possibility can no longer be ruled out, Saudi Arabia is likely to be hesitant to buy "big ticket weapons" from China – such as combat helicopters, fighter jets and air defence systems – which it usually buys from the US.
"China's security cooperation with Saudi Arabia and the Middle East as a whole has a limit," Gering said.
"There is no substitute for US security assurances in the Gulf today in terms of boots on the ground, technology, alliance network, politics, diplomacy, and sanctions, as well as communications, intelligence, and integrated land and sea weapon systems."
Nevertheless, China's twin-engined FC-21 stealth fighter jet was a star attraction at Saudi Arabia's inaugural world defence show in March, according to Global Times, the Chinese tabloid affiliated with party mouthpiece People's Daily. The fifth-generation jets are often compared with the US F-35.
According to Zhou from Beijing's Yuan Wang military think tank, Saudi Arabia is unlikely to buy main battle weapons from China, at least over the next few years, because of possible US intervention.
"I don't think the United States will tolerate China's sale of more advanced [weapons] to Saudi Arabia" but it was not "entirely impossible", depending on how the situation develops, he said.
"Saudi Arabia and China have a very lively relationship right now. Everything is being talked about, but the real implementation depends on the reality and the needs," Zhou said.
"China will still be cautious. The strategy it chooses will not be very aggressive … this will not be helpful to regional stability as it may trigger a new round of the arms race."