Some well-known Chinese economists have been making an argument for a wider relaxation of the country's rigid anti-virus policies in recent days, as restrictions continued to be lifted in some cities, according to recent reports in media controlled by the Communist Party.
"In the early stage of the COVID-19 pandemic in 2020, due to the high rate of severe cases, our government took decisive and timely measures to control the spread of the disease and save lives," top economists including Zhang Jun and Ren Zeping wrote in a recent article that was widely referenced in state-controlled media.
"[But] as the virus enters the Omicron stage, the scientific consensus is that its pathogenicity has weakened while its infectiousness has increased … giving us the opportunity to optimize our disease control measures," said the article, which was also signed by economists Wen Yaoyang, Huang Yiping, Liang Jianzhang and Guan Qingyou.
The word "optimize" was first used in a 20-point directive from the Chinese government in November, which resulted in the easing of quarantine and testing requirements in some locations.
Reuters reported on Monday that China would likely announce a raft of further measures loosening the zero-COVID restrictions, possibly as early as Dec. 7.
Management of the disease may be downgraded as soon as January, to the less strict Category B from the top-level Category A of infectious disease, it cited two anonymous official sources as saying.
The articles are emerging about a week after street protests against the harsh restrictions flared in more than a dozen cities as people held up blank sheets of paper to symbolize their lack of free expression against China's authoritarian government.
'Massive Impact'
The economists warned of a "massive impact" on the economy that has left ordinary people and small businesses facing unprecedented hardship.
"The [pandemic] has had a massive impact on our economy, with small businesses and ordinary people facing huge hardship … amid waves of layoffs across various industries," the article said, using official government rhetoric about the loosening of COVID-19 restrictions that has made no mention of abandoning the hugely unpopular policy.
Reuters reported on Dec. 2 that Communist Party leader Xi Jinping blamed recent mass protests in Chinese cities on youth frustrated by years of the COVID-19 pandemic, adding that the now dominant Omicron variant of the virus paved the way for fewer restrictions, citing European Union officials.
However, the article did call for restrictions to be loosened on public transportation, office buildings, restaurants, hotels, the logistics industry and shopping malls. It said scientists should "study the feasibility" of reducing restrictions, including compulsory mass testing.
Loosening some restrictions
In some parts of China, it appears that the article's recommendations are already being implemented.
Health officials in Beijing, Shanghai and the southwestern city of Chengdu have all loosened COVID-19 testing requirements for passengers on public transportation or for entry to outdoor public spaces like parks.
However, recent negative tests are still required for entry to restaurants, bars, internet cafes, gyms, schools and other indoor spaces in those cities, with long queues for PCR tests still visible in some locations, according to official statements from municipal health commissions in recent days.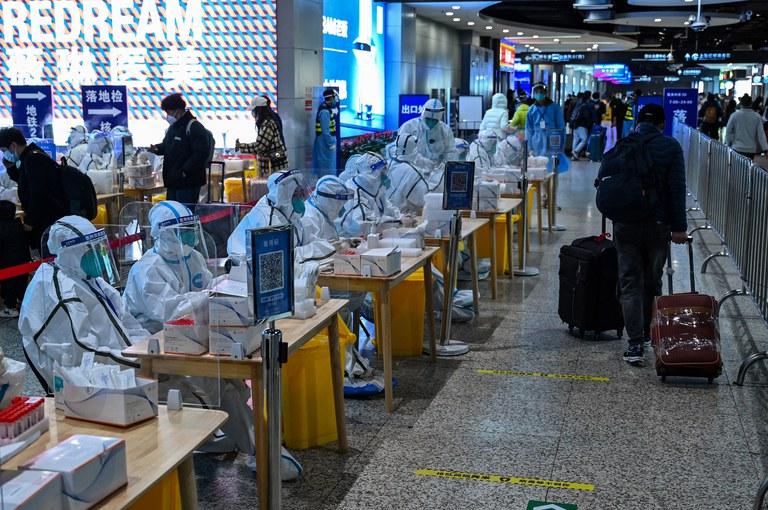 A Chengdu resident who gave only the surname Yang for fear of reprisals confirmed that the rules around testing have been relaxed in his city, as well as in the southwestern megacity of Chongqing, which, along with Beijing and Shanghai, has the status of a province in the government hierarchy.
"The latest news today is saying that they won't be checking people's test results … if you want to take the bus or subway or go to the mall," Yang told RFA.
"People who haven't done a test in seven days will no longer be given a red or amber code," he said, in a reference to the Health Code smart phone app, which has tracked people's test results and movements throughout the pandemic, placing them under quarantine restrictions if they have visited a "high risk" area.
"Test results used to be integrated with the Health Code app, but now they're separate, so there's no need to worry about [a sudden code change]," he said.
Long lines for PCR testing
A Beijing resident who gave only the surname Xu to protect his identity from the authorities said there are still long lines of people waiting to get tests in some locations, however.
"In our district in Beijing, there is a line at least 200 meters long for PCR testing," Xu said. "They were telling people to go home and not bother with it, but others were saying they wouldn't be allowed to go to work without a negative test from the past 48 hours."
"They say there's no need to test, but we need to be allowed into our workplaces to make a living," he said.
A Shanghai resident who gave the surname Zhu said testing requirements haven't been dropped across the board in that city either.
"You can't get into some places without a negative test result from the past 48 hours," Zhu said.
Confusion
Many have been left confused by the piecemeal loosening of the zero-COVID policy by the National Health Commission and other departments in charge of China's pandemic response.
On Sunday, students at Wuhan University surrounded the administrative building on campus, complaining that they are still only able to attend class online, and that express deliveries of food and other supplies are still banned from entering the campus.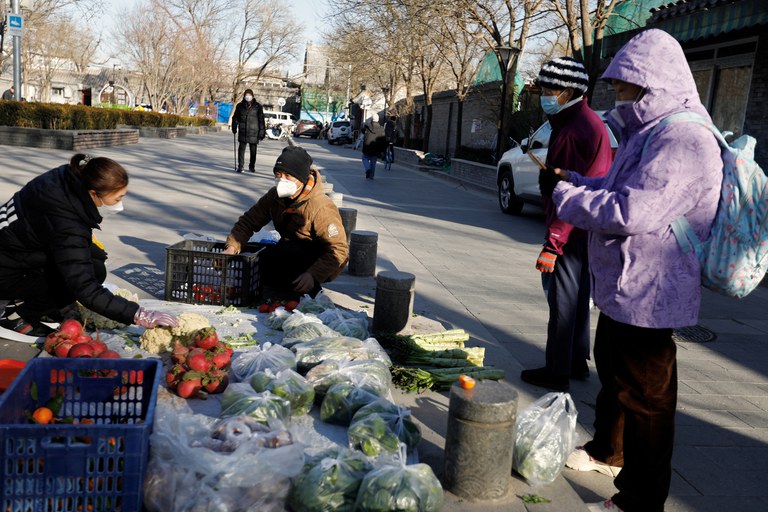 An academic based in the northern province of Hebei who gave only the surname Wang said the loosening of restrictions appears to be a reaction to fears of economic collapse, as well as the desire to stave off further anti-lockdown protests, which saw large numbers of mostly young protesters gather peacefully in the streets and university campuses across China in recent weeks, holding up blank sheets of paper.
"They have no choice but to loosen pandemic restrictions so as to defuse the white paper movement, to avoid rebellion on a much bigger scale," Wang said.
"There will be a period when they pretend to loosen up on the zero-COVID policy, and use that time to settle scores with those who held up blank sheets of paper," he said.
Wang said he didn't expect the government to abandon the zero-COVID policy for good, however.
"Things will definitely tighten up again in future," he said, adding that Li Kangmeng, the first student to hold up a blank sheet of printer paper on the campus of the Nanjing Institute of Communication on Nov. 26, was taken away by police a few days later.
Student's disappearance
Li's "disappearance" has been widely reported by several accounts on Twitter using the hashtag #LiKangmeng https://twitter.com/alicedreamss/status/1598588726019788800, in the absence of any official comment on her whereabouts from the authorities.
Current affairs commentator Si Ling said the economists' article appeared to be testing the waters for the further loosening of pandemic restrictions ahead of a key Communist Party meeting on the economy scheduled in Beijing.
"They are about to hold the Central Economic Work Conference," Si told RFA. "So we are getting these hints released by government-backed scholars that some measures may be lifted [at that conference] in order to boost the economy."
"It is also aimed at reassuring foreign companies with investments in China, and to stimulate further investment from sources other than state-owned enterprises," he said.
But Hong Kong current affairs commentator Sang Pu said he doesn't see the article as heralding an end to the rigid rules either.
"Xi Jinping's zero-COVID policy will never end; it will just go through different iterations," he said.
Social media users have continued to upload footage of disease control enforcement workers in top-to-toe PPE forcing people to go to quarantine camps, amid scattergun reports that these facilities are still being built in various locations across the country.
A resident of Wuhan surnamed Gao said there are still a number of quarantine camps around the city, because they make money for local officials and their allied companies.
"They are still building quarantine facilities, so many of them," Gao said. "They're empty, there's no one in them … it's because they want the money."
Translated and edited by Luisetta Mudie. Edited by Malcolm Foster.