Chinese citizens described wildly varying COVID-19 prevention measures following anti-lockdown protests across the country this week, with some areas still locked down and others easing back on restrictions.
The top ruling Communist Party official in charge of the zero-COVID policy, Sun Chunlan, told local, regional and municipal governments to "optimize" their attempts to contain the virus on Thursday, saying the response to the coronavirus is now "facing a new situation."
State media quoted experts as saying that "optimization" allows a better balance between containing COVID-19 outbreaks and allowing people to live normal lives.
"Effective medicine, especially traditional Chinese medicine, vaccination of more than 90 percent of the whole population, and declining pathogenicity of the Omicron virus, have created the condition for further optimizing COVID-19 responses," the English-language Global Times paraphrased Sun as saying.
She urged frontline workers to properly handle COVID-19 prevention and quickly respond to people's concerns, the report said.
'White paper' protests
Sun's comments came after a wave of "white paper" protests across China sparked by a deadly lockdown fire in Xinjiang's regional capital Urumqi.
RFA's affiliate, Asia FactCheck, found after an investigation that at least five people who died in the blaze were under a lockdown at the time.
Authorities in Beijing loosened testing requirements for people staying home and reopened shopping malls to people with a negative COVID-19 test in the past 48 hours, the Global Times said.
But Beijing residents said the official announcement wasn't being implemented where they lived.
"It's lies – don't listen to them," a resident of Beijing's Fangshan district surnamed Tang told RFA. "They said yesterday it would be lifted today, but it was a lie.
"We've been under lockdown for more than a month now," she said.
Shanghai officials said lockdowns would be lifted in 24 areas previously designated as "high-risk."
However, residents told RFA that areas remain under lockdown, with no loosening of COVID-19 controls across the board.
"The people of Guangdong feel like we're on a roller-coaster at Disneyland," said Liang Songji, who lives in the province in the city of Guangzhou. "Shanghai issued a directive on Nov. 29 telling people to stockpile enough food for two months, while the U.S. Embassy was telling Americans to lay in food stores for 14 days.
"Then, Guangzhou unexpectedly lifted its lockdown on Nov. 30. I was drinking beer downstairs when I saw all the COVID-19 enforcers running to and fro like crazy," Liang said. "About 15 minutes later, at 2.30 p.m., people from the city and district sanitation teams came to tear down the barriers" that block people from going in and out of homes and businesses.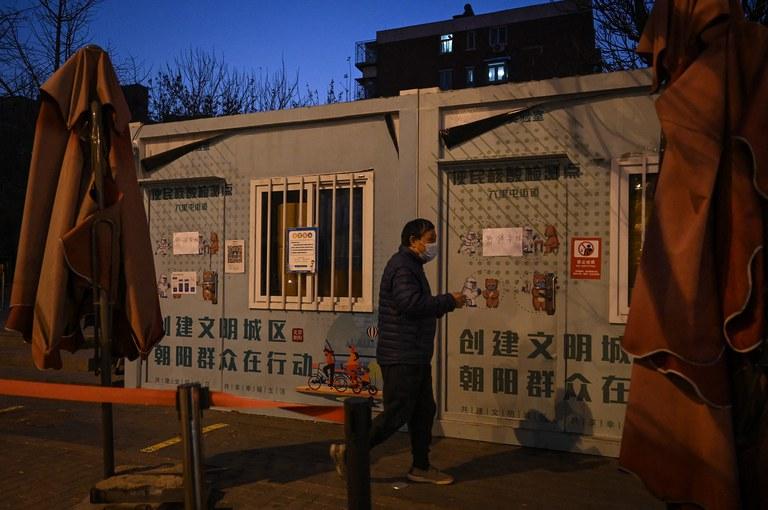 Lockdown changes
A video clip uploaded by a social media account in Guangzhou showed workers dismantling traffic barriers.
"These were installed secretly in the middle of the night, and now they are being dismantled openly," a person comments on the video. "All [PCR] test stations are suspended as of now.
"The lockdown is really over – we don't need passes any more," the user said. "They told me that the disease isn't really that terrible; what's terrible is not being able to go to class, not having any money, or any food to eat."
Around the same time, authorities in Shanghai lifted restrictions on Tang township in Pudong and the Daning Road area of Jing'an district.
"The district government sent out a directive telling us to stockpile enough supplies for a two-month pandemic [lockdown]," a Shanghai resident who gave only the surname Chen for fear of reprisals told RFA. "So I started to think they might lock us down again.
"Then I found out that they're not locking down districts any more, only buildings," he said. "They used to lock down an entire district if they found a single case, then only lift the lockdown after [several] days of zero cases."
Some residents of the central city of Wuhan and the southern city of Shenzhen said they were still under lockdown, however.
"Our compound is still locked down, and we're heard nothing," a resident of Wuhan's Jiang'an district who gave only the surname Li told RFA. "We're not allowed to leave the building – hundreds of households are unable to go out.
"They come door to door to do the PCR tests," she said. "I just asked my classmate in Shenzhen, and she said they're still having to do daily PCR tests there too."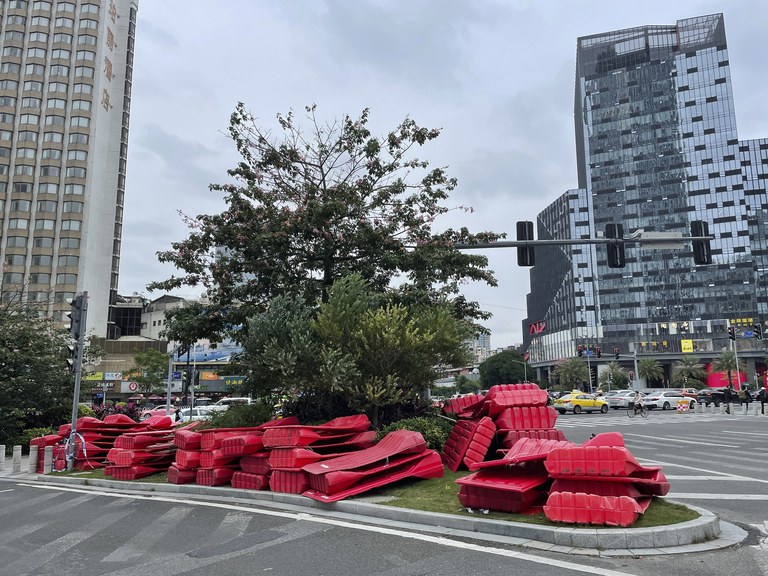 Herd immunity
The loosening of restrictions has been accompanied by online speculation that the authorities are experimenting with the notion of "herd immunity" in the southwestern province of Sichuan.
Two recordings that apparently discussed the roll-out of a new approach at three educational institutions in Shifang city were posted by social media influencer "Mr. Li is not your teacher" on Twitter, and have been circulating on the WeChat social media platform in recent days.
In the recordings, speakers cite a "secret document" from the central government in Beijing calling for a test-run of the herd immunity approach in Shifang.
"Sichuan province was assigned this task by the central government, and issued a secret document to Shifang, requiring us to carry out preliminary experiments under closed-loop management," the students are told in one recording. "This means that all of the teachers and students in the school will become infected [with COVID-19]."
RFA was unable to verify the content of the recordings independently. Shifang city issued a directive on Friday lifting COVID-19 "temporary control measures" across its jurisdiction, saying that areas designated "high-risk" would still be locked down.
In one recording, a man is heard telling students that "the whole country needs this big data." The "experiment" as described in the recordings appeared to consist of lifting all restrictions, then testing everyone three times on day 14.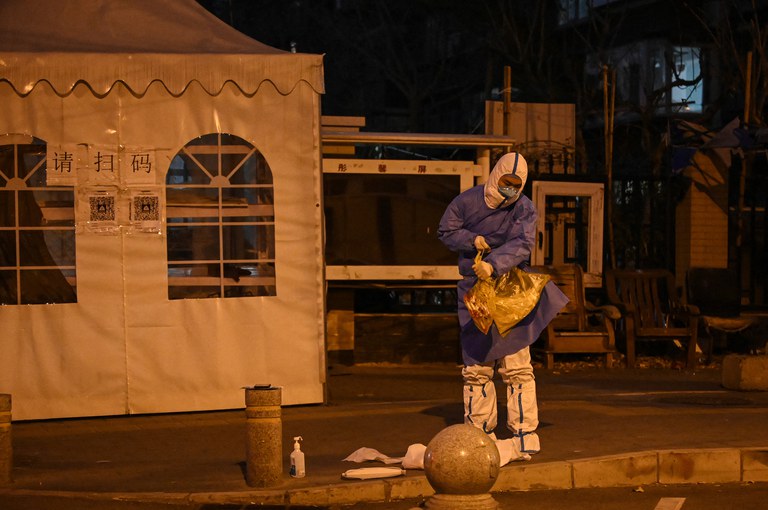 Potential risks
Herd immunity with the Omicron variant of COVID-19 has been described as unlikely by immunology professor Danny Altmann, who described Omicron in a July 1 article in The Guardian as "a kind of stealth virus that gets in under the radar without doing too much to alert immune defenses."
"Even having had Omicron, we're not well protected from further infections," Altmann wrote.
Former Chinese Red Cross Director Ren Ruihong said China should be very cautious about allowing mass COVID-19 infections.
"Europe and the United States have high vaccination rates, and properly functioning healthcare systems," Ren told RFA. "Respiratory infections on a large scale squeeze medical resources, and China has such a huge population that local healthcare facilities wouldn't be able to keep up."
"If [the reports of an end to zero-COVID restrictions are] true, the consequences of letting it rip will be unimaginable," Ren said. "Chinese people have been protected so far, and its vaccines aren't very effective, so people are very vulnerable.
"It will be unfair on vulnerable groups if there is large-scale infection, and the healthcare system could collapse."
The Caixin news site quoted sources on Dec. 2 as saying that China plans to step up vaccination rates among the elderly, setting a target of 90% of people over the age of 80 by next month.
Just over 65% of people in that category are currently fully vaccinated, with only around 40% having received a booster jab, compared with more than nearly 69% of the over 60s, 86.4% of whom are fully vaccinated, immunization czar Xia Gang said at a Nov. 26 news conference.
Translated and edited by Luisetta Mudie.