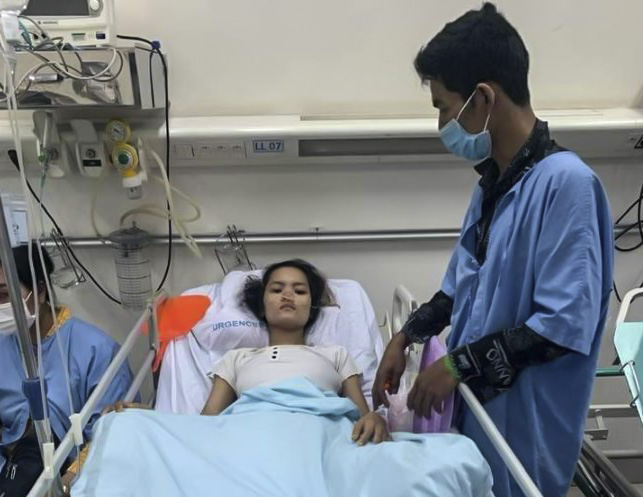 A man in Cambodia has filed a criminal complaint against a private hospital in Kampong Speu province after a midwife removed part of his wife's intestines while performing a procedure to remove her dead fetus, prompting a wider probe into illegal abortions in the country.
On Nov. 2, Chheang Srey Oun, a 22-year-old factory worker, underwent an operation at the Doeum Angkorng Maternity Clinic to remove a five-month-old fetus that had died in her womb, leaving her lower intestine severely damaged.
A preliminary investigation found that she had been operated on by a licensed midwife named Ung Thearin, who had never been trained to perform an abortion.
Chheang Srey Oun is now being monitored at Calmette Hospital in Phnom Penh, where she remains in critical condition. Cambodia's Ministry of Health has temporarily closed the Doeum Angkorng Maternity Clinic pending further investigation.
News of the case has received national attention after the woman used Facebook to appeal for help, saying she is in need of urgent treatment.
Speaking to RFA Khmer from Calmette Hospital on Thursday, Chheang Srey Oun's husband Pheng Voeun confirmed that a criminal complaint had been filed in his wife's case. He called on the courts and relevant institutions to help bring justice to his wife.
He said he has been receiving assistance from the Red Cross to pay for his wife's treatment.
In a statement on Thursday, Health Minister Mam Bun Heng said that the Doeum Angkorng Maternity Clinic had acted recklessly for allowing an untrained midwife to perform an abortion on Chheang Srey Oun.
The clinic must "face the consequences" of its actions according to the law, he said, adding that Ung Thearin's license had been suspended for two years. The midwife has so far failed to cooperate with the investigation and is currently on the run from authorities.
He also ordered a probe of all private clinics and other facilities, adding that those found to perform abortions illegally will be punished accordingly.
The President of the Cambodian Trade Union Confederation, Rong Chhun, told RFA that the Ministry of Health needs to present a clear explanation for what happened to Chheang Srey Oun because it affects the lives of all Cambodians.
"The midwife must be held responsible for the cost [of her treatment], according to the law," he said.
According to the latest figures from the World Bank, Cambodia's maternal mortality rate was 160 for every 100,000 live births in 2017, a 4.76% decline from 2016. The mortality rate had declined for three consecutive years from 189 in 2014.
Translated by Samean Yun. Written in English by Joshua LIpes.