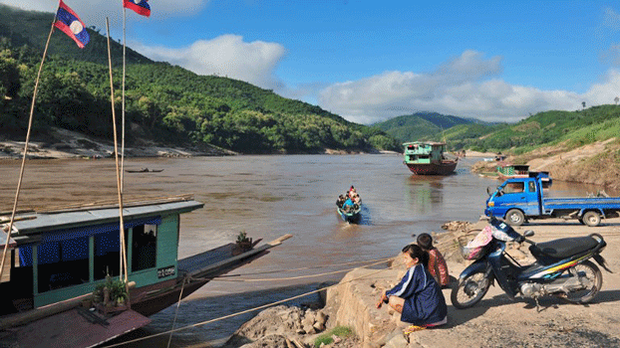 Lao authorities have ordered a China-owned gold mine in the country's northwestern Oudomxay province to suspend operations pending an inquiry into a series of accidents causing death and injury to miners, Lao sources say.
Located in the province's Pak Beng district, the mine will be permanently closed if its owner, China's Lao Zin Long company, continues to ignore regulations governing worker safety, the Lao Ministry of Mines and Power said in its Sept. 22 order.
Lao mine workers speaking to RFA said that accidents have occurred there in the past, with many workers injured or killed by landslides or falling rocks. "Casualty figures have been kept secret by company officials, though," one worker said, speaking on condition of anonymity for security reasons.
Another worker said that most accidents occur when miners dig for gold. "This is mostly due to landslides during the rainy season," the worker said, also declining to be named.
"I don't know how many have been injured or killed. I'm still working there myself, but I'm being as careful as I can, because anything might happen," the worker added.
Also speaking to RFA, a villager living near the mine said he had heard of accidents happening at the mine and had seen ambulances taking injured workers to a nearby hospital.
"I can't go inside the mine, though. I just drive past in my car. Work at the mine is strictly controlled by the Chinese, and villagers can't go anywhere near the area," he said.
"If anyone gets seriously injured, they are taken to the hospital, but I don't know how many there have been or how they are treated when they get there," the villager added.
Accidents go unreported
Reached for comment, officials at Oudomxay province's Department of Mines and Power declined to discuss the issue, referring questions to central government authorities in the capital Vientiane.
But one department official speaking anonymously said that managers at the mine never made reports of accidents directly to his office. "Therefore, we don't know whether the company paid compensation to the victim or not."
"We receive reports of accidents unofficially or see stories about them on Facebook, but we can't do anything about them because the company and the victims' families never notify us," he said.
"They should let us know if they need our help," he added.
Work meanwhile continues at the mine despite the government's order suspending operations, said a Lao woman who works at the mine as a translator. "No, nothing has stopped. Work is going on here as usual," she said.
Much of Laos' recent economic growth has been generated through land concessions to China, Thailand and Vietnam for natural resources including timber, agricultural products, minerals and energy.
But the country's concession policies have sparked friction over environmental pollution and land taken from villagers without proper compensation.
Translated by Sidney Khotpanya for RFA Lao. Written in English by Richard Finney.