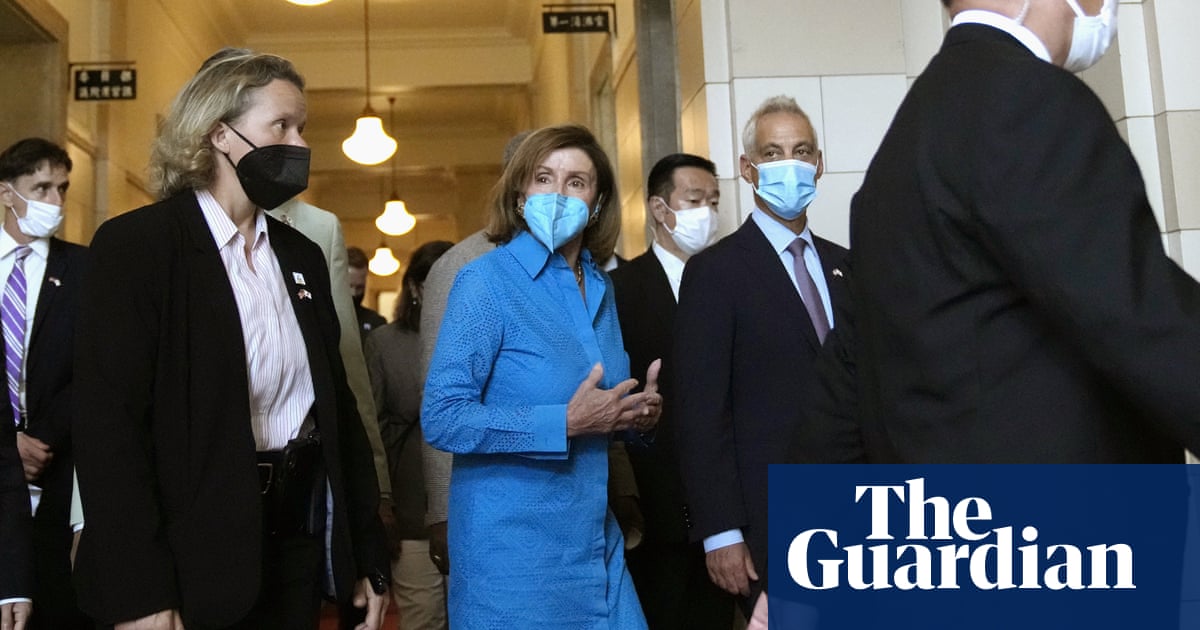 Relations between the world's two largest economies have plummeted into further uncertainty as China halted ties with the US on a range of critical issues – from talks on the climate crisis to dialogue between their militaries – following the visit to Taiwan earlier this week by the US House speaker, Nancy Pelosi.
The declaration of the series of "countermeasures" came as Beijing for a second day staged massive military drills surrounding the island of Taiwan and also announced sanctions against Pelosi and her direct family members for what it called her "vicious and provocative actions".
Taiwan's defence ministry said it had scrambled jets to warn away 49 Chinese aircraft in its air defence zone on Friday and a total of 68 Chinese military aircraft and 13 navy ships had conducted missions. The foreign ministry in Taipei also reported it had detected "massive" number of cyberattacks attempts against its website throughout Thursday and on Friday morning.
With tensions running high in the Taiwan strait, China on Friday said it was cancelling some efforts to keep communication channels open between Chinese and US military commanders. Those included attempts to coordinate air and sea operations to prevent unintentional flare-ups, for example, by warships operating close to each other at sea.
Bilateral talks and collaborations on issues including the climate emergency, repatriation of illegal immigrants, counternarcotics and legal assistance in criminal matters were suspended.
The White House said it had summoned China's ambassador to Washington to condemn the "irresponsible" behaviour of Beijing over Taiwan. A Chinese embassy official in Washington said the only way out of the crisis was for the US to "rectify its mistakes and eliminate the grave impact of Pelosi's visit."
Analysts say the halting of some of the bilateral activities – especially those related to military – threatens to break what the White House calls "guardrails" between the two countries, which could prevent the situation from spiralling out of control.
"These measures are going to decrease chances for the US and China to find a much needed modus vivendi," said Zeno Leoni, a defence expert at King's College London. "The two most powerful states are now unable to talk to one another – in a productive manner."
The US secretary of state, Antony Blinken, told an Asean meeting of top diplomats on Friday that China's reaction was "flagrantly provocative". "The fact is, the speaker's visit was peaceful. There is no justification for this extreme, disproportionate and escalatory military response," Blinken said.
Huiyao Wang, the founder of the Beijing-based Centre for China and Globalisation thinktank and a Chinese government adviser, said China saw Pelosi's visit as evidence that Washington had already broken the "guardrails". He said Beijing regarded the issue of Taiwan as the "ultimate red line" for the bilateral relations, and her visit would galvanise other politicians to visit Taiwan in the future.
"Unlike Newt Gingrich's visit to Taiwan in 1997, Pelosi is from Joe Biden's party; therefore Beijing sees this visit as a clear attempt to tear down the 'guardrails' in the first place," Wang told the Guardian.
The military drills this week have forced a number of vessels to reroute their journeys, causing disruptions to the regional and global economies. On average, 240 commercial ships have passed through the maritime zones each day over the past week, according to Lloyd's List Intelligence data.
The exercises are scheduled to continue through the weekend. The six identified zones surround Taiwan and in some places overlap with Taiwan's territorial waters, which extend 12 miles from its coastline. Non-PLA air and sea craft have been warned to stay out of the areas, some of which are near key shipping ports and flight paths.
Korean Air and Singapore Airlines said they had cancelled flights to and from Taipei on Friday because of the exercises, with the Korean carrier also cancelling its Saturday flights and delaying Sunday flights.
Earlier, the US condemned China's launch of ballistic missiles around Taiwan during live-fire exercises as an "overreaction", as multiple Chinese ships and planes again crossed the median line.
During her time in Japan – the last leg of her tour of Asia – Pelosi explained why she went to Taiwan and said Beijing probably viewed her trip as an opportunity to conduct military exercises. She also vowed to continue to engage with Taiwan despite Beijing's objections.
"We will not allow them to isolate Taiwan," she said.
On Friday, Taiwan's defence ministry announced that multiple China's People's Liberation Army (PLA) ships and planes had crossed the median line during the morning. The ministry said it had dispatched aircraft and ships and deployed land-based missile systems to monitor the situation.
Hundreds of PLA air force and navy craft are involved in the exercises across six zones surrounding Taiwan. At least 11 Dongfeng ballistic missiles were fired near or over Taiwan on Thursday, while dozens of warplanes and ships have made crossings over the median line, an unofficial border in the Taiwan strait, which is one of the world's busiest transport routes.
The scale and intensity of China's reactions to Pelosi's visit this week have, nevertheless, triggered outrage in the US and prompted concerns in Asia. Several countries have urged restraint. On Friday, Japan's prime minister called for an immediate halt to the exercises after his government said at least five missiles had landed within its exclusive economic zone.
Wang said Beijing's ultimate goal was not to break down the US-China relations entirely. "Let's see whether the leaders of China and the US would meet later this year at the G20 and APEC meetings," he said. "What we are seeing is like the US-China trade war: there were tariffs and counter-tariffs. There may still be possibilities for the two countries to have a high-level dialogue."
Todd Hall, who directs the University of Oxford China Centre, said even if this episode subsided, it did appear to be further accelerating the negative trend in US-China relations.
"An interesting question is what the new status quo will be –will this result in an erosion of the median line as point of demarcation? Will Washington and Beijing formulate a new agreement to disagree like the 2014 statement between Beijing and Tokyo in order to move forward?"