Uyghurs seeking justice for loved ones imprisoned in China have turned to a little-known United Nations body for help.
Over the past year, the U.N. Working Group on Arbitrary Detention has issued three rulings on a total of eight Uyghur detainees. In every case, it has ruled against China, saying Beijing violated their human rights by imprisoning them.
"Each case is an individual story and yet more proof of China's attempt to erase the Uyghurs as a whole," said Tumaris Yalqun, who successfully petitioned the group for a ruling on her father, writer and textbook editor Yalqun Rozi.
In March, the working group — a five-member body appointed by the U.N. High Commissioner for Human Rights — asked China to immediately release entrepreneur Ekpar Asat, doctor Gulshan Abbas and journalist Qurban Mamut. All three have family in the United States. Mamut is the father of a Radio Free Asia employee.
In 2022, in addition to Rozi, the working group ruled that China's detention of four members of a Kashgar family was arbitrary.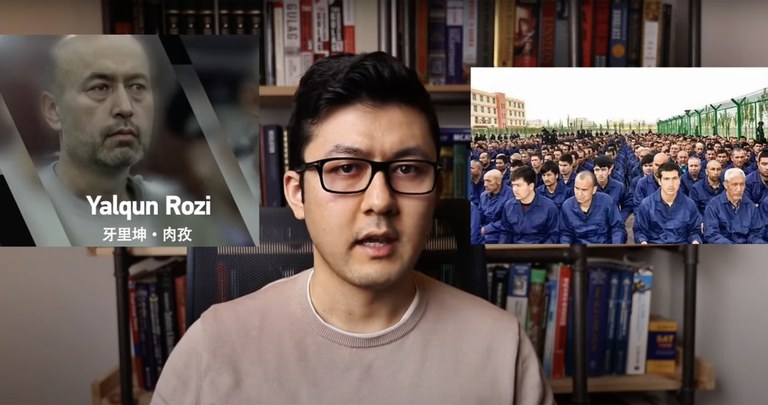 The working group's decisions are not legally binding. But for family members abroad who have petitioned the group for rulings, they represent important official confirmation that China has violated their loved ones' rights.
They can also provide useful third-party documentation for foreign diplomats to cite in their exchanges with China.
"The working group's report is their acknowledgment of Chinese atrocity, which is a big step forward," said Rayhan Asat, an international lawyer who is Ekpar's sister.
Calls from Radio Free Asia to the Chinese U.N. missions in New York and Geneva rang unanswered.
The Chinese government did not reply to the working group's queries regarding Asat, Abbas, Mamut, and the Kashgar family, the Abduraeshids, the opinions say, adding that China's failure to respond contributed heavily to the adverse decisions.
The Chinese government told the working group it strictly abided by the law in adjudicating Mr. Rozi's case but it did not address other questions, the opinion stated.
Long prison sentences
No Chinese judicial filings regarding any of the detained individuals have been made public, but Chinese officials have confirmed, in piecemeal exchanges, that all but one of the detainees have been sentenced to long prison terms.
The Chinese government told the working group, in its reply, that Rozi had been sentenced to life in prison for the crime of "splitting the state or undermining unity of the country."
An official at China's consulate in Istanbul told Nursiman Abdurashid, a Turkish resident, that her father Abdurashid Tohti was sentenced to nearly 17 years in prison for the crimes of "disturbing social order and preparing to commit terrorist activity," and her mother, Tajigul Qadir, to 13 years for "preparing to commit terrorist activity."
Abdurashid later learned that her brother Muhammad Ali was sentenced to 15 years in prison, but she has not heard anything about her other brother, Emetjan.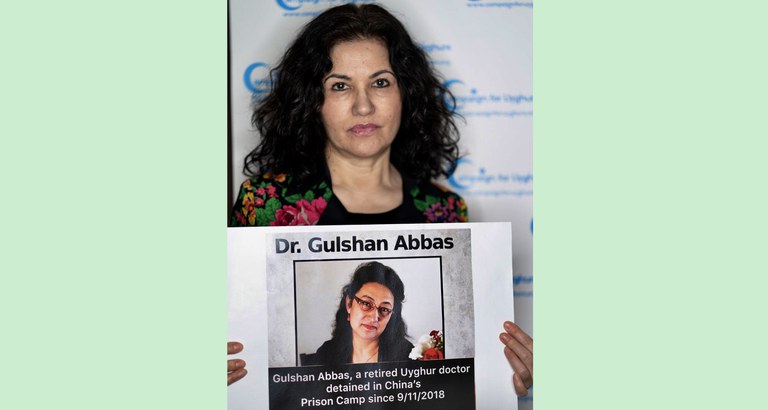 In 2019, Abbas was sentenced to 20 years in prison on terrorism charges, her daughter Ziba Murat has said, citing "an informed source with access to sensitive information."
Asat was sentenced to 15 years in prison, the Chinese Embassy in Washington said in an email to Senator Chris Coons' office in 2020. The charges he was convicted of are unclear. Mamut was sentenced to 15 years in prison for "political crimes," according to Xinjiang officials RFA spoke to last year.
U.S. ties
The rulings reflect concerns among some family members that the detainees may have been targeted for their connections to the United States.
Mamut's son, Bahram Sintash, a digital content producer at RFA, lost contact with him in February 2017, shortly after Mamut visited the United States.
Asat disappeared three weeks after participating in a State Department leadership training program. Abbas was last heard from in September 2018, days after her sister in the United States delivered a speech alleging human rights abuses in the Uyghur Region.
"Uyghur intellectuals like my father were among the first victims of the Chinese government's crackdown on the Uyghur community," said RFA's Sintash.
"I strongly demand the Chinese government to follow the call made by the U.N. working group, release my father unconditionally, and allow him to live the remainder of his life peacefully with my mother," he said.
Violated human rights
The U.N. Working Group on Arbitrary Detention meets in Geneva three times a year, and issues around 70-90 rulings annually, according to its website. The working group said China had yet to grant a request to visit the country it made in 2015.
The working group found that China's detentions of the eight Uyghurs had variously violated Articles 2, 3, 6, 7, 8 9, 10, 11, and 19 of the Universal Declaration of Human Rights. China helped draft that document, which it signed in 1948. While China continues to endorse the declaration, it is not legally binding.
Uyghur activists have long asked the United Nations to condemn China's actions in the Uyghur Region. But opposition from China and friendly countries has slowed progress.
In 2019, U.N. representatives from more than 50 nations signed an open letter to the human rights commissioner praising China's human rights record, as well as its "deradicalization" and "counterterrorism" methods in Xinjiang.
Under Chinese pressure, the U.N. human rights office did not issue a report on Xinjiang until August 2022, more than five years after mass detentions began. Published minutes before the midnight expiration of former Commissioner Michele Bachelet's term, the assessment said China's actions "may constitute international crimes, in particular crimes against humanity."
A month after the report was published, the 47-member UN Human Rights Council narrowly rejected a proposal to hold a debate on human rights abuses in the region. In protest, 50 U.N. General Assembly members, including the U.S., signed an open letter supporting discussion of the report.
International recognition
That dysfunction makes any ruling from the U.N. at all – even from a five-member working group – deeply meaningful for Uyghurs seeking justice for their detained families.
"I know my family is innocent, but other people don't know – they might think that my family committed these crimes," Nursiman Abdurashid told RFA. "Therefore, I was delighted when an international organization released an official report saying China should free my family."
Any family or individual may submit complaints about cases of arbitrary detention to the working group, its website states. The Uyghur families interviewed in this article submitted petitions themselves, hired attorneys or worked with non-governmental organizations to file cases.
After obtaining a positive verdict, Uyghur families can struggle to find a next step in the pursuit of justice for their loved ones.
"I felt lost again [after the ruling] because we could not use this report against the Chinese government," Abdurashid said. "I couldn't find any organization or individual that could use the document to create some action against the Chinese government."
Useful documentation
However, the U.N. rulings can provide useful third-party documentation for foreign diplomats to cite in their exchanges with China, said Hanno Schedler, a genocide prevention consultant.
"It gives states cover to refer to an institution that, although not without its problems, is still really important when it comes to making sure that human rights are safeguarded," he said.
Commenting to RFA on the arbitrary detention group's most recent report, a spokesman for the U.N. human rights office, currently headed by Volker Turk, said the findings were consistent with its concerns about human rights in Xinjiang.
"We have urged the Chinese authorities to provide information on the whereabouts and status of detained persons and release people who have been arbitrarily detained or imprisoned," the spokesman, Jeremy Laurence, wrote in an email.
Gulshen's sister Rushan Abbas, executive director of the Campaign for Uyghurs, said she hoped the U.N.'s recent concern for the Uyghur region could lead to even bolder statements from the body.
"The next step they must take is to declare that China committed genocide and crimes against humanity in East Turkistan," she said, using the Uyghurs' preferred name for their homeland.
Translated by the Uyghur Service. Edited by Nadir and Malcolm Foster.