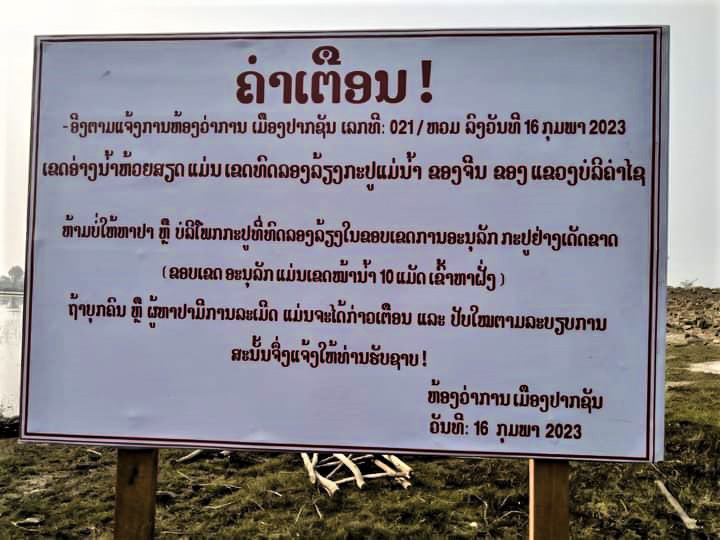 Local authorities in Laos have warned rural villagers not to venture into an area of land that has been designated for a Chinese tourist development, but the villagers told Radio Free Asia that they have been fishing in that area for generations.
District-level officials issued notice on Feb. 16 to the villagers of Huai Siet, in the central province of Borikhamxay, that if they are found fishing or crabbing in the river within the tourist development area, they will be arrested and prosecuted.
"I heard an official say that this area will be preserved for a golf course and a Chinese research area," a villager, who like all unnamed sources in this report declined to be named on fear of reprisal, told RFA's Lao Service. "They put markers around the fish pond already …. This is a place for local people to find food for their families, but the officials … have been preventing villagers from entering since last month."
Laos owes much of its recent economic growth to land concessions that have mostly gone to companies in neighboring countries like China, Thailand and Vietnam. But the concessions often generate friction between developers and residents, many of whom refuse to speak out publicly because they fear retribution.
The villager said that for some of Huai Set's residents, the river is their only food source.
"The villagers have been using this river to fish and catch crabs since the time of their ancestors," she said. "If the government is preserving it for the Chinese tourist development, they will have to find another place to search for food."
Another villager said that the people of Huai Set need help from the government to find other areas to catch food.
"There hasn't been any related official who has come by to help the local villagers search for another place to find food for our families. So some of us will have to move to other areas to search for food.
She said the project has been in the works for several years, and it includes a research facility on fish and crab raising.
The developer of the project, the Chinese-owned ACTS Company, plans to build a golf course and other projects in an area where they were granted a 70-year concession. The tourist development is projected to open in 2024, at the same time as a bridge over the Mekong River that would connect Borikhamxay and Thailand's Bung Kang province.
A local government official confirmed that the project includes a fish and crab research center.
"[Chinese investors] put a big sign in front of the road on the way to the bridge telling tourists to visit when the bridge is completed."
In December, ACTS' director Ly Fong and others involved in the project attended a groundbreaking ceremony. During that ceremony it was revealed that the 39-hectare (96-acre) project will include a trade center, a tourism center, a cultural center, a hotel and guesthouse, a golf course and fishing areas. It will be completed in two to three years.
Translated by Sidney Khotpanya. Edited by Eugene Whong.