A court in Yangon's Insein Prison has sentenced Ye Lin Oo, who served on the central executive committee of Dagon University Students' Union, to a further seven years in prison.
A students' union member told RFA the sentence was handed down on Thursday, under Section 52(a) of the Counter-Terrorism Law.
He had already received a three-year prison term on March 10, under Section 505 (a) of the Penal Code, for incitement against the military.
"Ye Lin Oo has been sentenced to 10 years in prison. Currently, there are no more charges to face," said the students' union member, who wished to remain anonymous for safety reasons.
"Young students are sentenced to long terms in prison although they are innocent. Even if they have been given the death penalty, young students will not give up or step back. We will speed up the revolution."
Ye Lin Oo was arrested along with five other students' union members on Sept. 14, 2021 in central Yangon's Kyauktada township. The six were accused of participating in anti-junta activities.
The 25-year-old was studying archeology at Dagon University before the Feb. 2021 military coup. He stopped going to university after the coup and took part in pro-democracy campaigns.
"His parents are very upset," said Ye Lin Oo's friend Khant Naing. "They had already estimated he would spend many years in prison … but he was sentenced to another seven years, which made them sad. The family regularly sends him the medicine and food he needs."
He added that Ye Lin Oo's parents are worried because prison officials have been moving student activists to prisons with brutal conditions, far away from their families.
Dagon University Students' Union says 40 of its members have been arrested in the 22 months since the military coup.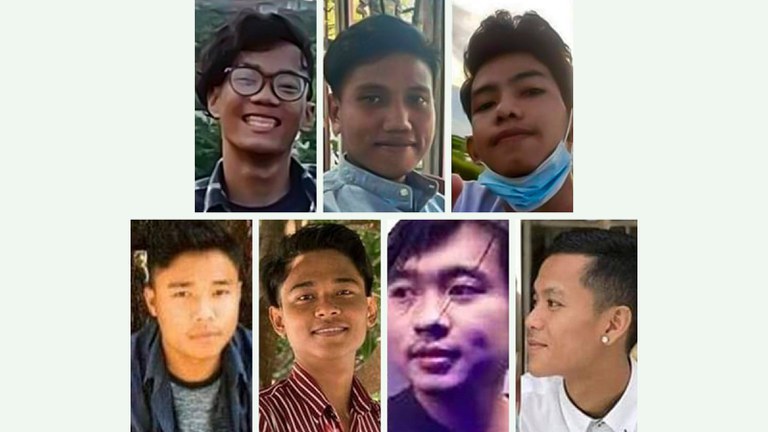 Death Sentences
On Nov. 30, a secret military court in Yangon's Insein Prison sentenced seven Dagon University student activists to death under Article 302 of Myanmar's Penal Code for allegedly killing a retired army officer.
Former Lt. Col. Saw Moe Win was shot at a bank he managed in Yangon's South Dagon township on April 18. Students Khant Zin Win, Thura Maung, Zaw Linn Naing, Thiha Htet Zaw, Hein Htet, Thet Paing Oo, Khant Linn Maung — all males — were arrested three days later and charged with his murder.
A spokesperson for the junta's Prison Department told RFA this month the executions would probably not take place for several months because the students could appeal against their sentences.
The Assistance Association for Political Prisoners said on Thursday that the junta has arrested 16,557 people for their alleged or known roles in the pro-democracy movement, 13,083 of whom are still being held in prisons across Myanmar.
Translated by RFA Burmese. Written in English by Mike Firn.