Ten years ago, Lao activist Sombath Somphone was stopped in his jeep at a police checkpoint outside the capital of Vientiane, forced into a white truck and driven away.
He has never been seen or heard from since.
Though police promised to investigate the Dec. 15, 2012 disappearance that was captured on closed circuit video, authorities have never undertaken any credible technical examination of the footage. They have also refused outside help to analyze it.
A decade later, the Lao government has remained silent about Sombath Somphone's fate.
His wife promises she will keep searching for her husband as long as she lives. He was 60 at the time of his abduction.
"I will keep searching for him until the day I die, because I have hope that he is still alive," Ng Shui Meng told Radio Free Asia at an event Tuesday in Bangkok at the Foreign Correspondents Club of Thailand, held in coordination with the United Nations Office of the High Commissioner for Human Rights, the International Federation of Human Rights, and other rights groups.
"I still miss him everyday and I ask that his family and his friends don't give up the search for him until we get an answer about where he is," she said. "There should be answers about his case when 10 years have passed with no response from the Lao government."
Challenged land grabs
Before his abduction, Sombath had challenged massive land deals negotiated by the government that had left thousands of rural Lao villagers homeless with little compensation. The deals had sparked rare protests in Laos, where political speech is tightly controlled.
Sombath's decades of work on behalf of farmers and sustainable agricultural practices helped in him the U.N.'s Human Resource Development Award for empowering the rural poor in Laos, and later the prestigious Ramon Magsaysay Award for Community Leadership.
Ng Shui Meng asked those in attendance on Tuesday to stand for a minute in silence to remember her husband for his work and friendship before expressing hope that the international community will continue its efforts to find the truth about what happened to him.
Ng Shui Meng was joined on Tuesday by Phil Robertson, New York-based Human Rights Watch's Asia deputy director, who urged the rights community to continue asking questions about Sombath Somphone.
'Afraid' of protests
He said that events like those held on Tuesday are exactly the kind of events that the Lao government does not want to see because authorities there want to suppress the opinions of the people and want them to forget about his case.
"The Lao government is afraid that the people will protest over Sombath Somphone's forced disappearance," he said.
"They know that … many people know him both inside the country and overseas," Robertson said. "He is such a high profile person that the Lao government had to close his case, prevent people from learning more about him, and make them afraid to talk about him."
Attempts by RFA to contact the Lao government about Sombath Somphone's case went unanswered on Tuesday.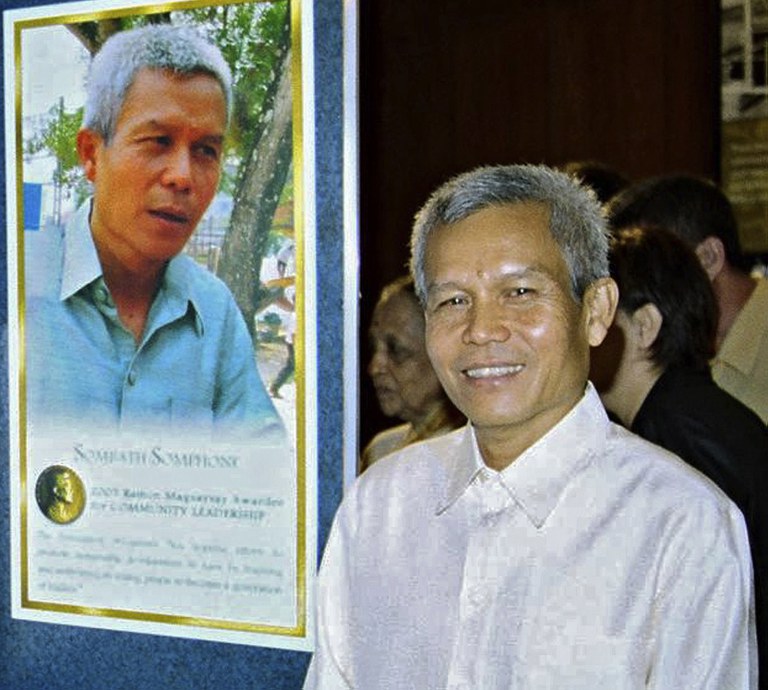 Elephant in the room
The anniversary of his disappearance came as Lao government representatives attended an event organized by the U.N. and EU in Brussels this week to mark the 74th anniversary of the Universal Declaration of Human Rights.
Speaking at the event, Lao Deputy Minister of Foreign Affairs Thongphane Savanphet said his government has continued its cooperation with the U.N. Human Rights Council to promote human rights – but said nothing about Sombath Somphone.
U.N. human rights experts specifically called for the Lao government to "intensify efforts" to investigate Sombath Somphone's disappearance.
"We reiterate our call for the Government to request international assistance and technical cooperation to carefully review existing evidence and engage effectively in the search of Mr. Sombath Somphone in a transparent and participatory manner, in accordance with international standards governing the search for the disappeared," said the statement, signed by members of the U.N. Working Group on Enforced or Involuntary Disappearances, as well as special rapporteurs and independent experts.
'Catalog of inaction, negligence, cover-ups"
Article 19, a freedom of information watchdog based in London, joined with 74 signatories on Tuesday in urging Lao authorities to determine Sombath Somphone's fate and whereabouts, and to provide his family with full reparations.
The groups characterized the Lao government's response to international concern over his case as a "catalog of apparent inaction, negligence, cover-ups, and misleading statements, and an overall lack of political will."
"The Lao authorities have completely failed to uphold their international legal obligations to investigate Sombath's disappearance and to bring those suspected of criminal responsibility to justice in fair trials before ordinary civilian courts," the joint statement said.
The U.S. State Department also expressed its "deep concern" over Sombath Somphone's case in an email to RFA on Wednesday, noting that it has "continue[d] to call on the Lao government to conduct a full, thorough, and transparent investigation into his disappearance."
Translated by Sidney Khotpanya. Written by Josh Lipes. Edited by Malcolm Foster.