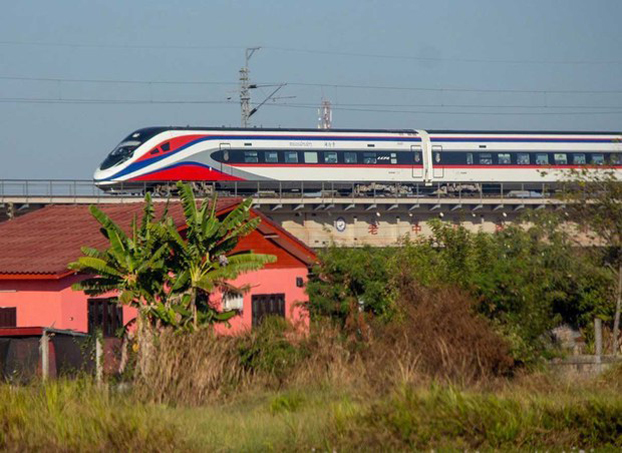 A year ago, a U.S.$6 billion high-speed railway was completed between Laos and China amid much fanfare and hopes that it would fuel exports from Laos and spur growth in the impoverished, landlocked country.
But one year later, most of the trade has been one-way: from China, which exports machinery, auto parts, electronics and consumer goods, sources in Laos tell Radio Free Asia. Laotian exports, hindered by China's strict COVID policies at the border and other structural barriers, have made up just a small fraction by comparison.
"The Laos-China train carries a lot of goods from China to Laos but only a few [goods] from Laos to China, mainly because of the Chinese zero-COVID policy," a Lao transport official told RFA.
Passengers, too, say train service has been far from ideal. Laotians say they face difficulties buying passenger train tickets, which must to be done in person at rail stations. People often waited in long lines for up to six hours, forcing some to pay others to stand in line and buy tickets, though these middlemen charge high markups for their service.
The anecdotal evidence seems at odds with reports from state-run media on both sides of the border. Laos' Vientiane Times said the railway boosted exports during its first year of operation and helped to revive tourism in Laos, meeting a need for travel between Vientiane and the northern provinces.
China's official Xinhua news agency reported that about 2 million metric tons of goods, most of which was cross-border freight, had been shipped both ways along the Lao section of the railway to date, and nearly 1.3 million passengers had traveled along the route.
Part of 'Belt and Road'
A centerpiece of China's Belt and Road Initiative of state-led lending for infrastructure projects to tie countries across Asia to China, the railway began operating on Dec. 3, 2021, running between Kunming in China's Yunnan province and Laos' capital of Vientiane.
The Lao section of the railway handles an average of two trains each way daily, covering 254 miles and 10 passenger rail stations from Boten on the Chinese border to Vientiane.
Structural problems have contributed to the imbalance. Many Laotian companies are not set up to ship their products by train to China. For example, many ship their goods in small quantities, not large enough to be shipped in train containers.
Rubber, cassava, minerals and potash can be transported by train, but fresh produce like bananas and watermelons still must be transported by truck across the border, the official said.
Laotian companies also encounter barriers at the Chinese border, including getting through red tape and paperwork, as well as import tariffs, the official said.
"The Chinese are very strict about our goods, especially at the border," he said.
An official at the Ministry of Public Works and Transport said that Lao officials are working with the railway company and their Chinese counterparts to improve the service by simplifying the process of renting containers for the transport of goods and by reducing wait times at stations.
Mobile app
To address problems with buying tickets in Laos, the railway company began selling passenger tickets online this week via a mobile app.
"It has been difficult to buy the train tickets because they were not available online. That's why there are a lot of middlemen, scalpers and scammers. They buy tickets then sell them to others at higher prices," said a businessman in Vientiane, who often travels on the train.
A tour guide in Luang Prabang, one of the stops along the train route, complained that his customers must arrive at the train station early and wait outside for hours in hot or rainy weather. They also have no access to a restroom because the station opens only an hour before the train arrives, he said.
One passenger told RFA on Monday that the railway company should have developed and rolled out the ticket-purchasing app before passenger services were offered for convenience and to eliminate paying middlemen who jack up rail ticket prices.
Translated by Sidney Khotpanya for RFA Lao. Written in English by Roseanne Gerin. Edited by Malcolm Foster.