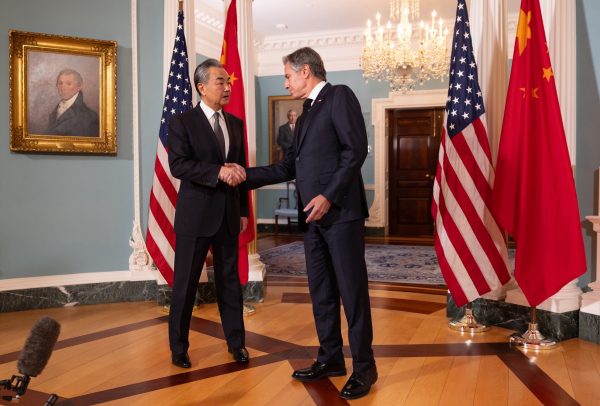 Chinese Foreign Minister Wang Yi is in the United States from October 26 to 28, his first trip to the U.S. capital in over five years. While in Washington, Wang held meetings with U.S. Secretary of State Antony Blinken, as well as National Security Advisor Jake Sullivan (Wang's counterpart in his other capacity: the chief of the Chinese Communist Party's Central Foreign Affairs Office).
Wang also met with U.S. President Joe Biden, reciprocating Chinese President Xi Jinping's decision to meet personally with Blinken when the latter visited Beijing in June.
No major deliverables or breakthroughs were expected from Wang's trip; instead, it is viewed as a chance to lay the groundwork for a potential trip to the United States by Chinese President Xi Jinping. The APEC summit will be hosted in San Francisco in mid-November, and Xi has typically attended those events (with the exception of the pandemic years).
Wang struck a conciliatory tone in remarks to the press before his first meeting with Blinken. "We have disagreements; we have differences. At the same time, we also share important common interests and we face challenges that we need to respond together," Wang said.
"Therefore, China and the United States need to have dialogue. Not only should we resume dialogue, the dialogue should be in-depth and comprehensive … so that we can stabilize China-U.S. relations and return it to the track of healthy, stable, and sustainable development."
The read-out from the U.S. State Department of Wang's conversation with Blinken was short, saying that the two "discussed a range of bilateral, regional, and global issues, including addressing areas of difference as well as exploring areas of cooperation" without specifying topics (the Israel-Hamas conflict was likely on the list, though).
The read-out from China's Foreign Ministry was even shorter, noting that there was a "constructive atmosphere" as the two exchanged "in-depth views" on "China-U.S. relations and common concerns."
In Biden's own meeting with Wang on Friday, the U.S. president "emphasized that both the United States and China need to manage competition in the relationship responsibly and maintain open lines of communication," a White House press release said. Biden also added "that the United States and China must work together to address global challenges," but again there were no details as to any specific issues that may have been discussed.
Blinken's visit to China this summer – his first since assuming office in January 2021 – marked the beginning of a flurry of China-U.S. exchanges. In short order, Treasury Secretary Janet Yellen (early July 2023), U.S. Special Presidential Envoy for Climate John Kerry (late July 2023), and Commerce Secretary Gina Raimondo (August 2023) all made the trip to China.
However, the diplomacy was decidedly one-way. Except for a visit to the United States by Chinese Commerce Secretary Wang Wentao to attend an APEC event in May, no other Chinese minister had visited the United States – until Wang Yi's own visit this week. Chinese and U.S. officials have had several meetings in third countries, including Italy and Switzerland, and most notably Indonesia, where Biden and Xi held their first (and so far only) in-person meeting on the sidelines of the 2022 G-20 Summit.
Now the Chinese foreign minister has finally paid an official visit to the United States, another step forward in bringing some degree of normalcy to China-U.S. relations. Such exchanges used to be a near-annual event, but Wang's trip to Washington is the first by a Chinese foreign minister since 2018.
Since then, China-U.S. relations have gone through a trade war, a pandemic, sharpened tensions over Taiwan and the South China Sea. Elevated tensions saw regular dialogue platforms scrapped and bilateral visits became irregular. Even today, such trips are controversial.
Wang's arrival in Washington sparked criticism from House Foreign Affairs Communist Chair Michael McCaul, a Republican, who cautioned that "the CCP has made clear that it is an unreliable partner."
"During its meetings with Wang Yi, the Biden administration should not fall for false promises but demand deliverables such as releasing Americans taken hostage in China, stopping the export of fentanyl precursors, and halting its military expansionism in the Indo-Pacific," McCaul said in a joint statement with Rep. Young Kim, the chair of the subcommittee on the Indo-Pacific.
With a U.S. presidential election just over a year away, domestic political considerations will only occupy a larger role in decisions on China-U.S. exchanges. In other words, we may not see a Chinese foreign minister return to Washington anytime soon.