When a deadline loomed at the Chinese-run Shin Han garment factory in Yangon, management ordered workers to complete shifts that lasted more than 12 hours, from early in the morning until 9 at night. Two workers with health problems tried to make it through their shift, but when they asked to take a break, they were fired.
Working conditions in Myanmar's garment industry were already bad enough after the 2021 coup to prompt Western brands such as Swedish clothing giant H&M to withdraw from the country. But investors from China and elsewhere are filling the gap – and now things are even worse, workers and labor groups say.
Despite the harsh conditions and low pay, many workers simply can't afford to quit – or even take a sick day. For missing a day, workers at the Shin Han factory will get their already meager wage – as low as 140,000 kyat (US$67) a month — cut by 30,000 kyat ($14).
"Even if they're sick, they have to work because they need this money. Some come to work and they work until they can't," said one employee, who declined to be named and has worked at the factory since June 2022, a few months after it opened.
The withdrawal of Western brands from Myanmar "doesn't mean that production is ceasing – it's sort of the opposite," said Dave Welsh, the Myanmar country director for Solidarity Center, a labor rights organization.
"You have all kinds of nefarious actors that are more challenging for both domestic and international labor groups to pressure and gain leverage on," he said.
New factories opening
Since January 2022, the Myanmar Garment Manufacturers' Association, an industry group, has reported an increase of 61 factories in the sector, with Chinese investors accounting for more than half of the growth. Japanese and Thai investors accounted for some of the other investments.
However, the group declined to identify the new factories or companies involved, saying it was a breach of the investor's privacy.
The Federation of General Workers Myanmar – a major union – told RFA that the number of new factories opened since last January was somewhere closer to 100, with most investors from China and Myanmar. Some are not registered and employ less than 100 workers.
The union said that factories often close and reopen under different names, leaving workers without jobs and making it difficult to hold them accountable, but in about 75% of these new factories, they notice a theme – workers are already raising red flags on working conditions, starting with increased rules inside the workplace.
"Workers only have a limited chance to go to the toilet and drink water," said a spokesperson from the Federation of General Workers Myanmar, declining to be named for security reasons.
"In some cases, the factory issues cards which gives them a chance to go to the toilet and which gives them a chance to drink water – but only two, three, or four cards in one sewing line."
Rising Demands
The International Labor Organization's Commission of Inquiry published in August shows that exports increased above pre-coup levels once in 2022, despite the projected withdrawal of large European players.
It also found an increase in demand from foreign buyers that year, with workers telling the group their targets "could not be achieved reasonably during regular working hours."
"Due to the high amount of hourly rates and high amount of operation targets, workers sometimes need to work even in the lunch break," a Federation of General Workers Myanmar spokesperson told RFA. "So it's kind of like forced labor happening in the workplace."
But the Shin Han garment factory worker said they have another reason to produce as much as they can – now, their salary depends on it.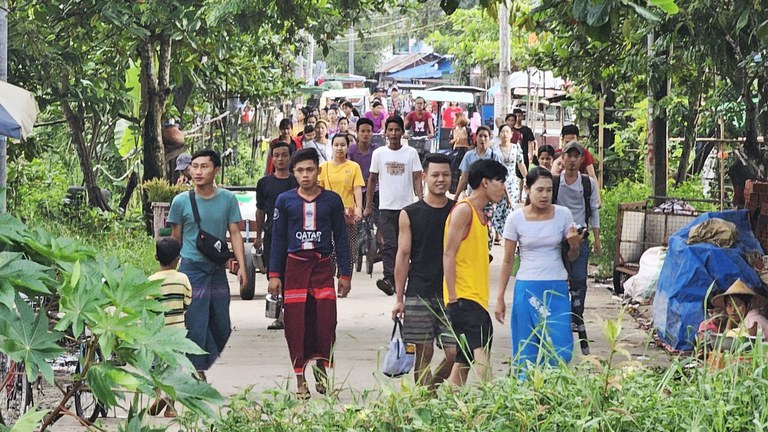 One worker who asked to remain unnamed cited the new "ticket system" in which her base pay is half of her salary before the coup.
The worker told RFA that in her factory, which was opened in January 2022 by a Chinese investor, working quickly is the only way to make pre-coup salaries. With her wage cut to 140,000 kyat (US$67), she needs to work twice as much to make her former 280,000 (US$133) per month.
"To receive the minimum wage, we need to finish at least 400 items a day. It's a huge workload for us," she said. But under the new "ticket system," exceeding huge daily goals is rewarded with even more meager salaries. For every 10 additional garments sewed, they can receive a maximum of 7 kyat, or a fraction of U.S. cent.
"Almost all the factories established after 2022 are running with the ticket system," she said.
Another worker from Chinese and Myanmar-owned Eternal Fashion Company Limited shared a similar experience. Her factory, which opened in May this year and employs over 4,000 workers, pays about half of what her former factory did.
"The hourly rate [for extra work] is reduced to 200 and 250 kyat (9 to 12 U.S. cents)" she said, declining to be named for fear of reprisals. Some, she says, are paid as low as 170 kyat (8 cents) an hour.
Mixed views
As Myanmar's garment sector changes, workers' reactions are polarized.
One woman working in a Yangon bag factory for the last three years said that she sees the new investment as a sign that the sector is expanding again.
"I'm happy because there are many factories increasing in the industrial zone, so they can support the new workers and new laborers who move from the delta and rural areas," said Naw Eh Thar. "The new workers can get jobs in Yangon so they're happy with this increase in new factories."
But others say their sense of security is undermined as factories increase production only to shut down a few months later. Garment workers told RFA that they would prefer a well-established factory over a newer one, citing the lack of job security their peers face.
According to the International Labor Organization, employers fired 41% of the workers after the coup, of which only 29.5% received compensation.
"If I can choose, I'd work at an old factory," said one worker, declining to be named. "The small factories that started during the current situation, these are not certain, so I'm afraid to work at new factories because there's no job security."
For the worker at Shin Han battling wage disputes and trying to meet her production goals, what she mostly feels is fear.
"Before the coup, I was very happy to go to work and I really liked my work at the time," she said. "The next day in the early morning, when I realize I need to go to work, I'm scared."
Edited by Taejun Kang and Malcolm Foster.