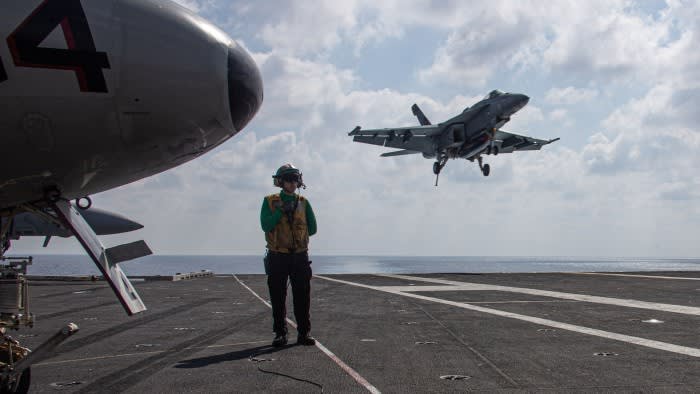 The US is using Israel's delay in launching a ground offensive in Gaza to rush defensive systems into the region amid growing fears that Iran and its proxies will escalate attacks on US forces and allied interests once the invasion begins, according to officials.
The move to stiffen its security in the region and build up a sufficient defence capability to deter Iran comes after a dozen or so attacks on US troops since October 18 which have wounded two dozen US personnel, officials said. Washington is girding for more as Israel prepares for its military assault on Gaza.
While US officials say Israel's planned invasion has been held up in part by disagreements within its own security apparatus on the path forward, Washington has also asked probing questions about Israel's strategy that have helped Israel's military to refine its plans.
On Tuesday night, when asked if the US was urging Israel to delay the ground invasion, President Joe Biden said "the Israelis are making their own decisions".
But officials and military strategists in Washington have welcomed the pause, saying it has given the US time to send air defences, additional personnel and ships to the region to protect its people and deter Tehran as tensions escalate across the region. Israel has conducted hundreds of air strikes targeting Hamas's leadership, weapons and command centres, among other targets, according to the Israeli military.
"It gets easier for us to deter them as more forces flow into the theatre and Israel gets stronger every day," said retired general Frank McKenzie, who led US forces in the Middle East from 2019 to 2022. "Time is our friend here."
The US assesses that its move to deploy more military assets in the region in the past two weeks — including the arrival of two new naval carrier strike groups in the Mediterranean — has helped keep Iran out of the fray. But officials say Tehran's proxies still pose a significant threat to US assets and personnel.
A senior US official said: "What we're seeing is concerning. We have indications that there are groups in the region that have a desire to escalate and that's why we have bolstered our military presence and communicated that we have bolstered our military presence."
Several officials said the US is particularly concerned about Lebanon-based Hizbollah, which is backed by Iran. Israeli forces and the militant group — which fought a 34-day war in 2006 — have exchanged cross-border rocket fire in the past two weeks, although both sides have appeared to be seeking to avoid a full-blown conflict.
On Tuesday, a news agency close to Iran's Revolutionary Guards said Hizbollah's involvement in a war with Israel was now "likely", and could use precision-guided missiles with a range capable of striking all of Israel.
Iran-backed Shia groups have also reportedly moved from Iraq into western Syria near the Israeli border, raising alarm among US officials. The US's Ain al-Asad base in western Iraq was targeted by rockets earlier this week as well as the Al Tanf garrison in Syria.
The militia groups' movements mark an ominous sign of escalation even before the US's closest ally in the region launches an invasion of Hamas-controlled Gaza — a moment of vulnerability for the US and its partners, officials said.
Retired general Joseph Votel, who led US Central Command from 2016 to 2019, said: "The next opportunity that might present itself would be a sizeable ground incursion into Gaza by the Israelis because that will involve a lot of resources and will put a lot of focus [there]."
While the Biden administration assesses Tehran does not want to directly confront the US or Israel, it expects it to continue activating regional proxies to strike instead. Officials have said that as well as supporting and encouraging attacks on US forces and bases, Iran is in some cases actively facilitating the attacks.
"I assess that they don't want to get into it with us and we certainly don't want to get into it with them," Senator Jim Risch, the top Republican on the Senate foreign relations committee, who has received several briefings on the ongoing conflict and the US response, told the Financial Times.
Groups affiliated with Iran have targeted US forces or bases in the region at least 12 times since October 18, according a US official.
The USS Carney, part of the Eisenhower carrier strike group currently in the Northern Red Sea, also shot down 15 drones and four cruise missiles fired by Iran-backed Houthi militants in Yemen that were headed towards Israel last Thursday, US officials said.
"They're not putting the brakes on things," the senior US official said, referring to Iran's involvement.
About 30,000 US forces are in the Middle East, including some 3,500 in Iraq and Syria to advise and assist local forces still fighting the Islamic State. The US maintains bases and facilities across the region, including the Navy's Fifth Fleet in Bahrain and the Al Udeid Air Base in Qatar.
US officials say they are particularly concerned about escalating threats to US personnel in Iraq and Lebanon, where they have called for the departure of non-emergency personnel. The Pentagon and the state department are working on contingency plans for more widespread evacuation of Americans from the countries and others in the region.
But Washington's allies across the Gulf, which rely on the US for defence, could also be vulnerable. Tehran-backed Houthi militias claimed a drone attack on Abu Dhabi last year, while Iran has also harassed vessels operating in the Gulf in recent years. In 2019, the US assessed Iran was behind a devastating attack on Saudi Arabian oil infrastructure.
Biden on Tuesday spoke with Saudi Crown Prince Mohammed bin Salman and "affirmed that the United States fully supports the defence of US partners facing terrorist threats, whether form state or non-state actors".
The threat of escalation between Iran and the US comes just weeks after the countries exchanged prisoners, bringing hopes of improved relations. But since the Hamas attacks, US officials publicly and privately warned Tehran of becoming involved in the conflict in Israel and Gaza.
Current and former US officials said Washington and Tehran were climbing a so-called escalation ladder, with a high potential for miscalculation or misunderstanding.
Votel said: "We are one tragic incident, we are one moment away from being further up the ladder than we want to be in this and I think we've been very, very cognisant of that."
Officials assess Tehran feels it has much to gain from empowering, encouraging and publicly backing its proxies' actions against Israel and the US, even if it does not become fully engaged in a conflict.
Norman Roule, a former senior US intelligence official who focused on the Middle East, said: "These actions reinforce Iran's influence in the region, potentially reduce US influence and complicate plans by moderate Arab states for an early rapprochement with Israel."
Iran and its proxies also believe they can strike to some extent without risking a full-blown conflict, he added.
"There is a broad sense in the region that Washington is unlikely to employ that power against them out of a concern that doing so would risk a multiyear conflict such as Iraq or Afghanistan," Roule said.
Recent attacks on US and allies
October 18
Two separate attacks against US and coalition forces, including multiple one-way attack drones targeting al-Asad air base in Iraq
One-way attack drone launched against US and coalition forces shot
down at Bashur, Iraq
Multiple one-way attack drones launched against US and coalition forces
at al-Tanf garrison, Syria
October 19
Multi-rocket attack on US and coalition forces at Mission Support Site Euphrates, Syria
Rocket attack on US and coalition forces at al-Asad air base, Iraq
Rocket attack on US and coalition forces at Baghdad Diplomatic Support Center
October 20
Three separate attacks including multiple one-way attack drones in Bashur, Iraq
October 21
One-way attack drones were launched against US and coalition
forces at al-Asad air base, Iraq
october 23
Multiple one-way attack drones launched against US and coalition forces shot down at al-Tanf garrison, Syria
(Timeline according to US official)