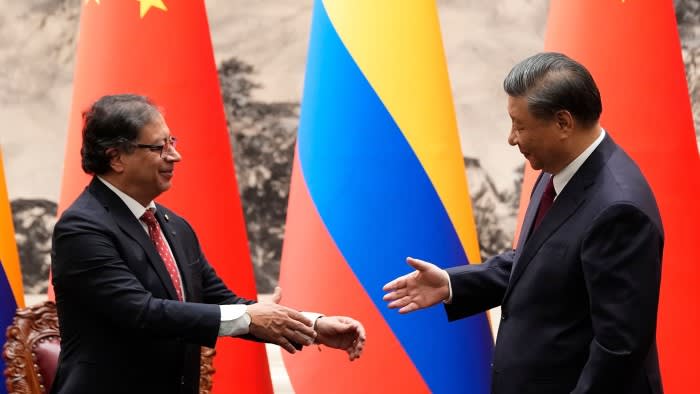 Stay informed with free updates
Simply sign up to the Chinese trade myFT Digest — delivered directly to your inbox.
China and Colombia have upgraded their relationship to a "strategic partnership" in a sign that Washington's principal ally in South America is orienting itself towards Beijing.
Colombia's first leftist president, Gustavo Petro, met his Chinese counterpart Xi Jinping in Beijing's Great Hall of the People on Wednesday on his maiden state visit to the world's second-largest economy.
"We [China and Colombia] have become good friends and partners for win-win co-operation and common development," Xi told Petro on Wednesday, according to Chinese state broadcaster CCTV.
The signing of the "strategic partnership" agreement leaves Guyana as the only South American country not to have the designation from Beijing.
Petro, who took office in August 2022, said on Wednesday that better ties with Beijing were an example of "the good relationship that Colombia has to build around an increasingly multipolar world".
China has been seeking closer ties with South America in recent years. In June it signed a free trade agreement with Ecuador, while Beijing-backed Cosco is building a controversial megaport in Peru.
But gaining a foothold in Colombia — a staunch US ally at the centre of the American continent, with access to the Caribbean and Pacific — is particularly attractive to Beijing, analysts said.
"It would help with the distribution of products and technology services, among other Chinese interests," said Parsifal D'Sola, executive director of the Andrés Bello Foundation, a think-tank working on Chinese-Latin American relations. "And given Colombia's historical ties to the US, it would be a diplomatic win for China."
Petro's visit to China followed a diplomatic spat with Israel and the US over his comments likening the treatment of Palestinians in Gaza to that of Jews during the Holocaust.
The US and Israel both condemned the remarks, as did lawmakers in Washington. Petro then threatened to break ties with Tel Aviv, and complained that Colombia's foreign policy had long been "subordinate" to that of the US.
Analysts worried that Petro, who has a reputation for impulsivity, may be unable to summon the poise required to navigate relations between Washington and Beijing.
"It would take a real chess player on the geopolitical stage to thread that needle," said Sergio Guzmán, whose consultancy Colombia Risk Analysis published a report on Chinese-Colombian relations this year.
"But Petro's recent foreign policy overtures, especially the spat with Israel, shows that he is more impulsive than strategic."
China and Colombia on Wednesday agreed to 12 "co-operation instruments", including sanitation protocols aiming to boost beef and quinoa exports to China; they also pledged collaboration on science, technology, mathematics and green energy.
Colombia is not among the 21 Latin American countries that have joined Beijing's Belt and Road Initiative, which invests in infrastructure projects in low- and middle-income countries, but Petro said ahead of his visit that he and Xi would discuss the scheme.
In Beijing, Petro laid a wreath at the mausoleum of Mao Zedong and met two state-backed Chinese companies building a controversial metro system in Bogotá.
China is Colombia's second-largest trade partner after the US, with exports to the Asian power in 2022 totalling $7bn. China has also invested in gold mining in Colombia, although Petro asked Xi to import more Colombian goods. "There is a huge deficit," he said.
Oil is Colombia's largest export to China. However Petro is seeking to wean the country off hydrocarbons.