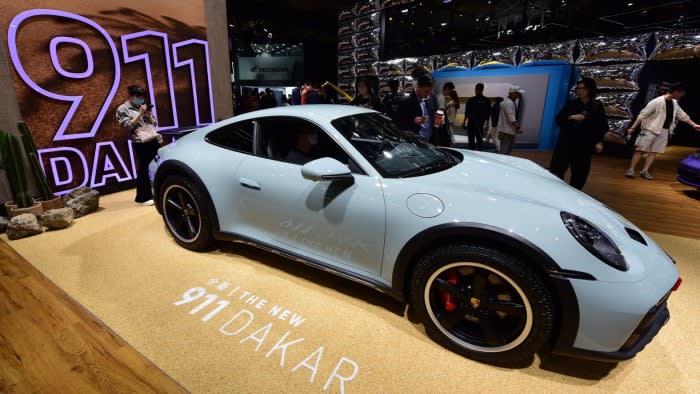 Unlock the Editor's Digest for free
Roula Khalaf, Editor of the FT, selects her favourite stories in this weekly newsletter.
German carmakers will "fight" any potential tariff war between Brussels and Beijing, according to the chief financial officer of Porsche, one of the handful of European brands that does not manufacture cars in China.
Tensions have been rising between Beijing and Brussels after the EU last month announced an anti-subsidy probe into Chinese electric vehicles, warning that Europe was about to be "flooded" by artificially cheap cars.
"As a strong German automotive community, we want to fight and will fight against [any new tariffs]," said Porsche's chief financial officer Lutz Meschke on Tuesday. He said the EU's move was "not very helpful" for the bloc overall, but especially not for Germany, which relies heavily on exports to China.
German carmakers make a large chunk of sales and profits in the country, with Chinese sales accounting for a third of BMW's total car sales last year, and almost 40 per cent for Mercedes-Benz and Volkswagen.
The EU's decision to launch an investigation was widely seen as a win for France, as carmakers such as Stellantis and Renault have a far smaller presence in China than German rivals.
Premium brands such as Porsche are relatively rare exporters of cars to China. Most foreign carmakers, including parent company Volkswagen's eponymous brand, have shifted to producing the majority of vehicles sold in China locally.
Porsche, which makes roughly a third of its sales in China, said the number of delivered cars in the country was down 12 per cent in the first nine months of the year, compared to the same period in 2022, as recovery in the world's largest market for cars lagged.
Meschke said executives had visited the country last week to discuss strategies with dealers, explaining that a renewed focus on "pricing rather than volumes" had been well received by vendors of the luxury car.
The company's blueprint for China included associating it with the "transition to electrification" with investments in exclusive charging hubs and community centres for Porsche owners in big cities.
Porsche on Tuesday said revenues rose 13 per cent to €30.1bn in the first nine months of the year, while group operating profit grew 9 per cent to €5.5bn. The Stuttgart-based company is preparing to launch four new models next year, including an electric Macan.