North Korea has constructed electrified barbed wire fences to keep people from using a new bridge as a route to escape to China, but hungry citizens say the government should focus on feeding the people and supplying them with constant electricity so they wouldn't need to run in the first place, residents told Radio Free Asia.
The New Yalu River Bridge connects the Chinese city of Dandong with North Korea's Sinuiju. It was completed in 2014 and is intended to replace a much older bridge that has been in use since World War II, but has not opened yet because the North Korean side has not completed infrastructure.
In order to dissuade people from using the new bridge to cross the Yalu into China under cover of darkness, Pyongyang is extending electric fences along the border to cover the area around the bridge, a resident of the northwestern province of North Pyongan told RFA Korean on condition of anonymity for security reasons.
"Electric barbed wire is being installed from South Sinuiju to Ryongchon County, near the newly built Yalu River Bridge," he said. "Border Security Command was mobilized for construction."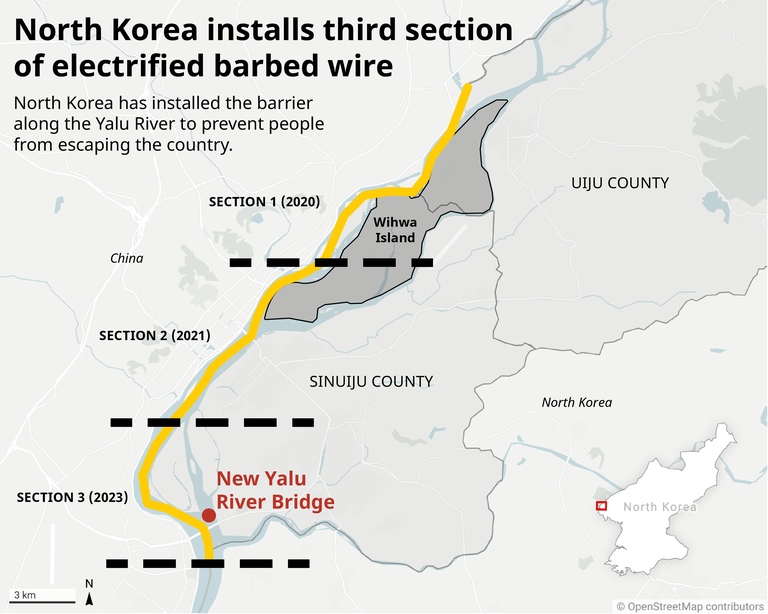 North Korea employed electric fencing to keep people from escaping from Sinuiju to China in 2020 and 2021 during the pandemic, with the intent of stopping people from escaping while the entirety of the Sino-Korean border was closed and trade with China was suspended. 
But this new fence is drawing criticism and ire from residents, who say it is a misallocation of resources when the people have to put up with regular rolling blackouts due to a shortage of electricity.
"The residents see the construction of this high-voltage electric barbed wire fence, and they say if the authorities have the money to install the barbed wire, why won't the authorities give people food?" the resident said. "They are openly criticizing the authorities who they say are turning the country into a prison."
The fences should be completely installed by the end of the year, another resident, who requested anonymity for personal safety, told RFA.
"As the electric barbed wire continues to be installed in the border area of North Pyongan Province, residents ask, 'What kind of country needs electric barbed wire to catch defectors?' " he said. 
"Criticism is pouring in that if there is enough electricity to supply the barbed wire then that electricity should be supplied to the people," he said.
Translated by Claire Shinyoung Oh Lee. Edited by Eugene Whong and Malcolm Foster.
Photo and map in folder
ENG_KOR_ElectricFence_10242023 (it looks like the top of the fence is electrified based on what appears to be insulators on top of each fence post)
A Chinese cruise boat passes buildings in North Korea's Sinuiju on the Yalu River separating North Korea and China, in Dandong, Liaoning province, China, April 20, 2021. Credit: Tingshu Wang/Reuters