Hong Kong leader John Lee vowed on Wednesday to 'eradicate the causes' of dissent that he said still lingered in the city despite a 28-month-long crackdown on criticism of the authorities.
Speaking in his annual policy address, the second since he was "elected" unopposed under new election rules that allow only "patriots" to take public office, Lee said that while Hong Kong may appear peaceful and calm, "undercurrents" of opposition to the government remain.
Quoting the ruling Chinese Communist Party's top official in charge of Hong Kong, Lee said that "the root causes of chaos haven't yet been eliminated," warning that the authorities will remain on the lookout for "covert rebellions," following warnings from the city's security chief that works of art can be subversive.
"We must stay vigilant against the possible resurgence of street violence, be conscious of covert rebellions through 'soft resistance,' and watch out for those anti-government movements overseas looping back to Hong Kong," said Lee, who has likened overseas democracy activists to "rats crossing the street" and vowed to pursue them for the rest of their lives.
"We should pay particular attention to those anti-China and destabilizing activities camouflaged in the name of human rights, freedom [and] democracy," he warned, quoting Hong Kong and Macau Affairs Office Chief Xia Baolong.
Forthcoming legislation
Lee said his administration is currently drafting new national security legislation to be passed in 2024, which officials have said will "close loopholes" in the 2020 National Security Law imposed on the city by Beijing.
His government will also step up a campaign to teach the public to "respect the regional flag and emblem," boost an ongoing program of "national security education" in schools from kindergarten upwards, and begin a citywide "patriotic education" campaign in schools – something that was put on hold following a mass protest movement in high schools against the idea in 2012.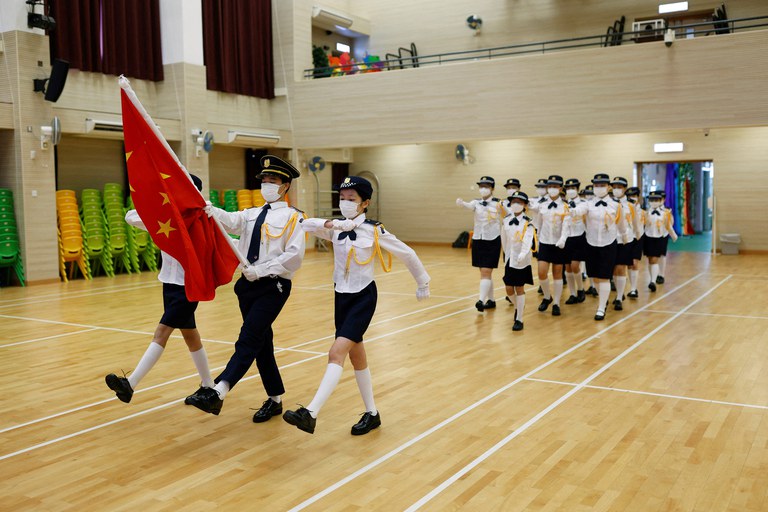 Lee said the program would "help cultivate the spirit" of a letter to a Hong Kong middle school from Communist Party leader Xi Jinping, calling on them to learn more about Chinese history and boost their patriotic sense of belonging.
Hong Kong's school teachers will be sent on study tours to mainland China, while the education bureau will step up school inspections to ensure compliance with the patriotic program, Lee said.
Lee also called on the city's 7 million residents to cast their votes in District Council elections on Dec. 10, following calls for a boycott from overseas-based democracy activists, who said the new rules meant only pro-government candidates could run.
Expanding the definition of a crime
Australia-based former opposition lawmaker Ted Hui said the government wants to make its "national security" system all-pervasive.
"The forthcoming … legislation is expected to be even more comprehensive than the current National Security Law," Hui said. "Certain provisions around incitement, espionage and the disclosure of state secrets that aren't in the National Security Law will be added, to expand the scope of what is considered a crime."
"It will also raise penalties, make the law more severe … and give the government even more ways to suppress those fighting for democracy, turning Hong Kong from a police state into a national security state," he said.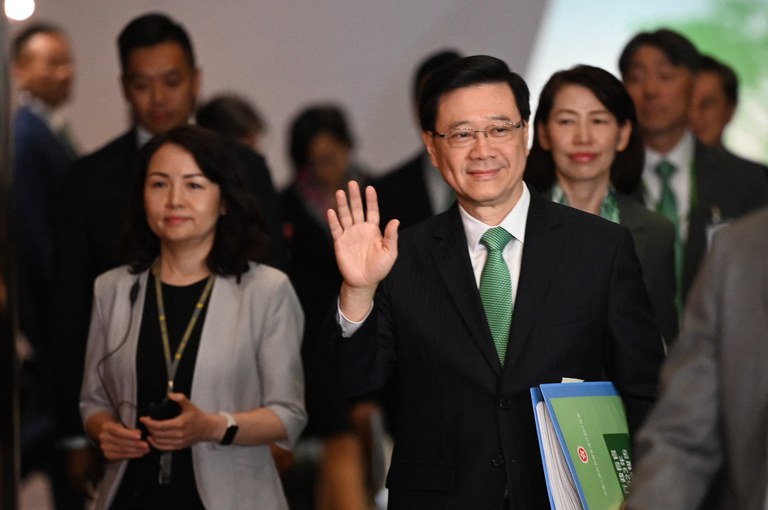 Current affairs commentator Sang Pu agreed, noting that Lee's administration will also set up a number of "working groups" and offices to coordinate patriotic education, making the city's government even more like that of mainland China.
"He has created a lot of offices, all of which focus on patriotism and national security, putting out a huge amount of propaganda," Sang said, adding that China wants to see Hong Kong integrated into its "Belt and Road" sphere of influence alongside its Southeast Asian neighbors.
Belt and Road office
Lee on Wednesday announced special employment visas for nationals of Laos, Vietnam and Nepal to work in the city and boost bilateral cooperation, while allowing overseas students who graduate with a bachelor's degree or above to stay in the city to work.
A Talent Services Office will be set up to coordinate the plan, according to Lee's address, while a Belt and Road office will encourage businesses to integrate with China's overseas influence, supply chain and infrastructure program.
The government will also be reaching out to companies that have relocated in recent years to return to the city, offering fast-track multiple-entry visas to mainland China to foreign nationals working in Hong Kong, to encourage trade and economic links with mainland China, Lee said.
Translated by Luisetta Mudie.