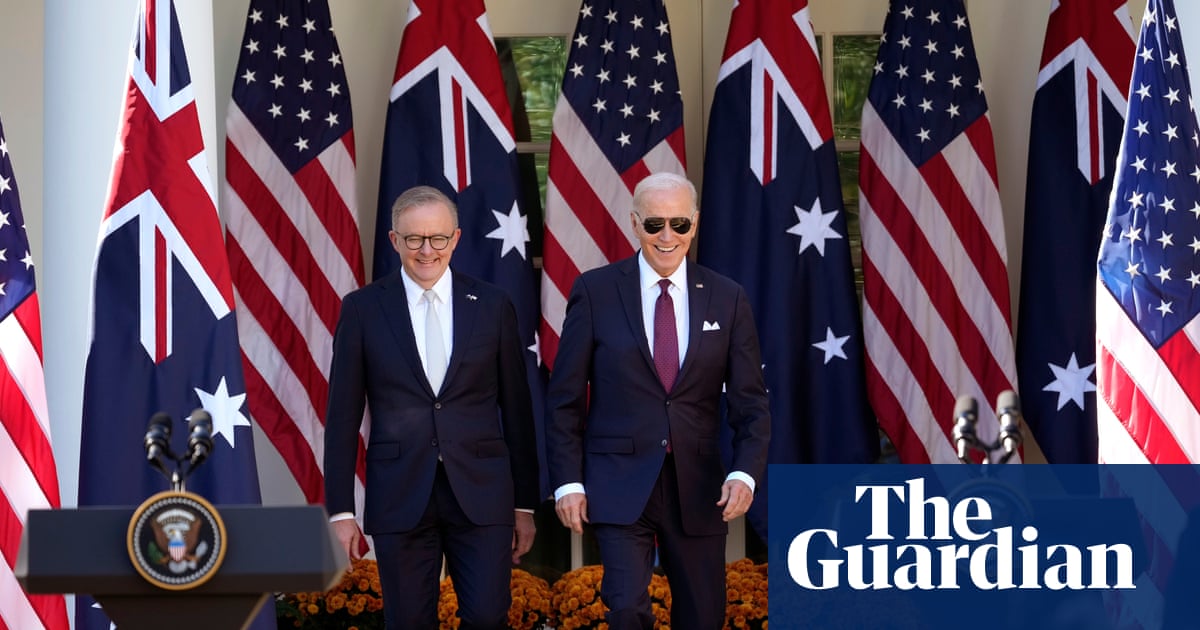 Joe Biden has played down congressional jitters over the Aukus nuclear-powered submarine deal and has revealed he assured Xi Jinping that the countries involved are not aiming to "surround China".
The US president welcomed the Australian prime minister, Anthony Albanese, to the White House and insisted he was "confident that we're going to be able to get the money for Aukus because it's overwhelmingly in our interest".
"So the question is not if, but when," Biden said during a joint press conference with Albanese in the rose garden on Wednesday US time (Thursday Australian time).
Biden also relayed a conversation he previously had with China's president about the Aukus security partnership, in which Australia, the US and the UK have pledged to work together on advanced defence capabilities.
"When I was asked when we put together the deal, I was asked by Xi Jinping, were we just trying to surround China?," Biden said
"I said, no, we're not surrounding China. We're just making sure that the sea lanes remain open, it doesn't unilaterally to be able to change the rules of the road in terms of what constitutes international airspace and water, space, etc."
Biden and Albanese spoke to reporters after wide-ranging talks at the White House. They pledged to cooperate in numerous fields, including space, with a deal paving the way for launches of US commercial space vehicles from Australia.
There was a heavy emphasis on working with Pacific countries amid intensifying competition for influence in the region.
The leaders announced plans for the US and Australia to "co‑finance critical maritime infrastructure projects in Kiribati, including the rehabilitation of Kanton Wharf and Charlie Wharf in Tarawa". They will also assist Pacific countries with banking services and undersea cables.
The climate crisis formed a significant part of the talks, with plans to collaborate on battery supply chains "to explore the deepening of both countries' manufacturing capability and work on battery technology research and development".
In their joint statement, Biden and Albanese acknowledged that "achieving the goals of the Paris Agreement will require rapid deployment of clean energy and decarbonisation technologies, and increased electrification in our countries this decade, alongside the phasedown of unabated coal power".
It was the ninth time Albanese has met with Biden since the May 2022 election, although the earlier meetings mostly occurred on the sidelines of international events.
Biden and the first lady, Jill Biden, welcomed Albanese and his partner, Jodie Haydon, to the White House for a private dinner on Tuesday evening but the main diplomatic talks were held on Wednesday.
The day began with a welcome on the south lawn of the White House before the two leaders held a formal meeting in the Oval Office.
Biden began that meeting by apologising "again for not being able to make my visit to Australia" in May when the Quad summit in Sydney was called off because of debt ceiling negotiations in the US.
"Things were a little bit in disarray here and required to be home," Biden told Albanese.
Albanese will be feted at a state dinner later on Wednesday US time (late Thursday morning AEDT).
Biden described ties with Australia as "strong" and getting "stronger", while Albanese said the alliance was based on "a faith in freedom and democracy, a belief in opportunity, a determination to build a prosperous and more peaceful world".
However, seven months after Albanese joined Biden and the British prime minister, Rishi Sunak, in San Diego to announce the Aukus plans, there remains uncertainty over congressional approvals needed for them to succeed.
Aukus will require reforms to the US export control system. Congress will also need to authorise the sale of at least three Virginia-class submarines to Australia in the 2030s but some Republicans have raised concerns that will come at the cost of the US's own needs. Australian-built nuclear-powered submarines are due to enter into service from the 2040s.
Standing alongside Albanese on Wednesday, Biden urged Congress to "pass our Aukus legislation this year".
Albanese played down concerns about the deal, saying he regarded the US "as a very reliable partner".
"And I regard the relationship that I have with the president as second to none of the relationships that I have around the world, or indeed domestically, for that matter," Albanese said.
The prime minister said he was "very confident in the discussions that I've had with Democrats and Republicans that there is very broad support for the Aukus arrangements".
Albanese said he looked forward to "a constructive dialogue" when he visits China next month, describing such talks as important to build understanding and reduce tensions.
Biden and Albanese also discussed the Israel-Hamas conflict. In their joint statement, they said Hamas attacks on Israel "can have no justification, no legitimacy, and must be universally condemned".
While pledging to "support Israel as it defends itself and its people against such atrocities", the two leaders also called on "all parties to act consistent with the principles of international law and to protect civilians as an utmost priority".
"We are concerned at the humanitarian situation in Gaza and call on all actors to ensure the provision of humanitarian supplies to populations in need," Biden and Albanese said.
"Our two countries support equal measures of dignity, freedom, and self-determination for Israelis and Palestinians alike and we mourn every civilian life lost in this conflict. We continue to support Palestinian aspirations for a state of their own and consider a two-state solution as the best avenue towards a lasting peace."
Albanese announced that Australia would provide an additional $15m in humanitarian assistance for civilians in Gaza.