North Korean and Uyghur slaves are processing seafood for Chinese companies that export to the United States, experts and lawmakers told Congress on Tuesday, with customs officials struggling to identify and keep the tainted fish off Americans' plates.
The experts told the Congressional-Executive Commission on China that even U.S. military caterers were buying fish caught or processed by laborers trapped in jobs from which they cannot escape – and who are seldom paid a living wage.
Such seafood is hard to differentiate from legally caught and processed fish, they said.
Chris Smith, a Republican from New Jersey and the chair of the committee, said there was ample evidence China-based companies are "exploiting the forced labor of Uyghurs and North Koreans" to undercut international competitors, including in the United States.
"From fish sticks to calamari, these products infiltrate the supply chains of major restaurants, wholesalers, and even find their way into the meals served in American schools and military bases," he said, adding that it violated laws like the Uyghur Forced Labor Prevention Act.
Smith said he and Sen. Jeff Merkley, a Democrat from Oregon who is the co-chair of the commission, had written a joint letter to Homeland Security Secretary Alejandro Mayorkas calling for an investigation into "the weakness of our system" in allowing fish to pass customs.
Tough to trace
Ian Urbina, director of The Outlaw Ocean Project, said that seafood, as "the world's last major source of wild protein," was "a distinct global commodity" where labor exploitation could be particularly profitable.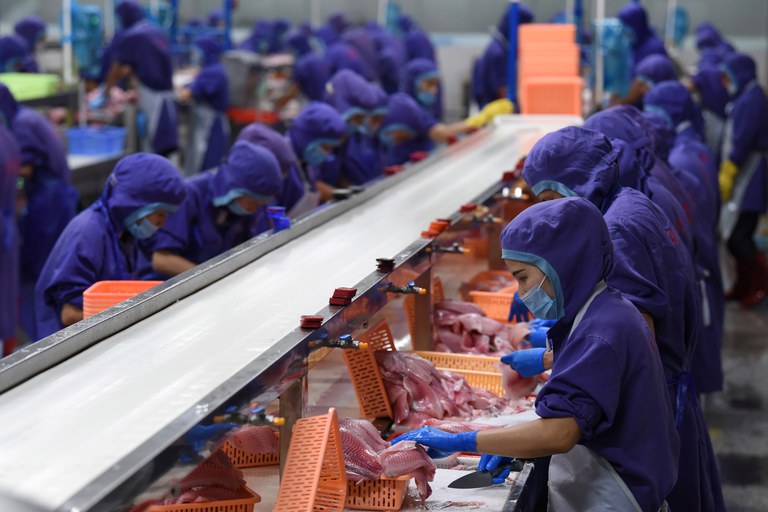 Despite being the world's biggest food commodity by value, he explained, wild seafood is "harder to track than many other products" because it is by definition caught far away from the prying eyes of authorities, making it easy to mask slave labor in supply chains.
"Between bait and plate there are an inordinate number of handoffs of this product," Urbina said. "It goes from fishing ship to refrigeration ship, to port, to processor, to cold storage, to exporter, to U.S. importer, to distributor or food service company, and then finally to a restaurant, to grocery store or public food pantry, military base or public school."
"These many handoffs make it tougher to trace the true origin of the catch, and to ensure there is no forced labor or other environmental crimes in the supply chain," he said. He added the few auditing services that exist "do a very poor job" at identifying slavery.
Forced labor in fisheries took place "in two distinct realms," he said.
At sea, he said, it is "endemic" and enforced by debt bondage, human trafficking and beatings, with Indonesians often the victims. But it also occurs at processing plants on China's coast, using North Koreans as well as Uyghurs transferred from Xinjiang province against their will.
"More than 1,000 workers from Xinjiang have been forcibly relocated to at least 10 seafood processing plants in Shandong that supply dozens of major U.S. food brands," Urbina said. "The ethnic minorities pressed into service do not have an option to say no to these jobs."
North Koreans
The use of North Koreans to process seafood destined for the United States is a long-running issue, according to Greg Scarlatoiu, executive director of the Committee for Human Rights in North Korea.
The North Koreans transferred to China face "inhumane working conditions" and are not allowed to contact the outside world, he said, and were only paid a small sum after returning home after years of work, often forced to moonlight for cash while in China.
"The Chinese companies pay the North Korean regime mostly based on production volume," Scarlatoiu told the commission .
"Men mainly carry frozen fish blocks and women sit down and peel fish or squid or sort clams and crabs by size. Most of the North Koreans work the whole day in cold storage," he said.
"The pungent smell inside is unbearable," he said. "North Korean workers at the Chinese seafood processing plants usually work about 10 hours a day, but if production targets are not met, the workday can extend to over 12 hours."
Scarlatoiu added the true origin of the products of their labor was then often obfuscated to aid its passage to Europe or the United States.
"There are reported instances of processed seafood marked 'Made in China' being shipped out of Vladivostok, where labels are switched to 'Made in Russia,' and exported to third countries," he said.
Difficult solutions
Each of the experts said a solution to the problem would be hard to find, given how difficult it can be at a port-of-entry to differentiate illegally caught or processed seafood from legitimate catches.
But Robert Stumberg, a law professor at Georgetown University and expert in trade law, said there was an easy fix to at least part of the problem: "implement the Uyghur Forced Labor Prevention Act" by blacklisting more companies known to use forced labor.
Stumberg said the Entity List of Chinese companies banned from exports to the United States due to the use of forced Uyghur labor had grown from 20 to just 27 companies since 2021, despite "thousands of pieces of evidence about other entities" being submitted.
Thea Lee, deputy undersecretary for international labor affairs at the Department of Labor and a member of the commission, responded that administration officials were trying to "use those tools that Congress gave us as effectively as we can" without cutting any corners.
"It's been very slow going; it's been frustrating, I think, to all of us," Lee said, adding the department was focussed on figuring out "what can withstand legal challenge, [and] what can be as robust as possible."
Edited by Malcolm Foster