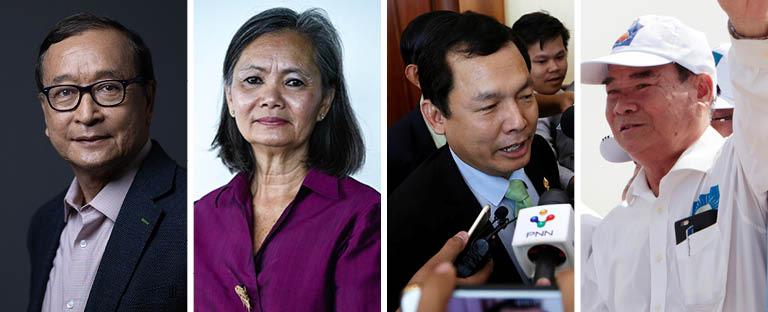 A Cambodian court on Tuesday sentenced exiled opposition leaders Sam Rainsy, Mu Sochua and 10 other activists to prison terms in a case connected to social media comments made in 2021.
The remarks were made in an early 2021 Facebook discussion about whether Cambodians should temporarily stop paying loans as the COVID-19 pandemic slowed business activity around the country.
Another set of Facebook comments stemmed from a news story about high-ranking officials buying citizenships in Cyprus, a European Union member state where a highly lucrative citizenship-by-investment scheme has attracted some rich Cambodians seeking a second passport.
Sam Rainsy, Mu Sochua, Eng Chhai Eang and Ho Vann – all former parliamentarians from the now banned the Cambodia National Rescue Party – were sentenced to eight year prison terms, fined 4 million riel (about US$966) and banned from running for political office for five years.
Phnom Penh Municipal Court Judge Li Sokha also issued an arrest warrant for the four CNRP leaders, all of whom live outside of Cambodia.
The CNRP had been the country's main opposition party until late 2017 when the Supreme Court dissolved it after it made substantial gains in local communal elections.
The party's leader, Sam Rainsy, lives in France and has been convicted in absentia several times since 2016 in cases opposition officials have criticized as politically motivated.
The CNRP's vice president, Mu Sochua, lives in the United States, as does Eng Chhai Eang and Ho Vann.
'This is not a crime'
Defense lawyer Sam Sok Kong told Radio Free Asia that his clients only expressed their political views in the Facebook discussions. He added that the judge never summoned his clients back to Cambodia to testify before the court.
"This is about freedom of speech for public figures," he said. "This is not a crime. This is a right guaranteed by the constitution and international law."
The other activists in the case received five year prison sentences, although one defendant who defected to the ruling Cambodian People's Party earlier this year – Roeun Veasna – had his five-year prison term suspended.
All 12 defendants were convicted of incitement and conspiracy to commit treason.
Just one of them, CNRP activist Voeung Samnang, was in the courtroom on Tuesday. He screamed out that the verdict was politically motivated just before guards escorted him back to jail.
His wife, Teang Chenda, told RFA that the verdict was meant to hurt an innocent person who wants democracy for Cambodia.
"The court didn't have concrete evidence but still convicted him," she said. "The verdict has impacted my children psychologically."
She added that her husband was also convicted on a separate set of charges related to his political activism and is facing a total of 11 years in prison.
Translated by Yun Samean. Edited by Matt Reed.