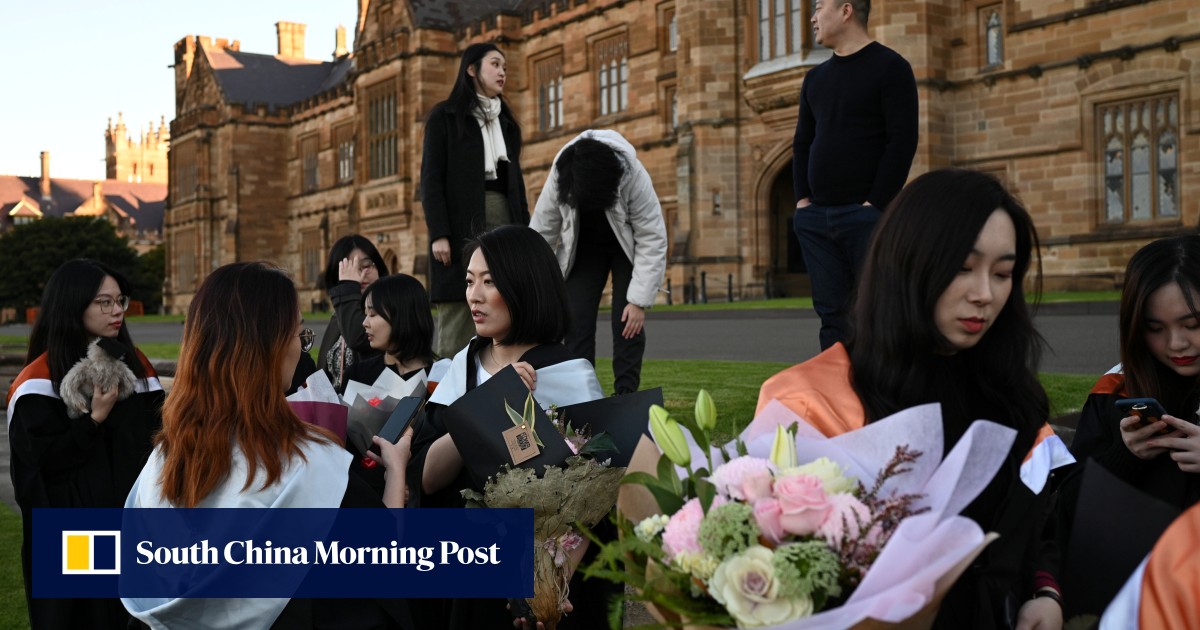 Chinese short-term migration to Australia is on track this year to overtake pre-Covid 2019, owing to improved economic relations, a glut of white-collar jobs and a boom in real estate, according to government data and analysts.
The number of Chinese nationals taking up short-term residence in Australia had reached 276,330 this year as of August, compared with 315,150 for all of 2019, and far outpacing what was seen during the immigration-hobbled pandemic years, according to Australian Bureau of Statistics figures.
That data largely reflects visa issuances for study and employment.
A warming of China-Australia economic relations this year is propelling many of the arrivals, analysts say.
"When countries have better relations, you will see that in the media," said Kirsten Martinus, a graduate research coordinator with the School of Social Sciences at the University of Western Australia. "That would have a huge impact on migration."
Some trade curbs have eased this year as the two countries held high-level meetings to repair ties. China still depends on Australia as a source of raw materials –
especially iron ore
– to supply its massive manufacturing bases.
Australia's growing US$1.7 trillion economy is bringing Chinese investors on short-term visas, analysts say. The top draws are real estate and renewable energy, said Stuart Orr, head of the business school at the Melbourne Institute of Technology.
He noted that Chinese businesspeople in Australia are using "networks" in China to make investments. "It's going up for sure – there are so many opportunities," Orr said.
In the global property market, Chinese have picked Australia as their top preference in the current quarter, edging out former No 1 choice Thailand, according to data compiled by the real estate tech firm Juwai IQI.
The research firm projects 152 inquiries from China about Australia this quarter, up from 87 in the second quarter and 113 in the first.
Approved property investments reached US$6.3 million in the 2020-21 fiscal year, the latest period available, government data shows.
Australia's fiscal year ends on June 30. Property prices rose 34.9 per cent from March 2020 to their peak in March 2022 because of low volumes, according to an analysis by the REA Group advertising firm.
"The first wave of buyers this year consisted of students who urgently needed to move to Australia to complete their studies in person [after the pandemic]," Juwai IQI said in an email to the Post.
"Students have also been joined by Chinese families who lived in China during the three years."
Professional services firm KPMG's foreign investment report, "Demystifying Chinese Investment in Australia", indicated that 12 per cent of Chinese funds injected in the country last year went to renewable energy. Those investments reached US$170 million, up from US$19 million in 2021.
The utility firm State Grid Corporation of China, for example, co-owns a company that helps make biomethane out of organic waste in Sydney. Biomethane is an alternative to natural gas.
Some Chinese are reaching Australia to study after being "trapped" for years of online learning or to work in white-collar jobs such as accounting, software programming or civil engineering, Martinus said.
Lesley Kang will reach Australia by year's end for her final year of doctoral study, visa officers willing. She has signed up for a University of Melbourne programme linked to her enrolment at Fudan University in Shanghai.
The 23-year-old native of China's Inner Mongolia autonomous region would consider staying in Australia for work because of its safety, consumer prices and climate, compared with other Western nations.
"I'm looking at both places," Kang said. "Whether I stay there or come back to China, it's all a good opportunity."
About 3 per cent of Australia's vacant jobs were unfilled last year, due partly to immigration rules and shortfalls in the country's education.
"We have a huge amount of jobs here but don't have the people to fill these jobs," Martinus said.