South Korea's National Assembly passed a motion to arrest its opposition leader for bribery on Thursday, as the progressive opposition bloc's approval ratings sank to new lows and with just a few months before the general election in April. 
More than half of 295 lawmakers who voted – 149 – backed the arrest of the main opposition Democratic Party (DP) leader Lee Jae-myung, outnumbering the 136 who opposed the motion. Six were abstention votes while four were counted as invalid. 
The outcome is rare, given that the National Assembly is currently controlled by the DP, and showed that some members of Lee's own party were in favor of the arrest of their leader. 
Lee has been accused of breach of trust, bribery and other charges in connection with a scandal-ridden real-estate development project and involvement in a company's illegal cash remittance to North Korea.
Prosecutors see that Lee has unjustly offered preferential treatment in the Baekhyeon neighborhood development in Seongnam city when he was the mayor, and also was allegedly involved in a transfer of funds to North Korea by the Ssangbangwool Group.
The opposition leader himself has dismissed the allegations, asserting that he is being unjustly targeted by the administration of President Yoon Suk Yeol, whom he contested against in the last presidential election.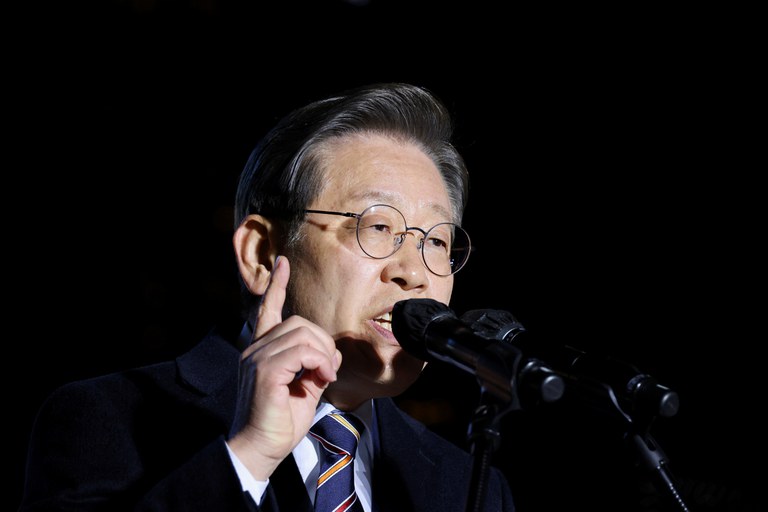 The passing of the arrest motion could intensify political allegiances in both the conservative and progressive camps. Conservatives, viewing Lee as a symbol of corruption, will likely rally even more cohesively in the run-up to next April's general election. Similarly, progressives, recognizing the need for stronger internal cohesion before the upcoming election, are also expected to unite and strategize to rebuild the party. 
The deepening polarization in South Korean politics may affect the U.S. ally's long-term stability of policy and governance, eroding the middle ground for dialogue and compromise.
South Korea has long grappled with exceptionally divisive politics. Notably, South Koreans, alongside Americans, represent the highest percentage of people who perceive strong partisan conflicts in their societies, according to a Pew Research study released in November, to an extent where its domestic politics become unstable. 
The stability in South Korea's domestic politics is crucial as the nation plays a pivotal role in geopolitics in East Asia, amid the U.S.-China competition. A polarized political landscape may translate into South Korea's challenge in forming cohesive and sustainable stances on crucial policies on North Korea and China, as well as its partnerships with the Western allies, potentially influencing broader regional and global strategies.
A divided political environment can hinder the passing of crucial legislation, including its new 'spy bill' that would enable South Korea to prosecute foreign agents in the country. It also potentially risks stalling policy initiatives that are vital for national progress, and a unified foreign policy including that on North Korea, Russia and China across administrations.
Experts note that such a political division could slow down South Korea's aspirations on the global stage.
"The biggest problem of South Korean politics is the absence of genuine 'politics'," said Shin Yul, a political science professor at Myongji University in Seoul. "At its heart, politics revolves around compromise. Dialogue and mutual concessions are necessary to yield tangible outcomes."
"To pave the way for lasting bipartisan policies, we must first rejuvenate 'politics' first."
The outcome of Thursday's vote has taken the DP by surprise. "We are both surprised and shocked by this outcome," its spokeswoman Lee So-young told reporters. "We're going to have an emergency meeting to discuss our possible next steps."
The approval rating of the DP has been hovering at its lowest for months, with its latest rating marking 32%, and 1% behind Yoon's People Power Party, according to a Korea Gallup survey released on Friday.
This figure is seen as surprisingly low for the DP, especially when about 60% of South Koreans disapproved of Yoon, which also indicates that the opposition party has been ineffective in capitalizing on this discontent to their political advantage.
Earlier in February, an attempt by the prosecution to detain Lee over similar allegations was thwarted following parliamentary disapproval.
A DP spokeswoman Kang Sun-woo criticized Yoon on Wednesday over his endorsement of the arrest motion made the day before, likening it as "issuing a death warrant for a political opponent." 
Under South Korean law, rooted in a past marked by authoritarian rule, lawmakers are granted immunity from arrest while the parliament is in session. This provision aims to safeguard freedom of speech for legislators and prevent potential abuse of prosecutorial powers, ensuring that powerful figures cannot silence their political rivals.
Thus, the prosecution must obtain parliament's consent to detain lawmakers.
Edited by Elaine Chan and Taejun Kang.