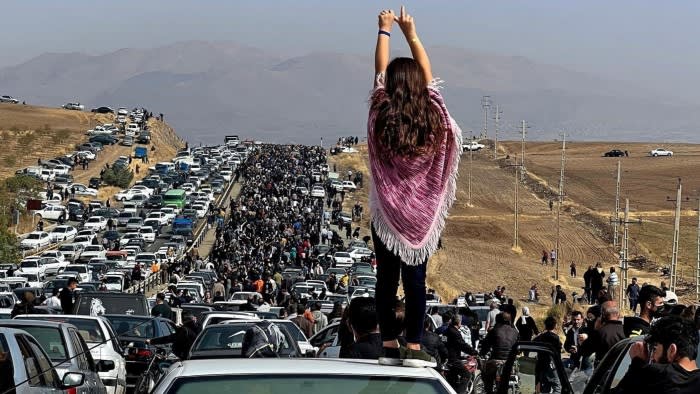 Receive free US-Iran tensions updates
We'll send you a myFT Daily Digest email rounding up the latest US-Iran tensions news every morning.
Sanam Vakil is the director of Chatham House's Middle East and North Africa Programme
The Islamic Republic of Iran is in the business of hostage-taking — both figuratively and literally. Domestically, it has repressed its citizens during the year of protests that have followed the death of 22-year-old Mahsa Amini while foreigners and dual nationals are held in Iranian jails for ransom. Regionally, Tehran is also predatory, through its support of proxy and terror groups such as Lebanon's Hizbollah, as well as its advancing nuclear programme.
Yet, despite the range of these longstanding challenges, western policy on Iran is unmoored and directionless. Effectively, western governments have failed to articulate or deploy a consistent, balanced and united strategy that alters or restricts Tehran's activities. There are not only no goals but no goalposts.
A combination of the war in Ukraine, prioritisation of geopolitical challenges with Russia and China and clear signs of Middle East crisis fatigue after the wars in Afghanistan and Iraq has certainly reduced western appetite to act. The Trump administration's withdrawal from the Iran nuclear agreement in 2018 also created tactical divisions.
Iran policy has become a partisan political issue not just in Washington but also in the UK and Europe. There has been reactionary and inconsistent policy designed to contain Iran crises, rather than solve them.
This has been clear this past week when the long-awaited release of five US-Iranian dual nationals unjustly held in Iran has overlapped with the first anniversary of Amini's killing. Her death in police custody triggered months of national protests under the banner of "Woman, Life, Freedom".
Western governments strongly supported the protests that then engulfed Iran, bringing out women, students, ethnic groups and schoolchildren. They condemned Iran's repression, imposed waves of human rights sanctions and tried to ease internet access. In moves that ignited flickers of hope that more support would come, France's Emmanuel Macron and US secretary of state Antony Blinken even met aspirational opposition leaders. Then, despite an uptick in executions and reports of gross human rights violations, torture, rape and even the gassing of schoolgirls, western condemnations slowed.
Policy instead swung in favour of pragmatic engagement in order to confront security crises relating to the release of hostages, Iran's advancing nuclear programme and Tehran's drone exports to support Russia's war against Ukraine. Such outreach to Iran at a time of domestic upheaval clearly revealed western policy's mixed messages.
The release of the five American-Iranian dual nationals should be celebrated. In exchange, the Iranian government has received access to $6bn of its foreign reserves to be used solely for unsanctioned goods, and five Iranians will be released by the US.
This is not the first such exchange. In March 2022, British-Iranian hostages Nazanin Zaghari-Ratcliffe and Anoosheh Ashoori were freed after negotiations over the repayment of nearly £400mn of British debt owed to Iran since before the 1979 revolution. Iran is said to be holding many more foreign nationals and dual nationals. While it should be clear that western governments will work to secure the release of their citizens, a unified position and strategy to break this vicious cycle of hostage-taking is urgently needed.
To hold off potential crises as the US election campaign kicks off, the Biden administration is also said to have quietly negotiated an unwritten understanding over Iran's nuclear programme. Tehran has gradually slowed enrichment and reduced its stockpiles. In return, it has been allowed to increase oil sales despite sanctions.
This is certainly a risky gambit when there is no formal agreement to prevent Iran from supplying drones to Russia. While the deteriorating economy is a clear incentive for Tehran to play ball, particularly with inflation officially about 40 per cent and a currency that has suffered serious devaluation, there is no guarantee that its calculus won't change.
A more effective approach would see western countries develop a balance between diplomacy and deterrence. This would require continued engagement to obtain documented political agreements to contain Iran's nuclear programme and missile and drone sales, while establishing enforceable red lines through sanctions, pressure and even a military option. Defending human rights and standing up to hostage-taking should be co-ordinated between western partners. Only with clarity and unity can Tehran's hostage-taking — domestic, regional or nuclear — be mitigated.