Receive free Canada updates
We'll send you a myFT Daily Digest email rounding up the latest Canada news every morning.
Video description
Canadian prime minister Justin Trudeau speaking in parliament on Monday
© CBC/Reuters
Canadian prime minister Justin Trudeau speaking in parliament on Monday
India expelled a Canadian diplomat on Tuesday as an extraordinary rift deepened over allegations that New Delhi was involved in the murder of a Sikh activist in British Columbia.
A day after Prime Minister Justin Trudeau said Canadian authorities were investigating whether "agents" of New Delhi were behind the June killing of Hardeep Singh Nijjar, the government of Narendra Modi dismissed Ottawa's statements as "absurd and motivated".
"India has never been accused of carrying out an assassination of a dissident abroad," said Brahma Chellaney, a professor emeritus at the Centre for Policy Research, a New Delhi think-tank. "This is something that authoritarian regimes do."
Citing intelligence from national security services, Trudeau told parliament on Monday there were "credible allegations" of Indian government involvement in the fatal shooting in Surrey, a suburb of Vancouver with a large Sikh community. He added that he raised the issue with Modi last week at the G20 summit.
"Any involvement of a foreign government in the killing of a Canadian citizen on Canadian soil is an unacceptable violation of our sovereignty," Trudeau said. On Tuesday, he called on India to treat the issue with "the utmost seriousness", adding that "we are not looking to provoke or escalate".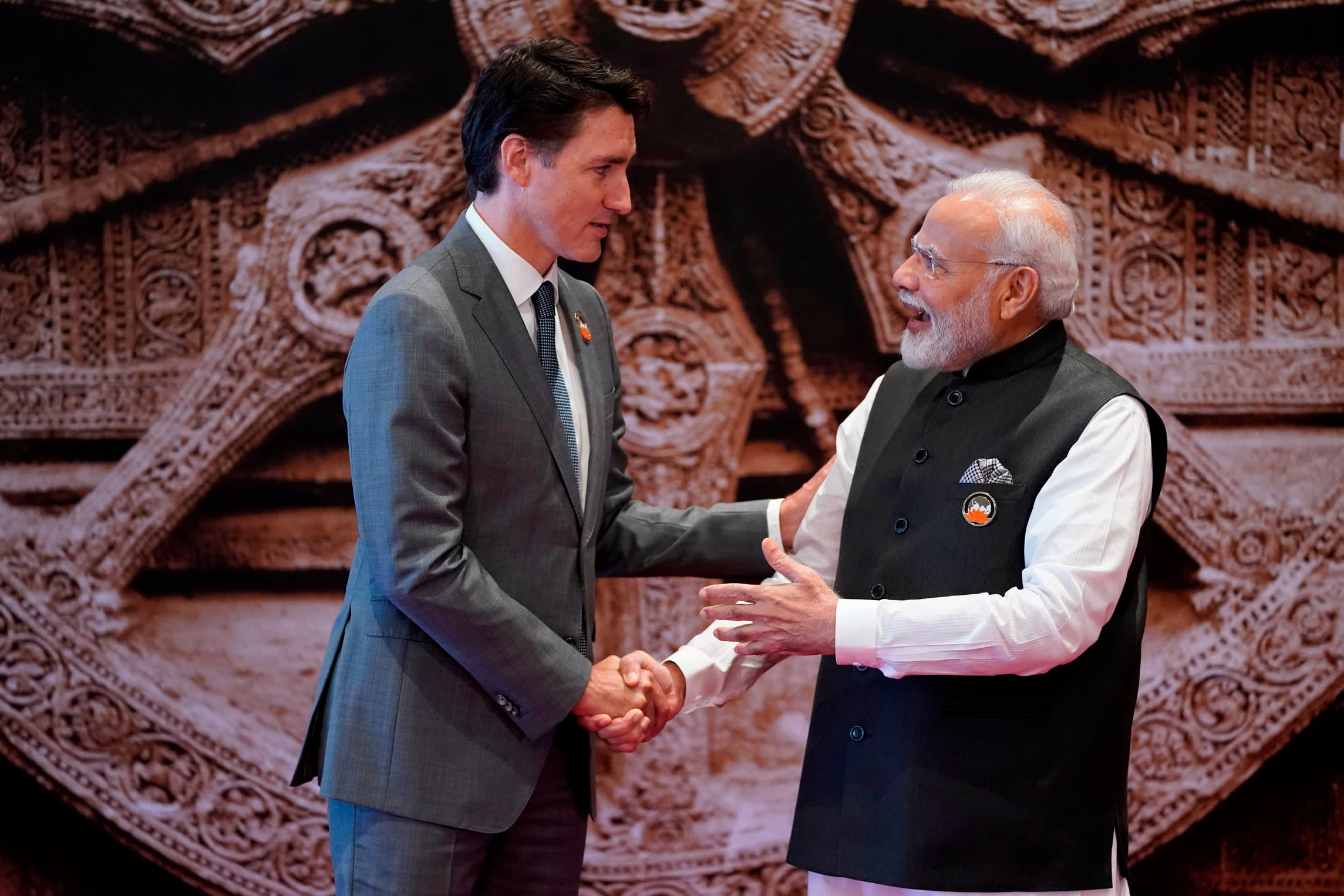 But New Delhi said it had asked a senior Canadian diplomat to leave the country because of "growing concern at the interference of Canadian diplomats in our internal matters and their involvement in anti-India activities". The move was a response to Canada's expulsion of a top Indian diplomat on Monday.
In a reference to last week's meeting between Modi and Trudeau, the Indian foreign affairs ministry said: "Similar allegations were made by the Canadian prime minister to our prime minister, and were completely rejected . . . We are a democratic polity with a strong commitment to rule of law."
US National Security Council spokesperson Adrienne Watson said Washington was "deeply concerned" about Trudeau's allegations and was in regular touch with Canada on the matter.
"It is critical that Canada's investigation proceed and the perpetrators be brought to justice," Watson said. "We urge the Indian government to co-operate in the Canadian investigation and ensure that those responsible are held to account."
Asked why Ottawa had raised the allegations now, Trudeau said: "We wanted to make sure that we had a solid grounding in understanding what was going on . . . we wanted to make sure we were taking the time to talk with our allies."
India's government had accused Nijjar, a Sikh nationalist, of terrorism and posted bounties for his arrest. In 2016, Nijjar wrote a letter to Trudeau that called New Delhi's allegations baseless and said his activism was "peaceful, democratic and protected under the Canadian Charter of Rights and Freedoms".
The World Sikh Organization of Canada has called Nijjar's killing on the grounds of the gurdwara — a Sikh house of worship, where he was president — an "assassination" and urged Ottawa to investigate India's role. British Columbia police said last month that it had identified three suspects, though they were not made public. No arrests have been made.
Jagmeet Singh, the leader of Canada's New Democratic party, which sustains Trudeau's minority government in power, and a Sikh, said that he would leave "no stone unturned in the pursuit of justice, including holding Narendra Modi accountable".
Ties between India and Canada have long been strained, as have personal relations between their two prime ministers. New Delhi in 2020 accused Ottawa of interference after Trudeau spoke up in favour of protesting farmers who forced Modi to abandon a planned overhaul of agriculture law. The two countries paused talks on a planned free trade agreement last week.
Canada is home to nearly 800,000 Sikhs, many of whom live in Surrey and in Brampton, a suburb of Toronto. Some Sikh Canadians support the Khalistan independence movement, which seeks to create a sovereign state in India's northern Punjab state.
India's government condemns the movement and has long accused Canada of harbouring Sikh separatists, whom it described on Tuesday as "Khalistani terrorists and extremists" who "continue to threaten India's sovereignty and territorial integrity".
"That Canadian political figures have openly expressed sympathy for such elements remains a matter of deep concern," New Delhi said.
Pro-Khalistan protests in Canada and elsewhere this year have infuriated Modi's Hindu nationalist government, with supporters of the movement attacking New Delhi's diplomatic missions in San Francisco and London.
In July, India summoned Canada's high commissioner in New Delhi after protesters organised a "Khalistan freedom rally" in Toronto and made threats against Indian diplomats whom they accused of involvement in Nijjar's death.
Additional reporting by Lucy Fisher in London