Speaking at the opening of the UN General Assembly on Tuesday, US President Joe Biden laid out the vision of an America that is back, engaged and restoring its post-war leadership role, a contrast to the vision that China and other authoritarian regimes have offered as they work to chip away at what they characterise as US hegemony.
Even as Biden touted US-led global partnerships – and levelled veiled criticism at China over intellectual property theft, human rights abuses in Xinjiang and the need for "high-quality" infrastructure projects – he called on the two economic giants to work together where possible.
"None of these partnerships are about containing any country. They're about a positive vision for our shared future," Biden said. "When it comes to China, I want to be clear and consistent. We seek to responsibly manage the competition between our countries so it does not tip into conflict."
The US does not seek to decouple the two economies but rather to "de-risk" their relationship, he said.
"We will push back on aggression and intimidation to defend the rules of the road, from freedom of navigation to overflight to level economic playing field, and it helps safeguard security and prosperity for decades," Biden told the 193-member global body. "But we also stand ready to work together with China on issues where progress hinges on our common interests."
Biden's messaging has been made easier by Chinese President Xi Jinping's decision not to attend the UN opening, following his absence from the Group of 20 meeting in India this month. At the same time, a similar absence by top leaders of the four other permanent members of the UN Security Council has increased debate over the body's effectiveness.
At play for both China and the US is the Global South.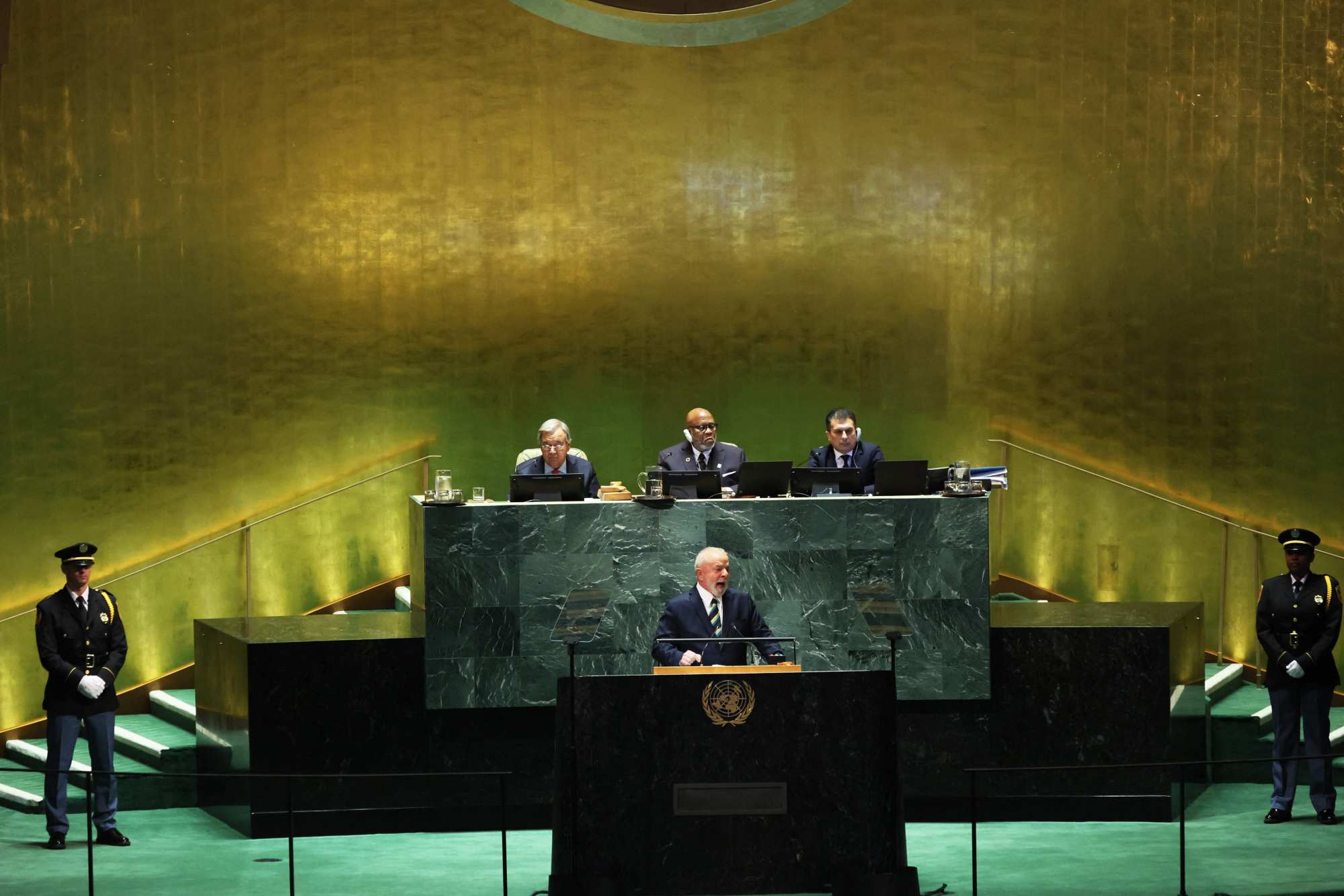 Brazilian President Luiz Inacio Lula da Silva started the day by calling for concerted action, not empty promises. The goal, he said, must be reduced inequality and economic development. Even as he defended democracy, he said that vast swathes of the globe too often end up being afterthoughts as major powers face off.
"We shall continue to criticise any attempts to divide the world into zones of influence and reviving the Cold War," Lula said. "The UN needs to fulfil its role as a builder of a world with more solidarity for eternity and fairness."
Biden countered that, while problematic, the US-led institutions built after World War II – including the World Bank, International Monetary Fund, World Trade Organization, G20 and UN Security Council – were sound, albeit in need of change that Washington is shepherding.
Earlier this month, the US announced plans to shore up the IMF and World Bank's lending and direction.
He also lauded a range of new and reinvigorated global groupings his administration has promoted, including the Quad – Japan, Australia, the US and India – and the Summit for Democracy held in March.
"The United States is working across the border to make global institutions more responsive, more effective and more inclusive," Biden said.
This comes as China seeks to counter Washington's allies and partners strategy – accusing the US of building discriminatory blocs and fuelling a Cold War mentality – and builds parallel multilateral groupings, including the Shanghai Cooperation Organisation, and strengthen Brics, a union of Brazil, Russia, Iran, China and South Africa.
Biden received applause from the delegates with a call to safeguard the principle of sovereignty under the UN Charter seen in the need to support Ukraine in the wake of Russia's February 2022 invasion.
Ukrainian President Volodymyr Zelensky was scheduled to address the General Assembly later in the day. Beijing has tried to walk a fine line, supporting Moscow diplomatically but stopping short of providing military aid, wary of a secondary economic boycott by Europe and the US at a time when its economy is struggling.
"Can any member state in this body feel confident that they are protected if we allow Ukraine to be carved up?" Biden said. "I'd respectfully suggest the answer is no. We have to stand up to this naked aggression."
But much of Biden's messaging was directed as much at the American electorate as the international community. With his 2024 re-election fight looming, the 80-year-old president has sought to contrast his foreign policy experience with that of the mercurial, often isolationist stance of ex-president Donald Trump, who is leading in Republican polls.
Even as Biden lauded American leadership on principles and values, a deeply polarised Congress has threatened to drastically reduce military spending to Ukraine even as institutions weaken, US democracy comes under assault and Trump supporters appear nonplussed by the 91 felony charges he is facing.
Many developing nations have also expressed tepid if any support for Washington's position on Ukraine as food and energy costs have risen globally.
"At this inflection point in history, we're going to be judged by whether or not we live up to the promises we made to ourselves, to each other, to the most vulnerable," Biden said in concluding remarks. "Let's do this work together. Let's deliver progress for everyone. Let's bend the arc of history."