Since he took office in June last year, Liu appears to have been busy, making more frequent headlines compared to his predecessors. In the past few months, he has also toured Britain, Italy, Africa and the Middle East, and he has
met US ambassador to China
Nicholas Burns and other visiting foreign dignitaries.
Liu's visits, according to observers, served to underline the important role his department has played in helping Beijing rally support from foreign parties and political organisations, as China grapples with an
increasingly hostile
external environment.
For both Beijing and Hanoi, such interactions between the ruling parties have also acted as a ballast in their
love-hate relationship
, especially in times of tension and crisis, according to observers.
"Party-to-party ties are a special conduit for bilateral relations," said Carl Thayer, emeritus professor at the University of New South Wales in Australia and a Southeast Asia specialist. "[They] trump the state's foreign policy bureaucracy in times of tension or on particularly important issues in dispute."
During his three-day visit, Liu met his counterpart Bui Thanh Son, Vietnam's Communist Party chief Nguyen Phu Trong, and interacted with the country's think tanks and media, in a bid to "consolidate political mutual trust", according to state news agency Xinhua.
In an obvious bid to reassure Beijing ahead of
Biden's visit
, Trong reiterated a pledge he made last month to prioritise ties with Beijing when he met Liu on September 4, according to Vietnam's state-controlled media.
Trong made a rare inspection trip to the Friendship Pass near the China-Vietnam border on August 25, where he said his country "always attaches importance and gives the top priority to building and developing its good relations with the Chinese party, state and people".
The border trip was a carefully choreographed move to appease Beijing, according to Zhang Mingliang, a Southeast Asian affairs specialist at Jinan University in Guangzhou, pointing out the unusual arrangement that Trong was accompanied by Chinese ambassador to Vietnam Xiong Bo during the inspection.
"Trong rarely goes out due to his health issues. The border trip and his message in the presence of China's top envoy were deliberately staged to highlight Hanoi's friendly ties with Beijing," Zhang said.
He also said party-to-party diplomacy clearly took precedence over state-to-state diplomacy in China-Vietnam ties amid simmering tensions in the South China Sea dispute and Washington's steps to pull Hanoi away from Beijing.
"There is no doubt that party diplomacy has been the ballast in China-Vietnam relations," he said.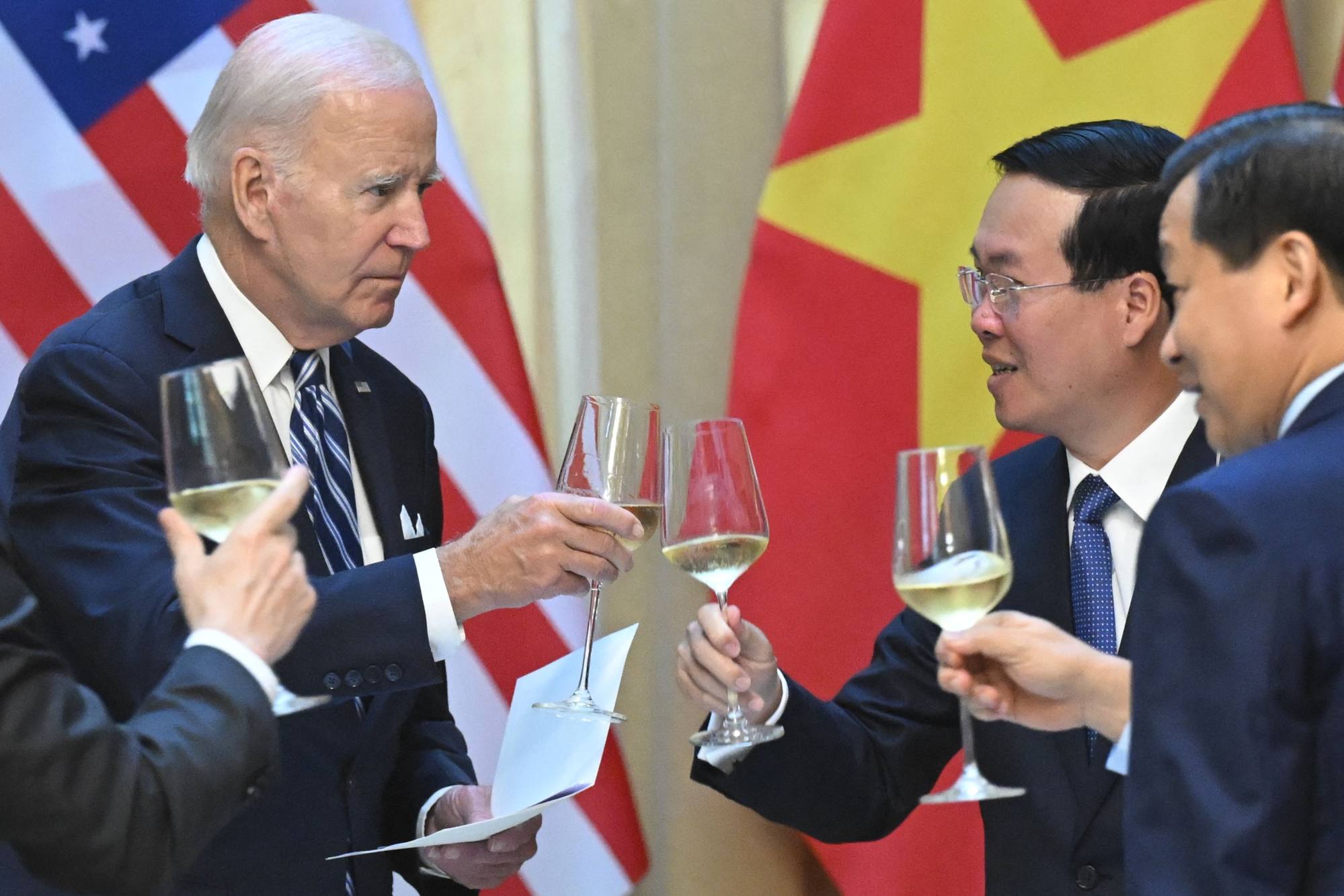 In his first trip abroad in October last year after suffering a stroke in 2019, Trong, 79, became the
first foreign leader
to meet President Xi Jinping in Beijing after Xi secured a precedent-breaking third term. Xi and the Vietnamese leader, who previously secured his third term as party boss in 2021, pledged to push their special friendship of "comrades and brothers" to a new level.
According to Thayer, Vietnam's improving
ties with the US
, Hanoi's largest export market, has been driven largely by economic interests as well as renewed tensions in the South China Sea, where both China and Vietnam claim a large part of the contested waterways.
"Vietnam has recast its long-standing policy of 'cooperation and struggle' to remove ideological restraints in favour of practical outcomes in foreign relations that serve the national interest," he said. He added that Vietnam also improved ties with South Korea last year and planned to do likewise with Australia and Indonesia soon.
According to a mainland-based diplomatic analyst, who spoke on condition of anonymity, Beijing has been deeply concerned about Hanoi's latest tilt towards the US, despite the latter's repeated reassurances.
"Vietnam has clearly benefited from the US-China rivalry and specifically their competition to win over Hanoi, with a large amount of US investments being diverted from China to Vietnam. And Vietnam's upgrade of ties with the US will inevitably put tremendous pressure on China amid fears that Hanoi would one day join hands with Washington to confront Beijing," he said.
On Monday, China's foreign ministry urged Hanoi to honour its pledge to treat ties with Beijing as a top diplomatic priority. It also cast doubt over
Biden's remarks
that the elevation of US-Vietnam ties was "not about containing China".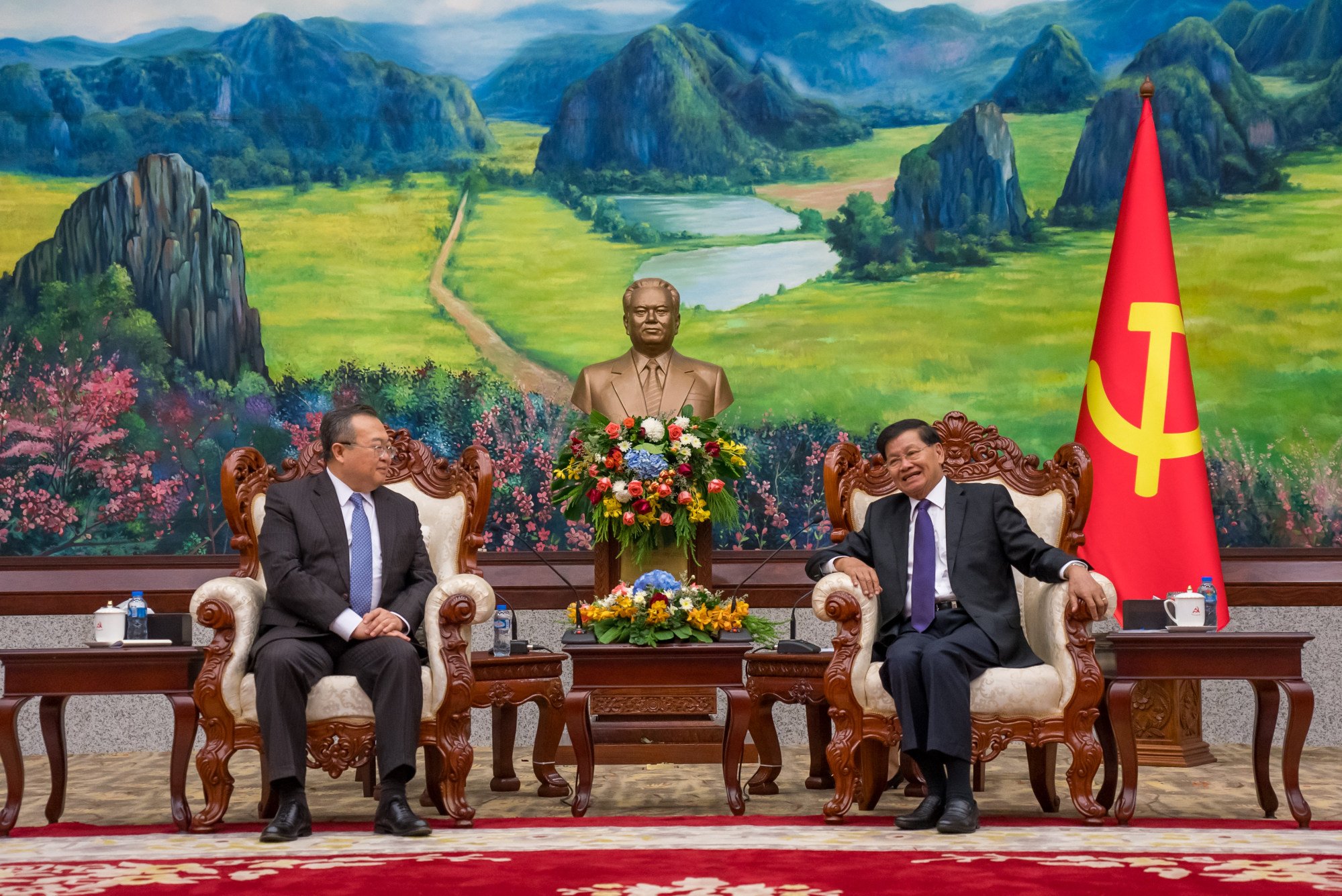 Amid rampant speculation about a trip to Hanoi by top Chinese officials in the coming weeks, the Chinese report of Liu's Vietnam trip also quoted Trong as saying that he looked forward to Xi's visit to Vietnam "at an early date".
"I expect either President Xi or Premier Li [Qiang] will visit Vietnam at an early date because Vietnam always tries to balance top-level visits between the US and China," said Gregory Poling, director of the Asia Maritime Transparency Initiative at the Centre for Strategic and International Studies in Washington.
"Hanoi cannot change its geographic reality – it must maintain stable ties with China – and so will seek to minimise the damage this elevation of ties with the US does to its relationship with China."
Ang Cheng Guan, associate dean at the S. Rajaratnam School of International Studies at Singapore's Nanyang Technological University, said whatever the developments, Vietnam would keep the balance in its relationship with the US and China as far as possible.
"The importance of China given its geographical proximity to Vietnam needs no repetition – which makes it even more important for Vietnam to have a countervailing force on its side, in this case, the US," he said. "And I believe Vietnam is most adept at this. It has been practising the balancing act using all the mechanisms of party and government for much of its recent history."
But despite the diplomatic activism demonstrated by Liu and his department, observers cautioned against overestimating the appeal of inter-party diplomacy, which often raises uneasy questions abroad over its promotion of the one-party system.
"Party-to-party ties have provided an important ballast in China-Vietnam ties, and are unique," Poling said. "Despite efforts to establish ties with political parties around Southeast Asia, it is only in fellow communist states Vietnam and Laos that the party-to-party relationship is really the most important aspect of China's relations with other states. But even on that front, General Secretary Trong is sending a clear message that the Communist Party of Vietnam values the relationship with the US as much as the relationship with China."
Thayer also said China's party diplomacy did not play a significant role in relations with Southeast Asian states that are not socialist.
"This line is blurred when Xi travels abroad because he is both general decretary of the Chinese Communist Party and president of the People's Republic of China. Party diplomacy is intermittent and lacks a permanent presence in contrast to the overseas network of foreign ministry diplomats," he said.