A critic of Cambodia's government who was hospitalized in critical condition this week after being beaten by thugs has pledged to join the ruling Cambodian People's Party – provided Prime Minister Hun Manet can arrest his attackers.
The attack on agricultural expert Ny Nak was the latest of dozens by helmet-wearing, baton-wielding motorbike drivers on outspoken activists in Cambodia. Most of the incidents have targeted members of the opposition, who say they are politically motivated, and none of the attackers have been brought to justice.
On Friday, Ny Nak posted an undated photo to his Facebook account of him with then-General Hun Manet at the home of the former Prime Minister Hun Sen – Hun Manet's father – and offered his expertise to the government, if it is willing to pursue his case.
"My only hope for Ny Nak is justice for the violence," the activist said, speaking in the third person.
"Samdech Hun Manet can help speed up authorities' investigation to apprehend the suspects involved with the assault and bring them to justice," he said, using an honorific for the prime minister. "If Samdech helps, I will defect and serve the government after justice is served."
Ny Nak, who was recently released from an 18-month jail term for criticizing Cambodia's COVID-19 restrictions, was traveling with his wife Sok Sinet in the capital Phnom Penh on Tuesday when a motorbike crashed into them and its occupants began beating him with metal batons, she told RFA Khmer. Sok Sinet said she was also beaten.
The unidentified men beat Ny Nak unconscious and he was taken for treatment to a local clinic. He was initially in critical condition, but Wednesday was downgraded to stable condition, his wife said.
A scan shows that his skull is not fractured but he can't eat and is in pain, Sok Sinet said.
Photos obtained by RFA showed the activist in bed with gauze wrapped around his head and balled up inside his ears, his hands bandaged, and his lips severely swollen.
Outspoken government critic
Since his release from prison earlier this year, Ny Nak had been posting comments critical of the government on Facebook under the pseudonym IMAN-KH.
Hours before being attacked, Ny Nak had taken to the social media platform to slam Minister of Agriculture Dith Tina over his handling of a report on rice prices.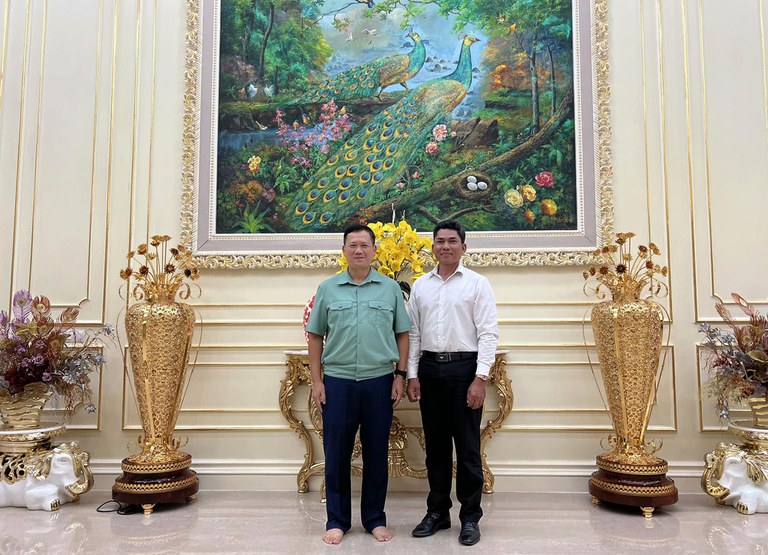 His post came a day after Ny Nak said he had been approached by two members of the CPP who asked him to join the party. He said he had refused the invitation, saying he is "neither a member of the ruling party or the opposition."
In late 2019, the agricultural expert was convicted to 18 months in prison and fined 2 million riels (US$485) after he criticized Cambodia's COVID-19 policy as being too restrictive. He later apologized to Hun Sen and later posted photos of himself with the head of the ruling Cambodian People's Party, or CPP.
Health improving
Before posting his offer to join the CPP to Facebook on Friday, Ny Nak provided updates on his health and vowed to "sacrifice my blood for the sake of the country."
Photos he posted of his current condition appear to show that he has improved, although his face remains swollen and he still has several stitches in his forehead.
RFA was unable to reach Ny Nak or Sok Sinet for comment on Friday, but the latter posted a video to her Facebook account showing that Ny Nak was now able to and saying that he had regained some of his strength and can meditate.
"I want to thank all the people who love my husband and gave him money and courage for his treatment after his assault by unknown suspects," she wrote.
Attempts by RFA to reach the Phnom Penh police for comment on the status of its investigation went unanswered.
At least 50 political and social activists have been victimized in similar attacks in Cambodia in recent years. Last month, two opposition party activists who sought political asylum in Thailand were also attacked.
Translated by Samean Yun. Edited by Joshua Lipes and Malcolm Foster.