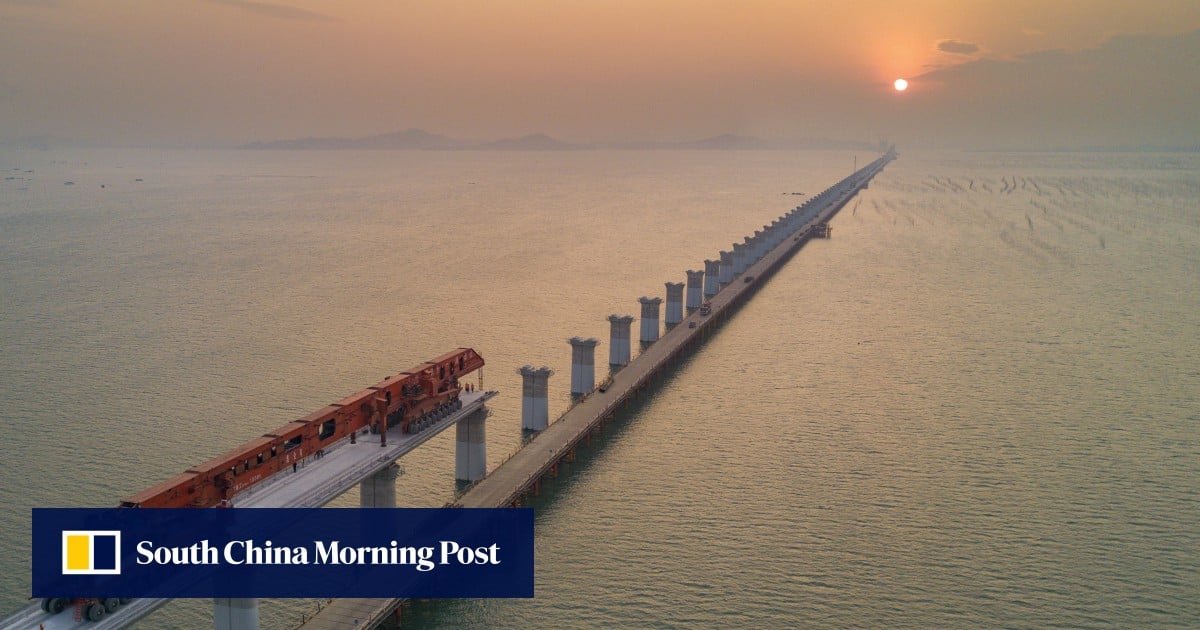 Cong Liang, deputy director of the National Development and Reform Commission, said on Thursday that China already has the engineering and technical capability to build a link from Fujian, the mainland province closest to the island.
Cong did not give any details about what form the rail link would take and it would need a dramatic change in the cross-strait political situation for it to be built.
Beijing regards the island, which is officially recognised by only a handful of countries, as a breakaway province that must eventually be reunited with the Chinese mainland – by force if necessary.
Cong was speaking at a press conference about a 21-article roadmap unveiled earlier this week to make Fujian a model for peaceful "integration" with Taiwan, including plans for cross-strait energy and transport links.
Under the new plan, the mainland authorities will seek to create interconnected living circles between Xiamen in Fujian and the Taiwan-controlled island of Quemoy – also called Kinmen – which is less than 5km (three miles) away, as well as between Fuzhou and Matsu, which are separated by about 20km.
But Taipei criticised the plan as "wishful thinking" that rehashed old policies in an effort to bolster the mainland's sputtering economy with Taiwanese funds and talents.
"If the mainland side cannot effectively improve its internal economic problems, the relevant measures of integrating and benefiting Taiwan will be unrealistic," Taipei's Mainland Affairs Council said on Thursday.
Cong told reporters that people on both sides of the Taiwan Strait had been looking forward to direct cross-strait infrastructure connectivity for a long time.
"We should work together to realise the dream of people on both sides taking a bullet train to easily cross the Taiwan Strait at an early date," he said.
He also highlighted plans to help Taiwanese products reach markets across Eurasia via routes such as the China-Europe Railway Express, a key element of Beijing's Belt and Road Initiative.
China has the world's largest high-speed rail system, at around 42,000km as of the end of last year, longer than the rest of the world combined.
Cong also said Fujian is now well-placed to deliver green power to Taiwan on a large scale, given the rapid development of clean energy in the province and geography that would help develop more wind farms.
"We are willing to strengthen cross-strait energy cooperation and jointly promote the development of cross-strait green energy transformation," he said.
Apart from lasting political tensions across the Taiwan Strait, any rail link would face formidable technical challenges such as drilling through complex layers of rock, including granite, and avoiding two earthquake fault lines.
Any tunnel across the strait would be more than 125km in length, far in excess of the world's longest undersea rail tunnels, the 54km Seikan tunnel linking the Japanese islands of Honshu and Hokkaido or the Channel Tunnel between Britain and France, which includes the world's longest underwater section at 37.9km.
Beijing has unveiled a series of proposals for cross-strait road and rail links in recent decades.
In 2021 the Communist Party's Central Committee and the State Council issued a transport blueprint for 2035 that included a high-speed line linking Beijing to Taipei, a plan the Taiwanese authorities rejected as a unilateral move that would risk widening the emotional distance between the two sides.
Scientists have also put forward a number of practical suggestions, including a detailed plan for a tunnel funded in part by the Chinese Academy of Engineering in 2017, that proposed building artificial islands to allow fresh air to be piped into the tunnel.