Hi, everyone! This is Cheng Ting-Fang, your techAsia host from Taipei.
Last week I attended the Semicon Taiwan chip industry fair at the Nangang Exhibition Center in eastern Taipei. I made sure to wear a comfortable pair of sneakers, as the venue this year is almost twice as big as in previous years. Just getting from one conference to another required a 10-minute hustle. Exhibitors included suppliers of everything from cylinder valves to chipmaking chemicals and automation solutions.
Industry executives told me one big difference compared with previous years was how international the event had become.
"The semiconductor show has become a tourist spot. I met many representatives from the Czech Republic, Poland, India and Malaysia," an executive from one Taiwanese equipment maker said. Countries around the world are racing to build up their semiconductor supply chains for economic and security reasons.
A second notable change was the focus on not only cutting-edge chip production but on the packaging and assembly steps of the manufacturing process, two areas that used to receive much less attention. Even top chip manufacturers talked about the need for more advanced packaging and stacking technologies, with TSMC Chairman Mark Liu saying limited capacity in this area was creating bottlenecks in AI chip supplies.
Industry executives also discussed the prolonged downturn in electronics demand and when it might recover, though many said they see massive uncertainties continuing into 2024. The new round of US and China tech tensions made Apple, Huawei and their respective supply chains another topic of conversation.
For even more on these topics, please join me on September 26 for a webinar with Chris Miller, author of "Chip War," and G. Dan Hutcheson, vice chair of TechInsights, where we will delve into the untold stories of the global battle for semiconductor dominance. Register here and be sure to submit your questions for the panel.
Apple's China headache
Apple introduced the iPhone 15 series this week, with the two premium Pro models becoming the first devices to use the world's most cutting-edge 3-nanometer mobile processors made by Taiwan Semiconductor Manufacturing Co, Yifan Yu of Nikkei Asia writes.
But there were some clouds hanging over the release. China has been advising government employees, from the central government down to local authorities, as well as workers at state-owned companies, not to use iPhones or other foreign smartphones. An employee at one state enterprise told Nikkei's Shunsuke Tabeta that curbs on using iPhones would kick in as early as October for departments dealing with trade secrets and be expanded to all staff by next March. The Apple Watch and AirPods are also banned, she said.
China's Foreign Ministry spokesperson Mao Ning on Wednesday downplayed reports that the government has formally issued any such restrictions, but added that it had noticed "media reports about security issues related to the iPhone." Those comments could be interpreted as a veiled warning to Apple, which made more than 19 per cent of its revenue in greater China in the most recent quarter.
But while geopolitical uncertainties have hit Apple's share price, the company faces an even bigger question in China: amid a slowing economy, will the iPhone 15 offer enough new features for users to splash out on an upgrade?
Giving legs to Arm's IPO
Twenty-eight investment banks lined up to work on this week's $52bn initial public offering for chip designer Arm. But one small advisory firm stands above the crowd, write the Financial Times' Samuel Agini and Ivan Levingston.
Headlining the IPO filing as financial adviser — above top Wall Street banks including Goldman Sachs and JPMorgan — is The Raine Group, a tech-focused boutique. The New York-based merchant bank, founded 14 years ago, has become a go-to adviser for SoftBank, the Japanese tech investment group that owns Arm.
The two groups are deeply intertwined. Raine co-founder Jeff Sine was appointed to Arm's board last year, as SoftBank began to gear up for the IPO.
Raine previously advised SoftBank when it acquired Arm for $32bn in a 2016 deal that delisted it from the London stock market, and again when SoftBank founder Masayoshi Son agreed to sell the chip designer to Nvidia for $66bn in a tie-up that ultimately collapsed.
Signs are that Raine's work has paid off on the Arm listing, which will be the biggest IPO in nearly two years. The offering was several times oversubscribed and orders for shares closed earlier than planned amid strong demand. Shares were priced at $51 ahead of the start of trading on Thursday, the top end of the proposed range of $47-$51.
Back in the fray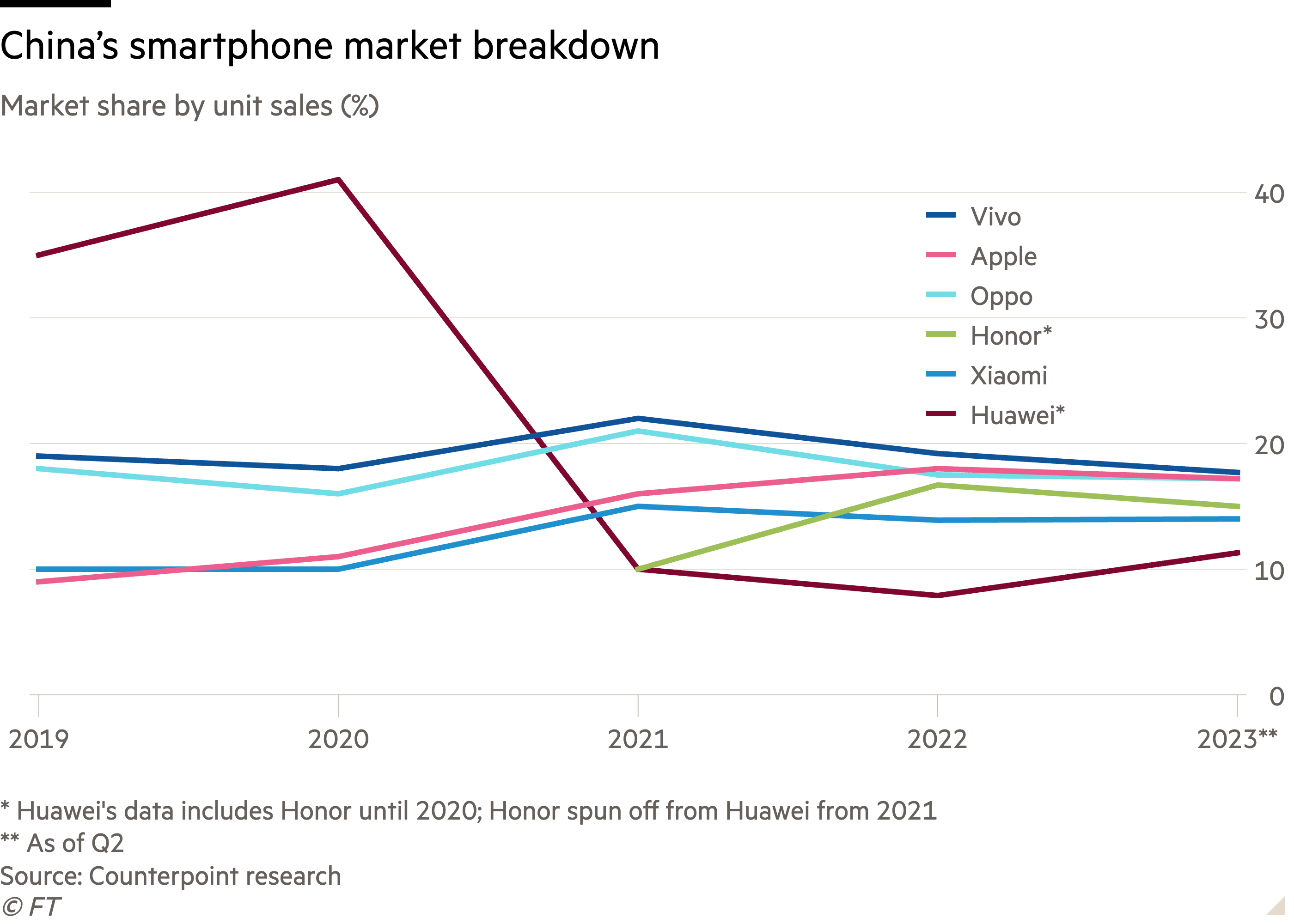 Few would have imagined that the biggest winner from the US crackdown on Huawei in its home market of China would be Apple, its biggest American competitor.
Back in 2019, the iPhone maker was being squeezed by Huawei and other Chinese rivals. Apple had only about a 9 per cent share of the world's biggest smartphone market, but today, that figure is over 20 per cent. Apple even became the top smartphone maker in China in the last quarter of 2022 and the first quarter of this year as it filled the gap in the premium phone segment left by Huawei's retreat.
But the competition may be heating up again. Just days ahead of Apple's annual iPhone launch, Huawei released a 5G foldable smartphone in China, Nikkei Asia's Cheng Ting-Fang writes. It was the company's second soft launch in a matter of days, following a nonfolding 5G handset released on August 29.
Local tech reviews indicate the phones use Huawei's Kirin processors, which would be a major victory for the company in the face of US export controls that cut off its access to key global chip partners.
Questions remain, however, over whether Huawei can expand production of the chips, and whether Washington will tighten its restrictions on the company even further.
End of an era
Daniel Zhang's sudden resignation as head of Alibaba's flagship cloud unit is the latest sign that Jack Ma is still in control of the Chinese tech giant he helped found and led for over two decades, Nikkei Asia's Cissy Zhou writes.
Zhang became CEO of Alibaba Group in 2015 and took over as chair from Ma in 2019, when the company was facing increased scrutiny from Beijing. But he gave up those roles to two longtime confidantes of Ma earlier this year as part of a major restructuring of the group. With his resignation from the cloud unit, the era of Zhang has come to an end.
All this coincides with the return of another Ma confidante, Wang Jian, the Alibaba Cloud founder who left the unit 10 years ago. He is now a member of the cloud unit's board of directors.
While Ma himself has no formal role at the company, he exerts a great deal of influence thanks to a complex shareholding structure and partnerships with other insiders.
Analysts say Zhang's departure is an indication that the impact of the restructuring plan, announced in March, had fallen short of expectations.
"I think Alibaba wants a very big reset now, as their earlier announcement on the restructuring didn't make a big enough impact," said Duncan Clark, founder and chair of Beijing-based consultancy BDA.
Suggested reads
#techAsia is co-ordinated by Nikkei Asia's Katherine Creel in Tokyo, with assistance from the FT tech desk in London.
Sign up here at Nikkei Asia to receive #techAsia each week. The editorial team can be reached at [email protected].