When That Thu Lin's father began to feel unwell, he knew the small clinics around their village in southeastern Myanmar's Hpa-an district would not be able to provide adequate care.
So for the second time in two weeks, they took him several hours north and just across the border into Thailand, to the Tha Song Yang Hospital. Without visas or passports, many Myanmar nationals in rural areas make hours-long journeys from Kayin State into Thailand for medical care.
"Last week when we came here, it was more than 6,000 baht (US$170)," That Thu Lin said. "Of course, we're worried about money. Everyone is worried about money."
They are just one family among many who have been forced to travel to hospitals in Thailand because hospitals or clinics near them are unable to deal with more serious cases – treating landmine injuries or malaria, for example – because they lack the equipment or trained staff.
Also, the junta has often taken over the premises of major hospitals within the country, making residents afraid of arrest or interrogation if they seek care there.
So as Myanmar's civil war grinds on, border hospitals in Thailand are increasingly faced with the brunt of the resulting humanitarian crisis.
Into the red
Once they get treated, many patients cannot afford to pay their medical bills, putting a financial strain on the hospitals.
Under Thailand's constitution and Patients' Rights Declaration, every patient – including non-citizens on Thai soil – is entitled to care without discrimination. Similarly, many public hospitals nationwide, especially on the border, operate under a humanitarian oath to provide care to anyone who needs it.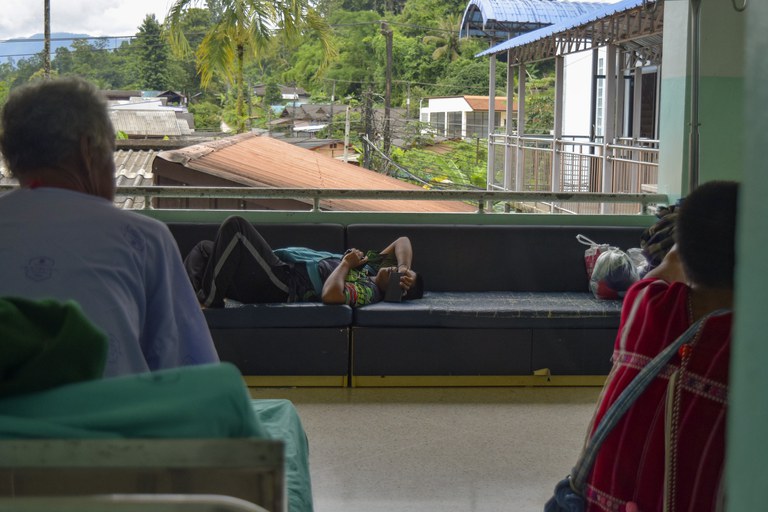 But that's made some hospitals go into the red.
At Tha Song Yang, hospital director Dr. Thawatchai Yingthaweesak says their deficit this year is around 10 million baht (US$282,000). The past few years, the hospital has received additional funding to care for the COVID crisis, which helped them also cover the deficits due to patients' unpaid medical bills. Next year, this funding isn't available.
Registered migrants in Thailand pay into national health insurance when they arrive. But for the estimated 1.7 million unregistered Myanmar nationals, nearly 500,000 stateless people, and those like That Thu Lin who come regularly and illegally from Myanmar, many have no choice but to seek care they can't afford.
The hospital recently constructed an additional building to care for the increasing number of patients – both in Thailand and from across the border.
But now, without the extra budget to help them in the upcoming fiscal year, Thawatchai worries about the costs from the new building, as well as laboratory costs to treat diseases like malaria and dengue as cases steadily rise.
"If they are non-Thai, we ask them for money for the treatment. Most cannot pay. If they can't afford it, how much [can they pay]? It's okay for me," he said. Roughly a third of the hospital's inpatient population is not Thai, and most of these patients do not have insurance.
"I'm not sure [of next year's deficit] because of the new building," he said." We'll open next year. So we'll have a miracle."
Humanitarian Approach
More than 300 kilometers (185 miles) south of Tha Song Yang, Umphang Hospital said it had a 40 million baht (US$1.2 million) deficit due to patients' unpaid medical bills. Dr. Worawit Tantiwattanasap, the hospital director, said it was the largest deficit they'd had in three decades.
Around half of the hospital's treated patients – some 87,000 people – are not Thai citizens who don't pay into a Thai health insurance scheme. A quarter of inpatients and half of outpatients can't afford their bills.
"We need to do everything, basically, to make us be able to pay the company for the medicine or the medical supplies, " he said. "For medicine, we made a delayed payment every year. We pay late."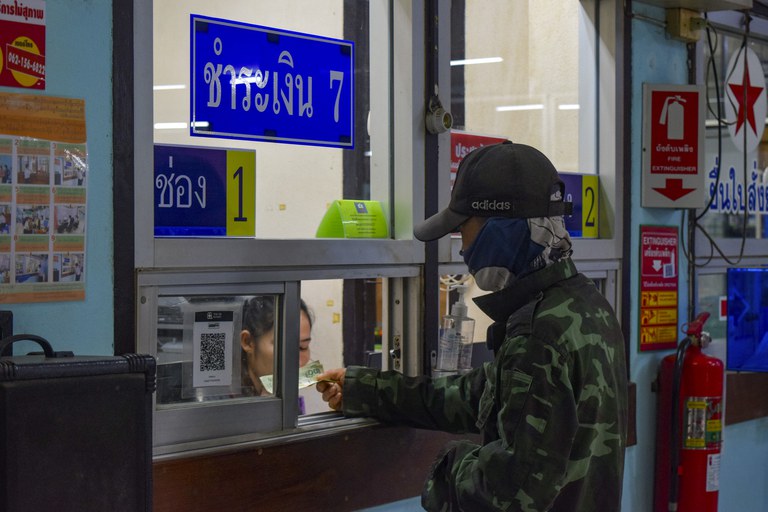 Nang Ei Lawnt Ying, the project manager for grassroots insurance scheme M-Fund, says many border town hospitals operate at deficits and look for ways to help them manage their expenses.
"They see that organizations help them to reduce the gap, so they also see that M-Fund can fill the gap there," she said. "They like the fact that M-Fund collects money from members and pays the hospital."
The program is collecting base fees of 100 baht (US$2.80) per month from migrants around Thailand, regardless of their legal status in the country. In seven provinces nationwide, M-Fund has insured 60,000 people to help them receive care at 108 hospitals and clinics.
But high costs affect the team here, too. Nang Ei Lawnt Ying says they're still working on making the project sustainable. On average, each hospital racks up 700,000 baht (US$19,700) per month from M-Fund member care.
"We still hope that if more members join M-Fund in the future, it will fill the gap in our expenditure as well."
Thailand's Ministry of Public Health has not responded to RFA's request for comment as of this writing.
Stopgap Measures
While hospitals make due by accepting donations and shuffling their budgets to make ends meet, both humanitarian organizations and grassroots health systems are finding solutions to reduce the cost for patients and hospitals alike.
"The hospital has been taking [donations] – could be money or could be medicine – from people for about 15 years already," Worawit told Radio Free Asia. "We take everything, basically, from people that can be used in the hospital. It could be used items or new items. We take everything, every year."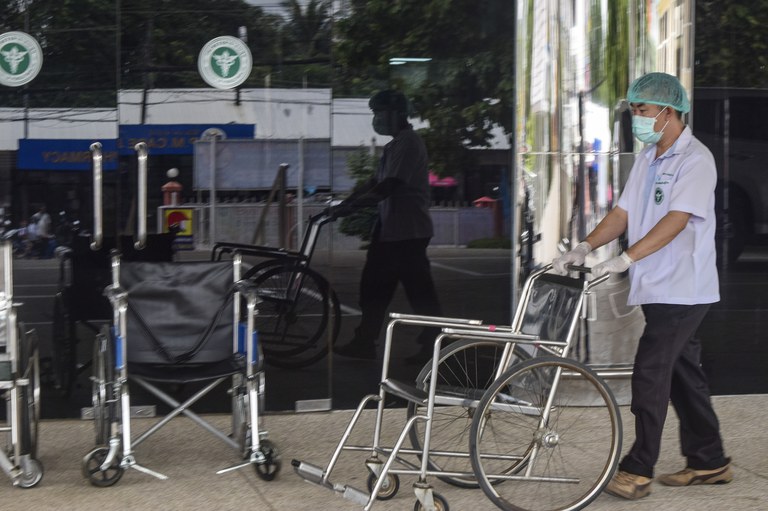 He said he has tried to urge the Ministry of Public Health to consider a long-term solution to this decades-long problem to create a budget specifically for humanitarian aid to help hospitals pay their bills on time.
"For Umphang Hospital, many people from Myanmar cross the border to get treatment from the hospital because Umphang Hospital is the closest that they can come to. So we need to be a place they can rely on," he said.
"We need to find income for the hospital, but our income is not going to be from charging people who don't have money to pay the hospital."
Edited by Taejun Kang and Malcolm Foster.