Updated Sept. 13, 2023, 04:55 a.m. ET
North Korean leader Kim Jong Un and his Russian counterpart Vladimir Putin met at the symbol of Russia's space prowess on Wednesday, where both sides vowed to boost their comprehensive cooperation, spanning from the economy to military. 
"I want to discuss cooperation in the economy, and many other areas," Putin told Kim at the start of the landmark summit at Russia's far east spaceport of Vostochny Cosmodrome on Wednesday. "It would also be nice to talk about the situation on the Korean Peninsula." 
"I am honored to meet you here, at the heart of a space superpower," Kim responded. "We will stand with Russia in our anti-Imperialist united front."
The comments came as both leaders were set to discuss military cooperation that could boost their battle against the West. At the heart of the cooperation is most likely to be Russia's weapons technology transfer in exchange for North Korea's conventional ammunition. 
Kim has a "keen interest in rocket technology and is focusing on space advancements. I plan to familiarize him with the latest technologies during our base tour," Putin told reporters, as captured by footage released by Russian media IRA Novosti on Wednesday. 
Asked about Russia's intention to assist North Korea's satellite development, the Russian leader said: "That's why we're here."
The two leaders have yet to publicly comment on any ammunition deal, but the Kremlin said on Wednesday that it would cooperate with North Korea in "sensitive areas that can't be disclosed."  
The summit lasted around two hours, according to the Kremlin, which said no joint statement would be released.
Missile launch 
Meanwhile, North Korea has fired two ballistic missiles off to its eastern coast, as Kim and Putin arrived in the Vostochny Cosmodrome for the summit where arms trading is most likely to dominate the agenda.
South Korea's Joint Chiefs of Staff said on Wednesday that they have "detected two short-range ballistic missiles fired into the East Sea [Sea of Japan]", about an hour before the Kim-Putin summit. The missiles were fired from the Sunan area, near Pyongyang, it added. 
While it is unclear on why North Korea fired missiles, Pyongyang has historically shown a tendency to use such launches as its strategic tool against the democratic world. 
The launch marks the "onset of comprehensive military collaboration between the two nations. This could imply a united front between the North Korean and Russian militaries against the trilateral security cooperation between the ROK, U.S. and Japan," said Cheon Seong-whun, a former security strategy secretary for South Korea's presidential office.
"Simultaneously, it shows that North Korea could still operate in Kim Jong Un's absence. It acts as a deterrent against potential attacks targeting the North Korean leadership."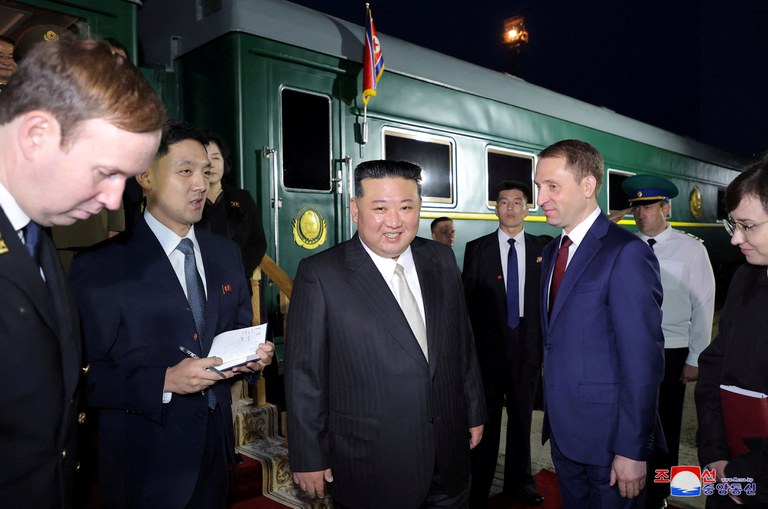 The Kim-Putin summit is widely viewed as an effort by Pyongyang and Moscow to further cement their ties in the face of international sanctions pressing their economies. Russia is under sanctions due to its aggression against Ukraine, while North Korea is sanctioned for its nuclear ambitions. 
On his arrival in Russia on Tuesday, Kim stated that his government places "strategic importance" on relations with its northern neighbor, according to North Korea's state-run Korea Central News Agency Wednesday.
Choosing the Vostochny Cosmodrome as a venue may also signal that bilateral diplomacy has now expanded to scientific and technological collaboration.  
The spaceport, located in the Far East of Russia, showcases Putin's aspirations to transform Russia into a leading space power. The facility was built with the objective of cutting Russia's reliance on Kazakhstan's Baikonur Cosmodrome. Apart from being a launching site, the complex is positioned as a technological and economic hub, promoting advancements of Russia's aerospace industry.
Given the significance of the venue, and Putin's offer to aid Kim in perfecting his satellite technology, the summit is set to entail discussions to deepen cooperation in the aerospace industry. Enhanced cooperation in the sector may risk international security as it would most likely advance Pyongyang's missile technology. Rocket technology can be used for both launching satellites and missiles. For that reason, the UN bans North Korea from launching a ballistic rocket, even if it claims to be a satellite launch. 
Technology transfer 
The possibility of technology transfer has become significant and highly plausible based on the makeup of Kim's delegation to Russia. Ri Pyong-chol, vice chairman of the ruling Workers' Party's Central Military Commission and Pak Jong-chon, newly-appointed head of the party's military political leadership, are part of the entourage, according to a Korean Central News Agency report released on Tuesday.  
The top military figures in the delegation may indicate Pyongyang's interest in attaining Russia's military technology and its defense ties with Moscow, which could boost its deterrence capability against the U.S. and its regional allies.
"Kim has always asserted his right of 'peaceful use of space', and demonstrated his commitment to acquiring the relevant technology," said Yang Moo-jin, a professor at the University of North Korean Studies in Seoul who has advised the South Korean government over the years. 
"The meeting at the Vostochny Cosmodrome is not only symbolic, but could also mean an actual transfer of space technology. In particular, the launch of a reconnaissance satellite in October will be seen as a must."
So far this year, North Korea has failed to successfully launch what it described as "satellites". The Malligyong-1 satellite, mounted on the new-type Chollima-1 rocket, lost thrust over the Yellow Sea in May. A second attempt last month also failed. North Korea has planned for a third try next month, according to the Korean Central News Agency.
The relevant Russian technology transfer may accelerate the North's technological progress and help Kim attain success in the third test. "From Russia's point of view, satellite technology may be less likely to be criticized by the international community," Yang added.
"I think that Russia sharing its advanced technologies and expertise with North Korea will help Pyongyang to catch up with South Korea, which has more sophisticated weapons systems," said Ramon Pacheco Pardo, Professor of International Relations at King's College London and the KF-VUB Korea Chair at the Brussels School of Governance of Vrije Universiteit Brussel.
Potential backlash from Asia to Europe 
The broadening scope of bilateral collaboration and diplomacy "may serve as a rationale for increased cooperation among regional allies and, by extension, military cooperation among ROK, U.S.and Japan," pointed out Park Won-gon, an associate professor in the department of North Korean studies at Ewha Womans University.
Granted, South Korea's President Yoon Suk Yeol has repeatedly warned Pyongyang and Moscow that Seoul would strengthen its military ties with its allies if North Korea's provocation shows no signs of easing. 
"North Korea's nuclear threat is a practical threat to South Korea," Yoon said during a cabinet meeting on Tuesday, where he also told his ministers of his conversation with China's premier Li Qiang last week. "The more serious the North Korean nuclear issue becomes, the stronger the relations among ROK, U.S. and Japan. Would become," Yoon had told Li. 
Park said, beyond enhancing the trilateral cooperation between the US, South Korea and Japan, the summit could have ramifications for NATO in its engagement with Pyongyang.
"Russia is the country that started the war in Ukraine. If North Korea were to intervene in the  Ukraine war and provide weapons, it would most likely turn all NATO countries against itself," Park noted.
Experts note that any ammunition supplies to Russia may prolong its aggression against Ukraine, could risk the current security situation in Europe. Ammunition supplies from North Korea could enable Russia to further advance deeper into Ukrainian territories. 
NATO has been imposing multiple sanctions on Russia to curb its expansionist ambition. North Korea may be subjected to NATO's upcoming sanctions, should there be solid evidence of it supplying ammunition, Park said. 
Edited by Elaine Chan and Taejun Kang.
Story updated throughout with details of Kim-Putin summit.