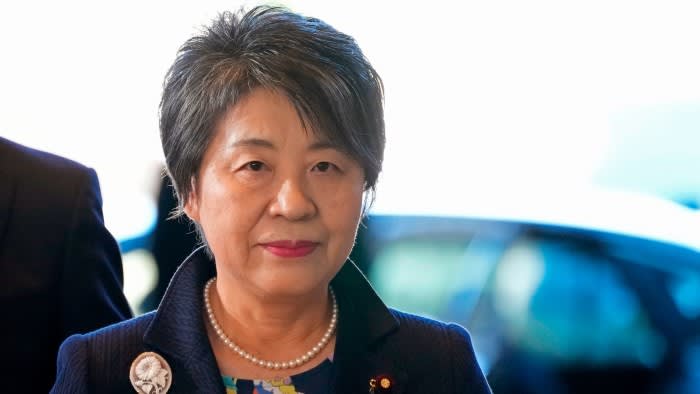 Receive free Japanese politics & policy updates
We'll send you a myFT Daily Digest email rounding up the latest Japanese politics & policy news every morning.
Japan's prime minister Fumio Kishida has overhauled his cabinet in a bid to revive his popularity, filling one-quarter of posts with women and bringing in new ministers to implement his foreign and defence policies.
Analysts said Kishida could call a snap election by the end of the year if his popularity recovered, but some questioned whether the new line-up was fresh enough to strengthen his position before his term as head of the ruling Liberal Democratic party expired in 12 months.
"It looks like a semi-reshuffle, but it's hard to tell what the Kishida administration is going to aim for with this new line-up of faces," said Masatoshi Honda, a political analyst and academic.
Kishida kept his core team on finance and trade policy unchanged. But he appointed Minoru Kihara, a former vice-minister of defence with close ties to Taiwan, as Japan's new defence minister.
He also named Yoko Kamikawa, a former justice minister, as foreign minister, bringing a woman to the high-profile role for the first time since 2004.
The last time a Japanese cabinet had five women was in 2014 under the administration of then prime minister Shinzo Abe.
"This reshuffle captures renewed energy and commitment to our new chapter of alliance projection," said Rahm Emanuel, US ambassador to Japan. "I don't see any change in policy."
Kishida's approval rating reached 46 per cent in May after he hosted the G7 summit in Hiroshima, but has since fallen to 36 per cent according to the latest poll by state broadcaster NHK.
The decline in popularity followed a string of data management issues with a national identification system, as well as a scandal involving Kishida's son.
The prime minister also faces the challenge of finding ways to finance a planned big increase in spending for defence, childcare, social security and energy transition.
Kishida also replaced Seiji Kihara, the deputy chief cabinet secretary and one of his most powerful aides behind his economic programme.