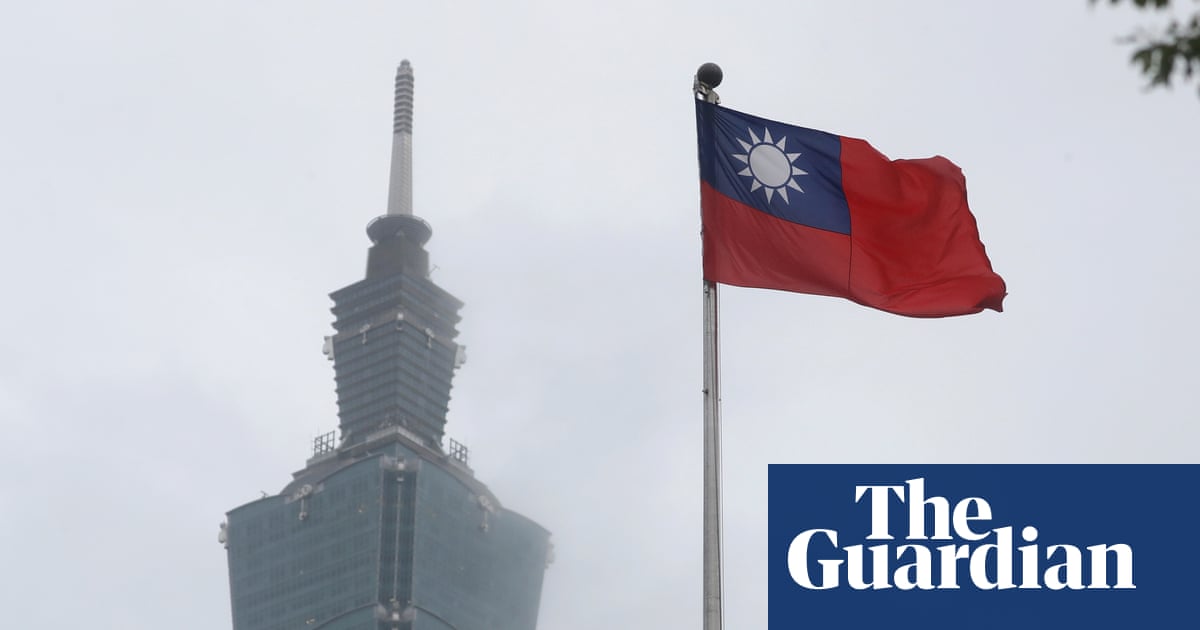 China's government has unveiled a "new path towards integrated development" with Taiwan, including proposals to make it easier for Taiwanese people to live, study and work in China.
At the same time, it sent the largest number of warships to gather in years to the waters on Taiwan's east, in what analysts said signalled a choice between peaceful "reunification" and military violence, just months out from Taiwan's presidential election.
The new measures, released by the ruling Communist party's Central Committee and the State Council on Tuesday said the coastal province of Fujian would become a "demonstration zone" for integrated development.
The 21 measures include facilitating Taiwanese people to live in Fujian and access social services, expanding enrolment of Taiwanese students in Fujian schools, and deepening industrial cooperation.
"The move is aimed at deepening cross-strait integrated development in all fields and advancing the peaceful reunification of the motherland," said official state media outlet, China Daily.
The Global Times, a hawkish state-backed news outlet, described the document as "equivalent to outlining the future development blueprint of Taiwan island".
China Daily said that "pair cities" of Xiamen and Kinmen, and Fuzhou and Matsu would play "an even more prominent role". The islands of Kinmen and Matsu sit just a few kilometres from the Chinese mainland and have some cultural and economic ties, but are governed by Taiwan.
Taiwan's media extensively covered the announcement, with a particular focus on measures encouraging Taiwanese to buy homes and invest in Fujian. Responses were sceptical, with many pointing to the property market crisis in China.
"The Chinese government has cut leeks among its own people, now they turn to the Taiwanese," said one commenter, using an idiom that refers to financial industries taking advantage of gullible investors.
In central Taipei on Wednesday, several residents told the Guardian they were not attracted by the proposal. Terry Hung, a 37-year-old pharmaceutical industry worker, said it looked "very risky".
"I do not want to invest in property in a communist nation, sharing my properties with that government. I do not want to work in an autocratic country because human rights and labour rights are all controlled by the government," he said. "If one day your opinion does not align with the government's stance, you will be at risk of arrest or detention."
Ms Hsieh, a retired teacher, said young people could make their own decisions but "the political environment, the surroundings, etc, in China are so different from Taiwan that the Taiwanese may not adapt".
Not all were opposed. A young TV production assistant, Shin, said she was interested in the proposals to broaden exchanges for students and for the TV and radio industry.
"I believe that any opportunity to promote cross-strait exchanges and mutual benefits is excellent," she said. "If there is an opportunity I would be interested in going to China."
Xi Jinping wants "reunification" with Taiwan without war, although he has said he is prepared to use force. The integration plan coincided with the massing of Chinese warships in the western Pacific for what appeared to be major military exercises.
On Monday the People's Liberation Army (PLA) sent a carrier strike group past Taiwan's southern tip into the western Pacific Ocean, led by the aircraft carrier Shandong. Dozens of warplanes were also detected by Taiwan flying new and longer patterns over the median line of the Taiwan Strait, and to the islands south as they accompanied the strike group.
On Tuesday, Japan's defence ministry detected two flotillas of eight warships sailing through the Miyako Strait south of Okinawa, on a course that analysts said could converge with the Shandong-led group. Another 36 war plane sorties were detected on Wednesday morning, Taiwan's defence ministry said. Should the groups converge, it would form the largest ever manoeuvres seen involving a Chinese aircraft carrier, Su Tzu-yun, an analyst at the Institute for National Defense and Security Research, told the Financial Times.
In Taiwan a senior military official, General Huang Wen-chi, told media on Tuesday the Shandong "undoubtedly poses a new threat".
Chinese authorities have made no announcement about the exercises, and as of publication there were no navigational warnings issued for the area. The PLA last held major exercises with the Shandong to Taiwan's east in reaction to a meeting between Taiwan president Tsai Ing-wen and US House speaker Kevin McCarthy. Analysts have told the Guardian they suspect this week's activity is in response to recent transits of the Taiwan Strait and joint exercises involving the US and allies, and a continuation of military threats to Taiwan.
In January, Taiwan will have its next presidential election, and it is widely expected that Beijing will seek to influence voters during the campaign, as it has done in previous years. It is most opposed to a victory by the ruling Democratic Progressive party (DPP), which is the most strident in asserting Taiwan's status as a sovereign nation. Vice-president Lai Ching-te, the DPP's presidential candidate, is the present frontrunner.
However opposition parties – and a growing majority of Taiwan's people – also reject the prospect of Chinese rule. After Tsai came to power in 2016, Beijing cut off formal communications with Taipei.
Rorry Daniels, managing director of the Asia Society Policy Institute, said Wednesday's dual signals of a peaceful integration plan, while simultaneously staging intensive military exercises were a sign of the confused messaging.
"How are the Taiwanese people supposed to interpret this? Go to the mainland for great economic opportunity, but fly over the warships we've surrounded your island with?"
Additional research by Tzu-wei Liu