Millions of Americans have unwittingly invested retirement funds into China's military, and U.S. investors are often directly financing human rights abuses in the world's second-largest economy, a former U.S. official, lawmakers and a financial activist told the House Select Committee on China at a hearing in New York on Tuesday.
Jay Clayton, chair of the Securities and Exchange Commission from 2017 to 2020, told the committee the world was in uncharted territory with its two largest economies "deeply conjoined" but also "deeply at odds" in terms of their systems of government.
That's created a potential for businesses to make investments in China that violate collective American interests, he said, such as national security, or the defense of human rights.
"Investors are very good at responding to financial metrics," Clayton said. "But investors are not good at – they don't have the information to be good at – human rights, national security, trade policy. Those are matters for the government."
He said the United States was a "compliant society" and American businesses would respect any rules set by the government about investing in China, but that few such regulations exist.
"Given clear and coherent direction from governments," he said, "the power of the market to respond to policy is remarkable."
'Golden blindfolds'
Rep. Mike Gallagher, a Republican from Wisconsin, and the chair of the committee, said that the U.S. government and American businesses appeared to be out-of-step when it came to China.
"It seems like Washington and Wall Street are two different countries speaking completely different languages," Gallagher said, suggesting that many of the investments made in China's economy were in fact not as safe as many believed.
"These banks and asset managers have incredibly complex value-at-risk models to look at volatility," he said. "But when it comes to the systemic risks emanating from a genocidal communist regime, they tend to put on their golden blindfolds."
Rep. Raja Krishnamoorthi, a Democrat from Illinois and his party's ranking member on the committee, told the hearing that there are currently "more than 250" Chinese companies listed on U.S. stock exchanges with a market capitalization of "over $1 trillion."
But he said it was not always clear who ultimately owned, or controlled, the companies listed on American exchanges.
"These are stocks that Americans are investing in every day," Krishnamoorthi said, "but they don't come with what most Americans consider to be standard investor protections. They're complicated corporate structures that carry massive risk."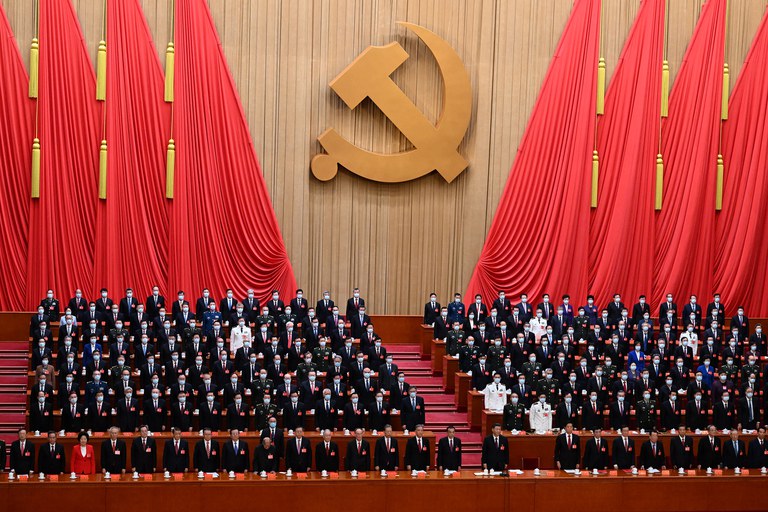 Krishnamoorthi said even the government's Thrift Savings Plan, or TSP – a retirement plan offered to federal employees – was investing in Chinese companies that make fighter jets considered key to an invasion of Taiwan, and some which use Uyghur forced labor.
"6.8 million federal employees are invested in the TSP, including many active duty military members, including many members of Congress, including me," he said. "We value human rights while the [Chinese Communist Party] violates them and then expects us to fund those very companies facilitating those violations
'Financing our own destruction'
Some U.S. venture capitalists even appeared to be investing in Chinese companies like ZTE, a technology firm banned from exporting into the United States, the committee heard.
"If a router is too risky to use in America, we shouldn't be routing money to its manufacturer, right?" Krishnamoorthi asked Anne Stevenson-Yang, founder of J Capital Research, which focuses on China's economy and investigates Chinese companies.
"ZTE is directly under the Ministry of Aeronautics, and it's clearly part of the Chinese military system," Stevenson-Yang said.
Both Gallagher and Krishnamoorthi said it was clear more rules about outbound U.S. investment into China were needed.
"China's military could be raining missiles on our friends in Taiwan, and very likely American servicemembers, with weapons that Americans funded," Gallagher said. "They may be using A.I. targeting systems that Silicon Valley VCs helped them build. In short, we're at risk of financing our own destruction."
In the meantime, Krishnamoorthi called for voluntary compliance.
"For heaven's sake, don't invest in companies that facilitate human rights abuses," he said. "You have the right to do these things currently, in many cases. But it's not the right thing to do."
Edited by Malcolm Foster