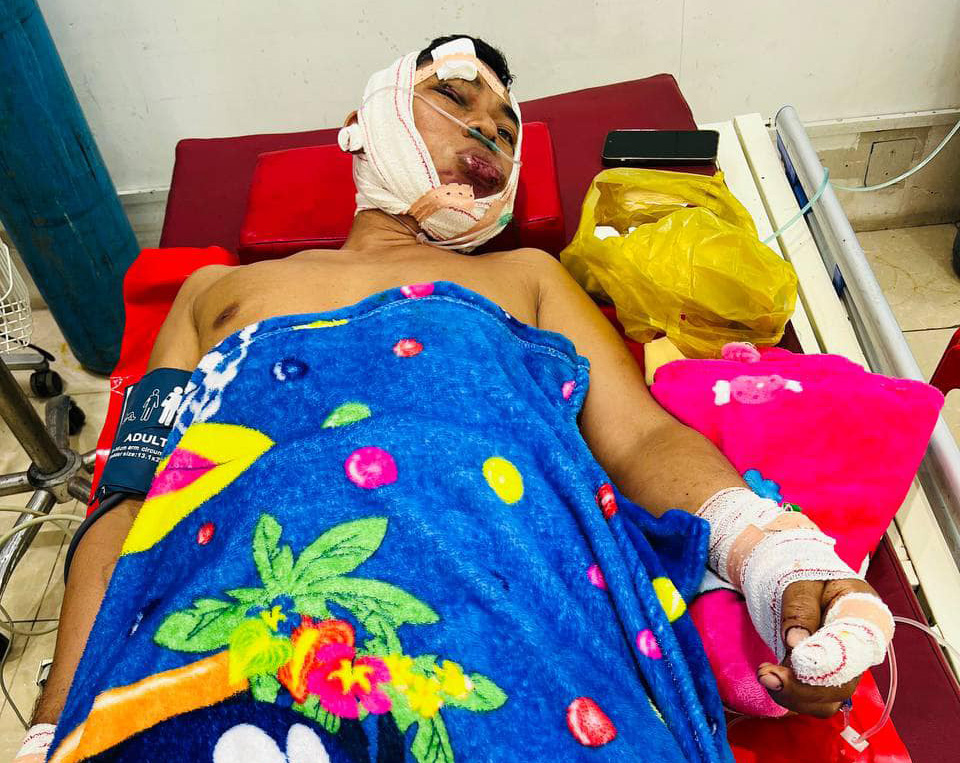 A critic of Cambodia's government was hospitalized in critical condition Tuesday after unidentified assailants attacked him on his motorbike in the capital Phnom Penh, just hours after he slammed the country's minister of agriculture on social media.
The attack is the latest by helmet-wearing, baton-wielding motorbike drivers on dozens of outspoken activists in Cambodia. Most of the incidents have targeted members of the opposition, who say they are politically motivated, and none of the attackers have been brought to justice.
Ny Nak, who was recently released from an 18-month jail term for criticizing Cambodia's COVID-19 restrictions, was traveling with his wife Sok Sreynet when a motorbike crashed into them and its occupants began beating him with metal batons, Sok Sreynet told RFA Khmer.
The unidentified men beat Ny Nak unconscious and he was taken for treatment to a local clinic, where he remains in critical condition.
Photos obtained by RFA show the activist in bed with gauze wrapped around his head and balled up inside his ears, his hands bandaged, and his lips severely swollen.
Sok Sreynet said that while police came to the scene of the attack to file a report and collect security camera footage, she doesn't expect their investigation to yield any results, noting that none of the assailants involved in similar beatings have ever been arrested.
"Lately, my husband has been speaking out about social issues, so there might be people who don't like him [because of that]," she said. "He hasn't had any arguments with anyone who might be looking to take revenge against him."
Sok Sreynet questioned why someone would beat another person to within inches of their life just because they spoke out about an injustice.
"I pity him that in this society, when you are the victim, no one will help you," she said.
In a Facebook post that included photos of Ny Nak in the clinic, Sok Sreynet urged authorities to arrest the suspects in his case and "bring justice to my husband."
Outspoken activist
Tuesday was not the first time Ny Nak had run afoul of authorities for speaking out against the government.
The agricultural expert was convicted to 18 months in prison and fined 2 million riels (US$485) in late 2019 after he criticized Cambodia's COVID-19 policy as being too restrictive. He later apologized to then-Prime Minister Hun Sen and later posted photos of himself with the head of the ruling Cambodian People's Party, or CPP.
Since his release earlier this year, Ny Nak has been posting comments critical of the government on Facebook under the pseudonym IMAN-KH.
Hours before being attacked on Tuesday, Ny Nak had taken to the social media platform to slam Minister of Agriculture Dith Tina over his handling of a report on rice prices.
"You are the minister, you have more than 60 advisors, you use drones to spy on people, but you can't find an aide to write a [proper] report," he wrote at the time.
His post came a day after Ny Nak said he had been approached by two members of the CPP who asked him to join the party. He said he had refused the invitation, saying he is "neither a member of the ruling party or the opposition."
Dozens of cases still open
Am Sam Ath, the head of local rights group Licadho, said authorities should conduct a full investigation of the incident and prosecute the suspects, as well as those in the country's other outstanding political assault cases. He warned that if Prime Minister Hun Manet can't resolve the cases, people will accuse his government of being politically motivated.
"So far, there are many opposition party activists who have been attacked, but no suspects have been apprehended," he said. "To avoid criticism of restrictions on freedom of speech or accusations of [being behind] politically motivated assaults, authorities must investigate the case."
At least 50 political and social activists have been victimized in similar attacks in Cambodia in recent years. Last month, two opposition party activists who sought political asylum in Thailand were also attacked.
Attempts by RFA to contact authorities for comment on Tuesday's assault went unanswered, but Minister of Interior spokesman Khieu Sopheak has previously said that police "are working" on prior cases.
Translated by Samean Yun. Edited by Joshua Lipes and Malcolm Foster.