Hong Kong police on Tuesday questioned three relatives of former pro-democracy lawmaker Ted Hui, one of eight overseas activists wanted under a security law, local media reported.
The three individuals, which included his parents-in-law, were taken to Castle Peak and Yuen Long police stations for questioning "to help with the authorities' investigation," the Standard newspaper quoted sources as saying.
The move comes after police questioned several relatives of others among the group of eight wanted activists, asking similar questions, throughout July and August.
The South China Morning Post also cited a source familiar with the case as saying that officers raided the Yuen Long home of Hui's in-laws and their son on Tuesday morning. Hui's father-in-law was seen leaving Castle Peak police station following the earlier release of his wife and son that day.
No arrests were made, according to the reports.
"The three were questioned by officers from the force's National Security Department about whether they had contacted the former legislator and offered him any help, such as financial support," the Post said.
National security police will continue to investigate the Hong Kong-based contacts of the eight wanted activists and disrupt any help or funding for them, the Post quoted its source as saying.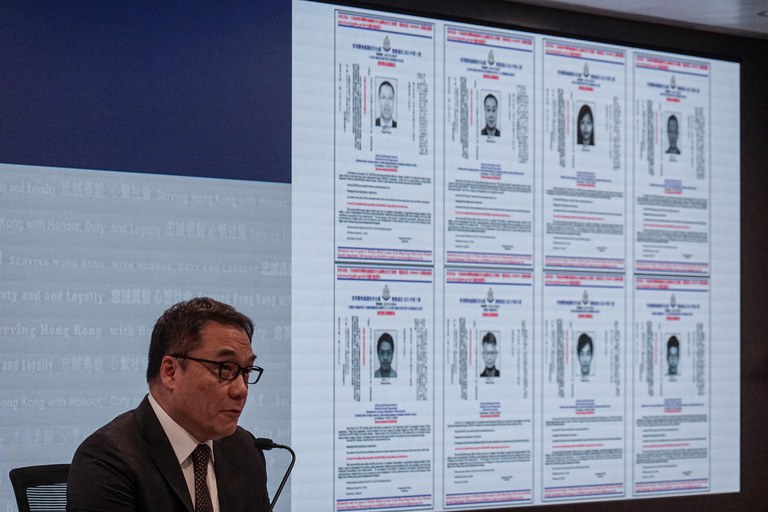 Police issued arrest warrants and offered bounties for exiled former pro-democracy lawmakers Nathan Law, Ted Hui and Dennis Kwok, U.S.-based activist and political lobbyist Anna Kwok and legal scholar Kevin Yam, offering bounties of HK$1 million (US$127,700) for information that might lead to an arrest.
U.K-based activists Finn Lau and Mung Siu-tat and U.S.-based businessman Elmer Yuen are also on the wanted list.
Punished for posters
As Hui's relatives were being questioned, a Hong Kong court handed down a six-month jail term to Zeng Yuxuan, a doctoral student from mainland China found in possession of posters depicting the banned "Pillar of Shame" sculpture commemorating the 1989 Tiananmen massacre.
Zeng had pleaded guilty to conspiring with U.S.-based democracy activist Zhou Fengsuo to "commit acts with seditious intent" ahead of the June 4 massacre anniversary. Zhou has said he bears full responsibility for creating the banners bearing the image that were found in Zeng's possession.
Meanwhile, authorities in Macau have issued a one-year ban to a street performer known for performing the banned 2019 protest anthem "Glory to Hong Kong."
Busker Oliver Ma, 24, was taken away by police from the ruins of St Paul's, a popular tourist destination in the former Portuguese-run city, on Sept. 3, and held for several hours.
"I was arrested without warning and detained by the Public Security Police Force for over 13 hours before I was kicked out," Ma wrote on his Facebook page. "I felt as if I was treated like less of a tourist, let alone a human, and more like some terrorist."
"I answered each and every single one of their questions, and it was not until it reached these questions when I finally knew why they were so hostile to me: 'Have you sung #GlorytoHongKong in Hong Kong? Were you planning to sing it all the way here? What does the song mean?'" Ma wrote in an account of his ordeal on his Facebook page.
"It was not until 3:00 the next day when I was told I was banned in Macau for a year and escorted through the Hong Kong-Zhuhai-Macau Bridge," Ma said, adding: "For all of my past experiences being arbitrarily arrested and detained for busking, this one has got to be the most dehumanizing one yet."
Ma's family were also detained for nearly two hours and forced to sign forms, while his phone was scanned by police, who refused to let him call his lawyer or give him food during an overnight stay in custody, he said.
Translated by Luisetta Mudie. Edited by Malcolm Foster.