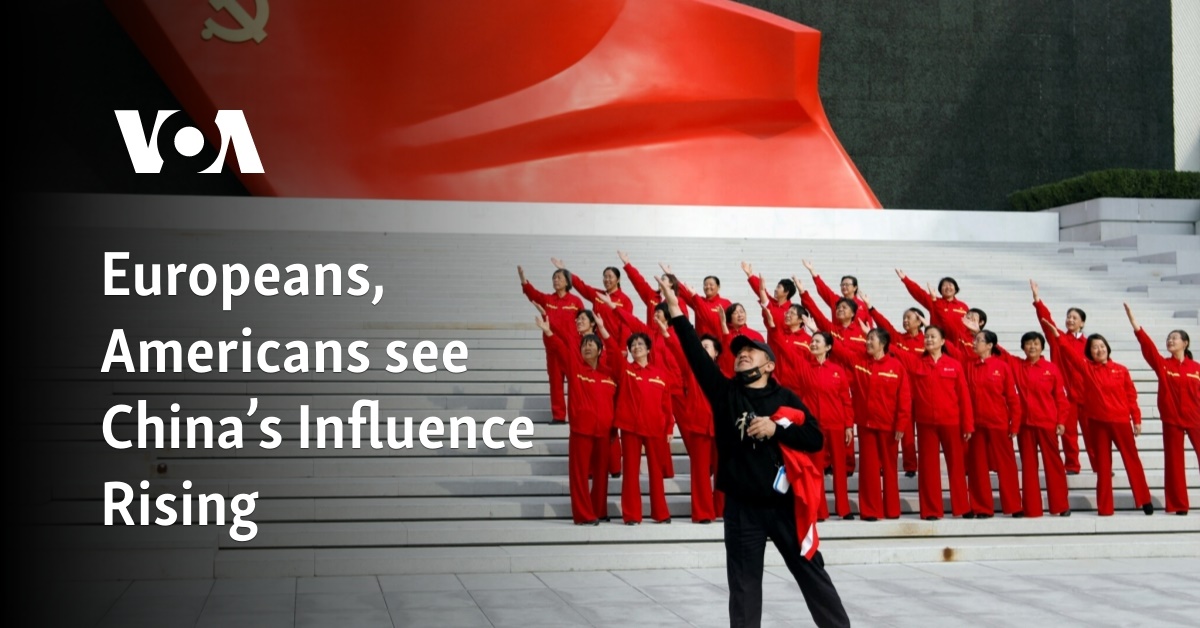 TUNIS, Tunisia —
Climate change and immigration top the security concerns of Europeans and North Americans, while China is racing to rival the United States in global influence in the coming years, according to a new 14-nation survey of public perceptions straddling both sides of the Atlantic.
Published on Tuesday, the German Marshall Fund's 2023 Transatlantic Trends report also finds continued strong public support for NATO and for Ukraine joining both the transatlantic alliance and the European Union — even as some experts point to worrying caveats.
People polled on both sides of the Atlantic — including the United States, Canada, several European Union countries, along with Britain and Turkey — also want their governments to cooperate more with China. Younger respondents are most likely to see influence more negatively, and that of Russia and China more positively.
"It seems the phase of ardent trans-Atlanticism is over. We also see a rapidly changing world order, and the public is aware of that," said Gesine Weber, a German Marshall Fund fellow specializing in risk and strategy, of findings that show a status quo in cross-Atlantic ties, with fewer respondents than last year's survey believing they will improve.
"The conclusion I would draw," Weber added, "is that [(governments] on both sides of the Atlantic have to reflect on how they can create an agenda that is more meaningful for citizens and better adapted to this world order."
In the case of climate change, for example, the majority of people polled believe the scientific community, rather than their own governments, are doing the most to address the problem.
Transatlantic views, however, are hardly uniform. While between one-quarter and one-third of people living in Canada, France, Italy and Portugal view climate change as a top security challenge, for instance, only 14% of U.S. respondents agree — although the issue still tops Americans' overall security concerns.
And while migration places second as a top global challenge this year— replacing the war in Ukraine in last year's Trends report — Russia remains the No. 1 security concern for Lithuanian and Polish respondents.
Public views of China are mixed, the study finds. While nearly six in 10 people overall view Beijing negatively, and one-quarter believe China is doing nothing to fight climate change, substantial slices of young respondents between 18 and 24 years old in the United States, United Kingdom and France have positive views of the country.
Most people on both sides of the Atlantic also want more cooperation with China in areas such as trade, energy and technology. But many also want a tougher approach to human rights. A striking 30% see China as becoming the most influential global actor in five years — just behind the United States, at 37%.
'De-risking' China
The lesson for wary governments, Weber said, are policies that emphasize "de-risking" with China — a term used by the EU, among others, to reduce potential hazards in relations in areas like trade and investment, rather than cutting ties with Beijing altogether.
"But also," she added, "acknowledge the role of China in international affairs, and make more efforts to work with China on issues like climate."
There are other indicators suggesting governments are not always in sync with their populations, according to the survey. While Europeans and North Americans strongly support NATO, older respondents are more enthusiastic about the defense alliance. Most respondents also want the EU to invest more in security and defense.
The importance of democracy is not always a given, with majorities in countries as diverse as the United States, Lithuania and Romania, among others, considering stability more important.
Younger people especially, Weber says, are skeptical of narratives pushed by leaders like U.S. President Joe Biden on the importance of democracy versus autocracy in looking at China, for example.
"It's something Generation Z doesn't necessarily buy," Weber said. "When I think about the political memory of this generation, they have these images of 'forever wars' in Iraq and Afghanistan … and also of the storming of the [U.S.] Capitol and violence against people of color in the U.S."
China, by contrast, "offers a powerful counternarrative," she said.
Another potential pitfall: long-term support for Ukraine. The study's findings show backing remains strong for giving Kyiv eventual EU and NATO membership, along with post-war reconstruction financing,
But, Weber warned, that sentiment may fade — not just in the United States, which faces elections next year, and where polls show shrinking Republican enthusiasm for Ukraine aid — but also in Europe, where far-right supporters in countries like France and Germany are also growing wary.
"This long-term support is a really critical question, and for Europeans, not an easy one," Weber said. Especially if U.S. elections usher in an administration skeptical of sending more aid to Ukraine — potentially leaving Europe to do the "lion's share."
European governments should "start constructing guardrails" now, she said. For example, budgeting long-term aid for Ukraine and better communicating the importance of such support. "And this," she added, "is going to be challenging."