The alleged spy was arrested on suspicion of violating Britain's Official Secrets Act in Edinburgh in March and a second man was arrested in Oxfordshire at the same time, according to the Metropolitan Police.
Both men have been released on bail until a date in October and neither has been formally charged, according to police.
The investigation is ongoing, so the Met has not provided details of what activities the men have been accused of undertaking. In cases of this kind, few details emerge before a person is formally charged.
The Sunday Times first reported over the weekend that the researcher had been arrested on suspicion of spying for China.
The story dominated media rounds on Monday morning. The Times followed up with a story naming the individual in question on Monday after backbench MPs threatened to use parliamentary privilege to name him without fear of being sued.
On Monday, the Press Association reported that the researcher said he is "completely innocent", citing a statement released by his lawyers.
"I have spent my career to date trying to educate others about the challenge and threats presented by the Chinese Communist Party," the researcher said . "To do what has been claimed against me in extravagant news reporting would be against everything I stand for."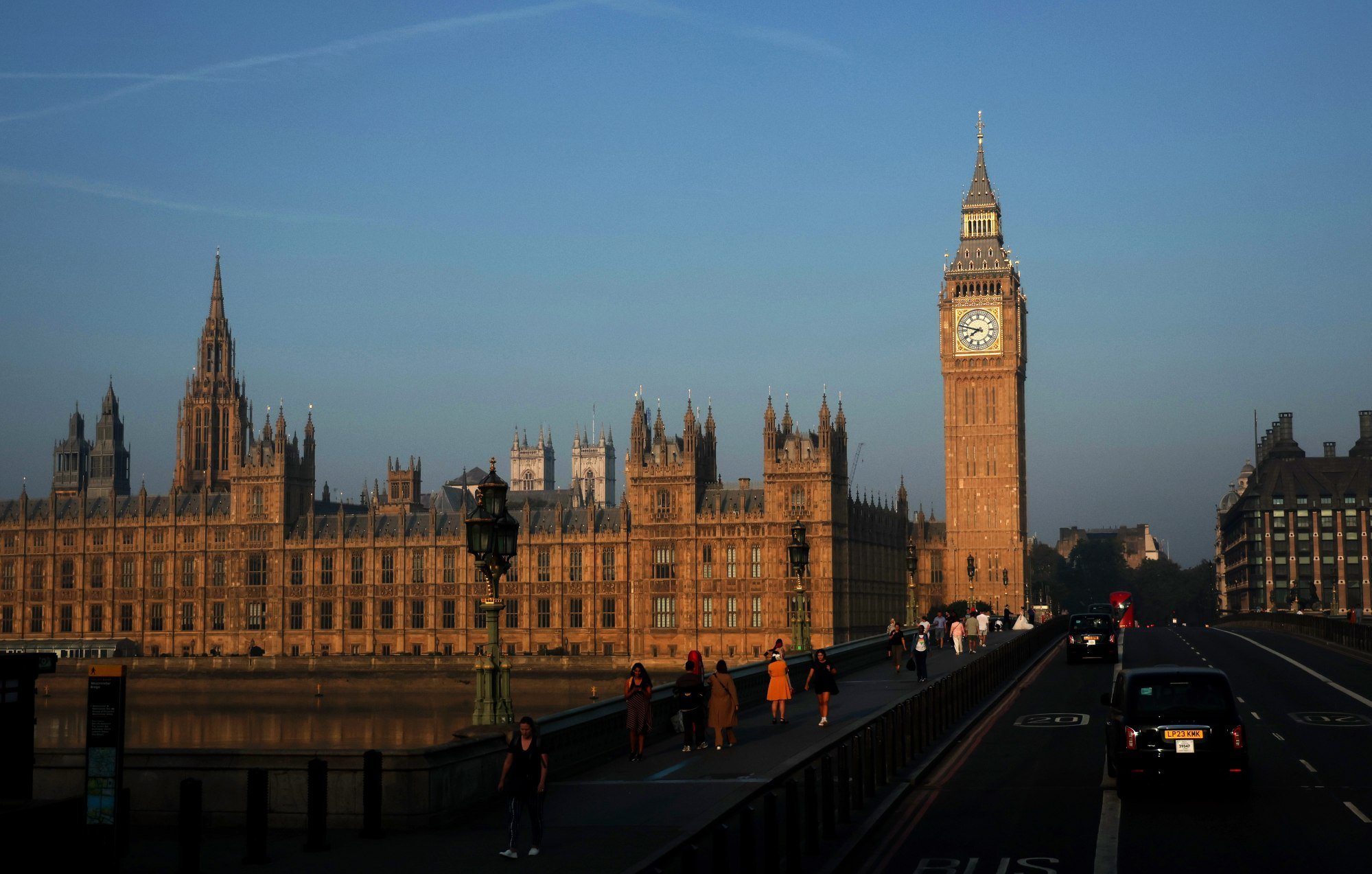 The individual's Twitter and LinkedIn accounts have been deactivated and he could not be immediately reached for comment on Monday. Neither Kearns nor Tugendhat's offices immediately responded to requests for comment.
"The reality of a Chinese spy in the UK Parliament is a moment to think again about our policy. When Rishi Sunak became Prime Minister he referred to China as a 'systemic threat' to the UK and our interests. Since then this has been significantly watered down," said Iain Duncan Smith, the former Conservative Party leader who has become the most prominent China hawk in the country.
Appearing on Sky News on Monday, the Business Secretary Kemi Badenoch urged a more cautious response, saying that "we certainly should not be describing China as a foe", when asked if China should be considered a threat.
"Chinese people are different from the Chinese government. It is important to be diplomatic, we shouldn't be using language that makes people scared," Badenoch said.
"The group he was working for was not for a pro-China group, so it will be quite interesting to understand when the investigation is over how this all came about."
The allegations also were raised during Sunak's meeting with Premier Li Qiang on the margins of the G20 Summit in New Delhi on Sunday.
According to BBC News, it was "the first substantive issue raised in the discussion by Rishi Sunak, in a meeting lasting around 20 minutes and described by a source on the British side as 'business-like'".
The Chinese foreign ministry dismissed the accusations on Monday as "completely fabricated" and a "political stunt".
"We urge the UK side to stop spreading fake information and stop the anti-China political manipulation and malicious slander," the ministry's spokeswoman Mao Ning said.
In an earlier statement, the Chinese embassy in London urged "relevant parties to stop anti-China political manipulation and putting on such self-staged political farce".
On Monday House of Commons Speaker Lindsay Hoyle said that parliament uses the same vetting procedures as the government and was seeking to address any security concerns raised by the media.
"We keep our security arrangements under review at all times in order to deal with the evolving threats. The small number of people that needed to know were immediately briefed on a confidential basis," he said.
Hoyle also discouraged MPs from discussing security issues, including the details of the investigation, in parliament.
"Commenting on the identities of those alleged to be involved, engaging in speculation about the case and discussing other details runs a serious risk of prejudicing any future prosecutions," Hoyle said. "The comments made in the media were unhelpful."
The alleged spy taught at an international school in the Chinese city of Hangzhou through a British Council scheme.
He subsequently completed a masters in China and globalisation at King's College London before securing a position at the China Research Group, a prominent organisation that has helped drive the debate on Beijing in Britain. He had a parliamentary pass as a result of his work for Kearns, an MP who has called for a more robust China policy.
The think tank has been painted as a more nuanced, policy-oriented companion to the tougher-talking Inter-Parliamentary Alliance on China (IPAC), an international group of cross-party legislators that has come out swinging since details of the arrest were published.
"The suspect was a figure hostile to IPAC's work and not involved with IPAC in any way," the group said in a statement on Saturday night. "We urge authorities to reveal the name of the suspect, so as to avoid casting a wide web of suspicion in a community already strained by the PRC's transnational repression."
The allegations that a person working for China had access to sensitive government information comes at a delicate time for Sunak, who has tried to balance Britain's economic needs following its exit from the European Union three years ago with calls for a harder line on human rights and security issues.
Sunak's government has called for the UK's foreign policy approach on China to "evolve", but not gone so far as to describe China as a "strategic threat" as some backbenchers have hoped.
In November, Ken McCallum, the director general of Britain's domestic security agency MI5, called the Chinese Communist Party the "most game-changing" challenge Britain faces in a joint speech with FBI director Chris Wray.
In July, a damning report by an influential parliamentary committee said China had ruthlessly targeted Britain's commercial and academic institutions and successive governments had been slow to recognise the threat posed by Beijing.
As part of his meeting with his Chinese counterpart Wang Yi, Cleverly stressed the need for "constructive engagement" between the two countries, but also called for the lifting of Chinese sanctions against several MPs who have been outspoken on Beijing and touched on several sensitive topics, including Hong Kong's controversial national security law and the treatment of Uygurs in Xinjiang.