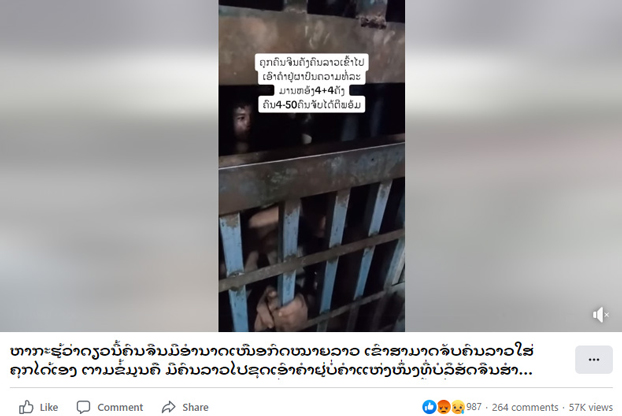 A Chinese mining company in northern Laos has released to police about 50 villagers it detained in August for illegally digging gold on its land concession, Lao officials said.
Employees at Tianjin Huakan Mining Investment Co., Ltd., which operates in Pak Ou district in Luang Prabang province, allegedly beat some of the detainees who were unable to pay 10-15 million kip (US$500-760) each for their freedom.
Radio Free Asia reported earlier that the company's demands for ransom for the villagers' release sparked criticism on social media.
Now that local police have negotiated their release, the villagers are in their custody, Lao officials from Pak Ou district said.
"We don't know details about the release," a district official said. "The police didn't send us the report yet, they are still in the investigation with them right now."
RFA contacted the district military office and police department, but both refused to comment. Attempts to reach the Chinese company were unsuccessful.
Laos' economy depends heavily on land concessions granted to China, Thailand and Vietnam for natural resources, including minerals, timber, agricultural produce and hydropower energy.
Tianjin Huakan Mining Investment began excavating gold from the mine in the province's Pak Ou district in 2015 under a 13-year concession from the Lao government.
The concession covers 600 hectares (1,480 acres) of land, some of which is used by villagers to grow crops. In 2021, the company mined about 90,000 tons of rock containing gold and 358 kilograms (800 lbs.) of other minerals.
Accusations of exploitation
Residents often accuse foreign companies with concessions of shortchanging them on compensation for lost land and for polluting the environment, though they usually remain silent because they fear retaliation.
Illegal gold digging happens a lot because people don't have enough food or ways to earn a living, said a local resident who declined to be identified for safety reasons.
Even though some are detained or jailed, they usually return to the activity, he said.
"Villagers are poor and live hand-to-mouth," he said. "They came to dig gold over here from other provinces as far as Houaphanh province. They need money to buy food for their families due to the high cost of living. If they are arrested, after they are released, they will come back again."
Most Laotians who illegally mine gold do it at nighttime when officials are not around, said another resident.
They then sell what they find to gold stores in Luang Prabang and the capital Vientiane, or to middlemen who pay high prices for it, he said.
"During daytime, they hide in a cave," he said. But "if soldiers find them, they pay money to the soldiers."
Translated by Sidney Khotpanya for RFA Lao. Edited by Roseanne Gerin and Malcolm Foster.