Myanmar's junta has destroyed nearly 200 religious buildings across the country since the military seized power in February 2021, with most of the devastation in areas with a strong armed resistance, according to data compiled by Radio Free Asia.
The army's bombing and torching of Buddhist monasteries, Christian churches and mosques across the Southeast Asian nation is part of ongoing post-coup surge in violence targeting civilian populations.
The data, based on figures released by religious leaders, right groups and local residents, indicate that most of the buildings were located in western Chin state, where junta forces leveled 85 ethnic Chin Christian churches.
Soldiers set the structures ablaze or hit them with air strikes and ground artillery, according to the Chin Human Rights Organization.
After Chin state, northwest Myanmar's Sagaing region saw the second most buildings destroyed with 50 – most of them Buddhist monasteries.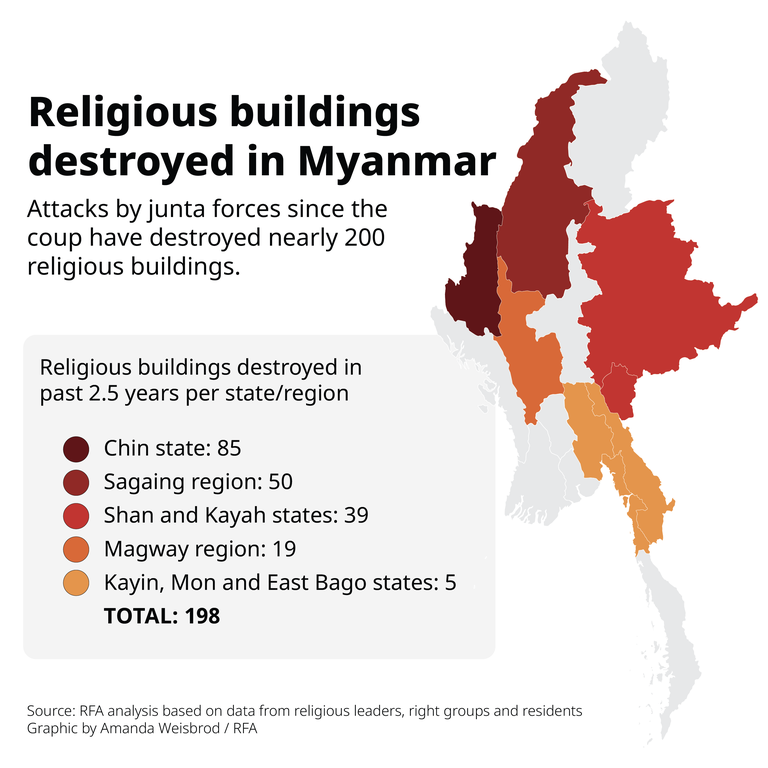 Junta forces demolished 39 places of worship in Shan and Kayah states, 19 in Magway region, and five in Kayin and Mon states and east Bago region, for a total of 198 structures.
In August alone, the military destroyed seven churches in Chin state and an artillery shell hit a church compound, said Salai Timmy Htut, secretary-general of the Chinland Joint Defense Committee, a rebel group formed in response to the 2021 coup to protect Chin state from the military junta.
"These attacks suggest the junta is increasingly targeting churches lately," he told RFA.
Amid the attacks, worshipers are holding religious services in safer, albeit less convenient locations, he said.
Rev. Bishop Loon Mont, general secretary of the Chin Baptist Federation, said those displaced by fighting pray wherever they have taken temporary shelter or go to secure places.
In Sagaing, junta forces have destroyed 40 Buddhist monasteries, a nunnery, six churches and three mosques.
The presiding abbot of Sagaing's Myauk Yamar Monastery said locals have not yet been able to repair the damaged monasteries and fear that soldiers will destroy them again, once they are rebuilt.
"We are really brokenhearted to see these religious buildings damaged," he said. "This should never have happened in Myanmar. A leader of the country committing these sins is unforgivable."
On Aug. 27, a Buddhist monk was injured and two monasteries were damaged by junta artillery fire from boats sailing down the Chindwin River during an attack on riparian villages in Sagaing's Salingyi township, residents said.
Campaign of intimidation
In Magway region, Yu Ko, a member of the Htee Lin-Gangaw relief group, said monasteries damaged in fighting have yet to be repaired, and residents are helping the Buddhist monks who fled.
"As the entire villages of some residents were burned down to ashes, their whole population fled to camps for the displaced," he said. "They have built temporary shelters with bamboo and leaves for their monks."
Banyar, founder of the Karenni Human Rights Group, told RFA that churches in Kayah state were mostly damaged by aerial bombardments.
"The most recent church the junta attacked was obviously visible as it was located in the middle of the village," he said. "No military forces were stationed there."
RFA could not reach junta spokesman Maj. Gen. Zaw Min Tun for comment.
The junta is targeting places of worship to intimidate civilians, said Ngai Tam Maung, deputy minister of humanitarian affairs and disaster management under the shadow National Unity Government, or NUG.
"The junta's deliberate attacks on religious buildings should never have been done against the people," he said.
The NUG's Ministry of Human Rights is maintaining records of such attacks so that junta leaders can one day "receive the due punishment that they deserve for their terrorist activities," he said.
Translated by RFA Burmese. Edited by Roseanne Gerin and Joshua Lipes.